For the past decade, the Koch brothers and their network of political and policy groups have made fighting government health benefits and reforms the centerpiece of their electoral agenda. But the 2018 midterm election results show that the tide of public opinion has turned against them.
Despite the best efforts of the Koch's astroturf group, Americans for Prosperity (AFP), Medicaid expansion ballot measures passed in Utah, Idaho, and Nebraska, providing coverage to an additional 325,000 low-income people. Republican governors who have been blocking Medicaid expansion were defeated in at least three states, and dozens of new Democratic candidates won seats in Congress by promising to protect the Affordable Care Act.
Together with a poor showing by one of the Kochs' super PACs, AFP Action, the loss of these three state ballot initiatives to expand Medicaid suggests that AFP is seriously out of step with voters.
All three states had ballot initiatives that passed and were opposed by AFP. A measure proposing a cigarette tax to fund Medicaid expansion lost in Montana, which passed expansion legislation in 2016.
Thirty-four states had already approved expansion, and the passage of the initiatives raises the number to 37. Before this election, Maine had been the only state to pass a Medicaid expansion ballot measure.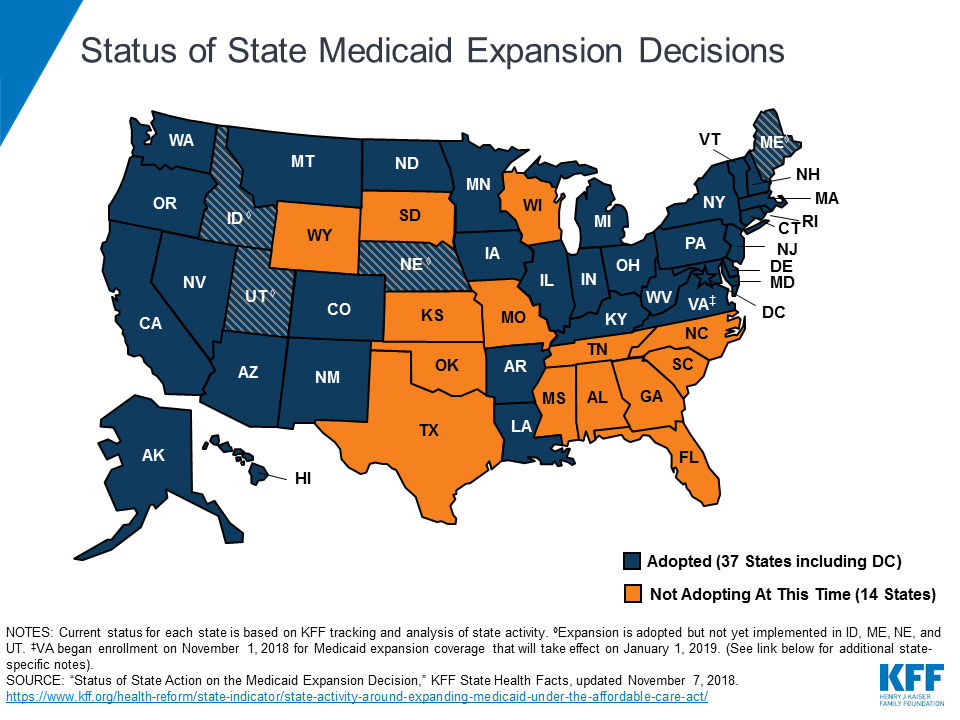 In Maine, Governor Paul LePage (R) vetoed legislation to expand Medicaid five times, but voters took the matter to the ballot in 2017 and won by a margin of nearly 2 to 1. Maine's newly elected governor, Janet Mills (D), has vowed to implement expansion.
AFP had worked hard to oppose Medicaid expansion in Maine, where expansion means coverage for an additional 70,000 or 80,000 people, and its chapters in Utah, Nebraska, and Idaho conducted new opposition campaigns this year involving radio, digital media and mailings.
In Nebraska, Medicaid expansion will cover 86,000 additional people, while in Utah 170,000 people will gain coverage, along with 69,000 more in Idaho.
The Koch-backed State Policy Network (SPN) — a right-wing web of "think tanks" across the country — also provided support to AFP in these states by publishing numerous studies opposing Medicaid expansion.
The Maine Heritage Policy Center published a lengthy report titled, "Reject Medicaid Expansion," which claimed that expansion is too costly for Maine and would not result in lives saved.
The Idaho Freedom Foundation published a piece on its website arguing that Medicaid expansion would be expensive and an insult to first settlers who never lamented "their lack of health insurance, healthcare, or insisting that the government provide it, or any other services, to them."
Utah's Sutherland Institute wrote on its website that expanding Medicaid would raise the sales tax and result in lower quality healthcare, and Nebraska's Platte Institute for Economic Research argued that Medicaid expansion would result in cuts to K12 funding and higher property taxes.
Public Opinion Shifting
It is clear from the election results that public opinion has shifted against the Kochs' "free market" approach to health care and steadfast opposition to government health regulations and benefits.
Pre-election polls showed that health care was the most important issue to voters in battleground states, and 55 percent of voters in non-expansion states said they wanted Medicaid expansion.
Not only did voters approve health care access ballot measures, they voted for governors who made expanding Medicaid coverage part of their platform.
In Wisconsin, Democrat Tony Evers defeated incumbent Republican Governor Scott Walker. Evers assured voters that he would accept federal dollars for expanding Medicaid and would protect those with pre-existing conditions.
In Kansas, Democrat Governor-elect Laura Kelly promised on the campaign trail to advocate for and sign a bill approving Medicaid expansion in her first year.
And in Maine, Democrats seized control from the Republicans in the governor's mansion and the Senate after years of Governor LePage's obstruction of reform.
In Florida and Georgia, where gubernatorial elections are still undecided, Democrats Stacey Abrams (GA) and Andrew Gillum (FL) made Medicaid expansion a major campaign issue.