President Donald Trump's "Social Media Summit" in July featured a host of far-right internet personalities, think tank operatives, and sympathetic members of Congress. Hand-picked, the attendees had a chance to complain about alleged anti-conservative bias and nod their heads at the president's attacks on Silicon Valley and "fake news" without the pesky presence of the Google, Facebook, or Twitter officials they so often mock.
This coterie of internet trolls, rightwing propagandists, and their media outlets and think tanks leapt to Trump's defense days later after the president lobbed racist comments at "The Squad"– U.S. Representatives Alexandria Ocasio-Cortez (NY-D), Rashida Tlaib (MI-D), Ayanna Pressley (MA-D), and Ilhan Omar (MN-D).
Now many of the same figures and publications, funded by GOP megadonors, are loyally backing Trump as public impeachment hearings, televised on several major news networks, are underway.
Turning Point USA
TPUSA, which potentially violated its nonprofit tax status this year, is perhaps Trump's biggest fan club. Led by a young friend of Donald Trump, Jr., Charlie Kirk, the billionaire-funded enterprise frequently hosts events that feature speakers who are members of the Trump family or Trump campaign officials. Trump hosted the group at the White House on July 23, telling the rapturous audience, "The young leaders here today are part of a movement unlike anything in the history of our nation. There's never been anything like this."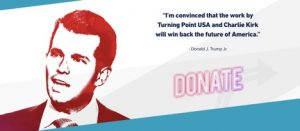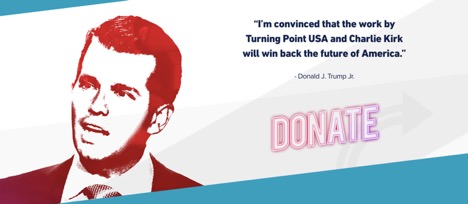 Kirk and TPUSA Creative Director Benny Johnson, who lost multiple journalism jobs due to plagiarism, both attended Trump's Social Media Summit and are now devoting large portions of their social media time to blasting the impeachment hearings and making false claims.
Kirk alleges that Trump's actions, which in reality broke established campaign finance law and extorted a foreign nation for dirt on his political opponent, weren't impeachable; they were "responsible." 
Johnson offers wishful takes about Jordan's questioning of the witnesses at the hearing, tweeting that the representative "dismantles impeachment star witness. Rips him limb by limb. It's not even fair."
TPUSA is a 501(c)(3) nonprofit and, therefore, isn't supposed to directly participate in political campaigns or endorse candidates, but a TPUSA spokesperson told Sludge that a pro-Trump tweet from Kirk was a personal statement and did not represent the views of his organization.
The organization, like Trump, has a history of associating with white supremacists and hiring staffers who make blatantly racist comments. Amidst mounting scandals, the group's funding rose enormously, going from $79,000 in revenue in the 2013 fiscal year to over $10.8 million in revenue in FY2018.
Through 2016, TPUSA's wealthy donors included the Ed Uihlein Family Foundation, former Illinois Governor Bruce Rauner, Home Depot founder Bernard Marcus, the family of Education Sec. Betsy DeVos, and Doug Deason of the Texas corporate billionaire Deason family, as well as PragerU (another Social Media Summit attendee). 
In 2017, private prison giant GEO Group — which made $225,000 in illegal contributions to a pro-Trump super PAC in the 2016 election — donated $50,000 to TPUSA. Also that year, the group received contributions from the National Christian Foundation ($112,000), which funds several anti-LGBTQ hate groups, and National Philanthropic Trust ($100,000), among other major donor-advised fund sponsors (DAFs), according to tax records consulted by CMD. DAFs are increasingly popular charitable vehicles; often affiliated with investment firms, they manage individuals' investment funds and typically distribute their clients' money , potentially anonymously , to the nonprofits of their choice.
TPUSA has benefited from the donations of several more prominent DAFs. From 2016-17, the Koch-affiliated DAF DonorsTrust gave TPUSA $125,000. Vanguard Charitable gave TPUSA $950,000 from 2015-17, and Schwab Charitable donated $230,000. From fiscal year 2015 to fiscal year 2018, Fidelity Investments Charitable Gift Fund, the nation's largest charitable nonprofit and also a DAF, contributed $363,000.
A recent IRS tax form from the Deason Foundation, which is led by Doug Deason's billionaire father, Darwin Deason, shows that it gave TPUSA $250,000 in 2018. That same year, the elder Deason granted the pro-Trump super PAC America First Action $1 million. The Deasons backed fellow Texan Rick Perry in the 2016 Republican presidential primary but became Trump donors in the general, pleading with the Koch network to join them and several other conservative plutocrats in backing the nominee.


In 2018, the Bradley Impact Fund gave $32,500. DAFs Donor-advised funds Fidelity Charitable and the Schwab Charitable Fund contributed roughly $151,000 and $177,000, respectively, in the 2018 fiscal year. 
According to a new 2018 tax return obtained by Carrie Levine of the Center for Public Integrity, the pro-Trump 501(c)(4) nonprofit America First Policies gave TPUSA $50,000 that year.
Media Research Center
Brent Bozell's Media Research Center operates the NewsBusters website, which has posted white nationalist screeds. The site is currently flooded with stories slamming Democrats' impeachment efforts. In addition to articles with titles such as "Rep. Mark Meadows TORCHES Reporters During Impeachment Presser"and "Someone Overheard Something: Nets Pounce on Hearsay Allegations," the site published a study claiming that 96 percent of ABC, CBS, and ABC's impeachment coverage has been negative. Stuart Varney of pro-Trump TV station Fox Business had Bozell on his show to explain his outlet's findings.
Earlier this year on Varney's show, Bozell made the remarkably histrionic claim that the media is waging the "most militant, weaponized assault on a U.S. president in history."
The Media Research Center has received at least $7 million from the foundation of former Breitbart financier Robert Mercer and his megadonor daughter, Rebekah Mercer, since 2015; $2.4 million from the Bradley Foundation since 1998; and $1.4 million from the Sarah Scaife Foundation since 2012. It has also gotten donations from the anti-LGBTQ hate group Family Research Council and the Koch-backed Leadership Institute.
The Heritage Foundation
The powerful right-wing think tank's political nonprofit arm, Heritage Action for America, sent its Vice President, Jessica Anderson, to the June Trump summit. Anderson left the Heritage Foundation for a stint in Trump's Office of Management and Budget under fierce Trump defender Mick Mulvaney, and returned to the Foundation one month before the White House Social Media Summit.
The deputy director of the Heritage Foundation's Center for Legal and Judicial Studies wrote a Nov. 11 opinion piece for the conservative Washington Times, which was republished by Heritage and its news outlet, the Daily Signal, that claims Democrats are running a "glaringly partisan, unbalanced and novel [impeachment hearing] process." On Nov. 13, the Daily Signal published a piece by Washington Times columnist Cal Thomas titled, "Impeachment Is the Left's Sad Final Attempt to Beat Trump."
Echoing the Media Research Center, Thomas dismisses any potential wrongdoing by the president and blames the media, writing, "This is what real collusion looks like: a media largely committed to advancing the goal of Democrats to severely damage or remove him from office."
Thomas has twice stated that no new mosques should be constructed in the U.S. and has written multiple anti-LGBTQ columns.
Another Daily Signal op-ed, authored by Armstrong Williams and published on Oct. 31, called the impeachment inquiry "un-American."
The Heritage Foundation's hefty budget is financed by the usual suspects of the GOP megadonor world: At least $18 million from the Sarah Scaife Foundation since 1985; close to $6 million from Koch family foundations since 1998,;another nearly $6 million from the Bradley Foundation; and $1 million from the Mercer Family Foundation.
Blaze Media
TheBlaze, which is owned by Blaze Media and sent a representative to the summit, put out videos on Wednesday of Republican Freedom Caucus members and devoted Trump defenders Reps. Jim Jordan (OH) and Devin Nunes (CA) speaking during the day's impeachment inquiry hearing. The videos, "Jim Jordan Dismantles Dems' Impeachment Narrative" and "Devin Nunes Pokes Holes in Dems' Impeachment Case, Shreds [Adam] Schiff," magnify false claims from the conservative representatives. More mainstream outlets had a different view. Vanity Fair, for example, called Nunes' remarks "particularly incoherent" and laden with conspiracy theories.
"So far, the impeachment hearings have been nothing but a farce, a web of lies spun to conceal the real scandal in Ukraine," claims TheBlaze's Twitter account in its current pinned tweet.
Billionaire industrialist and GOP megadonor Charles Koch gave TheBlaze $7,500 through his Charles Koch Foundation in 2017, a year during which he significantly expanded his funding of pro-Trump media.
On Thursday, Conservative Review, another Blaze Media property, had Blaze TV personality Mark Levin on its radio show. "The Republicans did a fantastic job today," Levin said of the first televised impeachment hearings, which most media characterized as remarkably damning for the president. "Ignore the phony media; ignore the phony legal analysts."
More summit attendees did their part for the president.
Smear artist James O'Keefe of Project Veritas has been busy going after NBC lately, but last month he found the time to attack CNN for alleged bias against Trump regarding impeachment proceedings. Project Veritas has gotten significant funding from the Bradley Foundation, DonorsTrust, and from rightwing Wisconsin operative Eric O'Keefe.
Jim Hoft of Gateway Pundit has made his website a full-time GOP war room, with headlines in the "own the libs" vein with which the online right is obsessed. Recent articles about Friday's hearing with the fired U.S. ambassador to Ukraine, Marie Yovanovitch, include "DEVIN NUNES DESTROYS SCHIFF in Opening Statement," "President Trump Torches Disgruntled Fired Ambassador Marie Yovanovitch in Real Time," and "WOW! Pompous Blowhard and Fired Ambassador Yovanovitch Compares Herself to US Hostages in Tehran and The Benghazi Four!"
Former Trump adviser Sebastian Gorka, who made headlines for wearing the pin of a Nazi-tied Hungarian group and allegedly swearing lifetime allegiance to it, now has his own online show, where he hawks his books and frequently slams the "just insane, fake impeachment." At the Social Media Summit, Gorka got into a heated shouting match with a Playboy politics reporter.
The Twitter timeline of talk show host Bill Mitchell is mostly a hub for Ukrainegate denialism, replete with GOP talking points and conspiracy theories about Democratic representatives.
The pro-Trump duo Diamond and Silk, who host a Fox Nation show, are doing their part to misinform their viewers about the Ukraine scandal as well, alleging in this clip that Trump did not bribe the Ukrainian president for dirt on Joe Biden and that it was actually Biden who was at fault.