As the political and philanthropic network of billionaire libertarian Charles Koch employs its latest PR strategy, the Charles Koch Foundation (CKF) and the Charles Koch Institute (CKI) increased their giving to media organizations by roughly $1 million in 2018.
Koch has generally funded right-wing organizations such as the Daily Caller News Foundation, which funds much of the content on the Daily Caller website, and the Reason Foundation, which publishes libertarian-minded news and opinion on Reason.com. These and other donations continued in 2018, but the two foundations also contracted with conservative media outlet RealClearPolitics and two center-left publications, The Atlantic and Ozy Media.
Overall, CKF and CKI combined to spend nearly $3.5 million on media grants and contracts in 2018. This amount is a small, but growing, portion of the foundations' annual donations. In 2018, CKF gave out $127.5 million in donations, mostly to fund Koch's right-wing educational and political infrastructure.
Daily Caller News Foundation
CKF's largest media grant in 2018, $746,250, went to the Daily Caller News Foundation. While less than the $960,000 it gave a year before, it was still Koch's biggest contribution to a media organization last year, as it has been since 2015.
On Nov. 11, the Daily Caller News Foundation uploaded a mashup video to YouTube that included a clip of a neo-Nazi rapping about his support for President Donald Trump. In the verse of the original video that followed the clip used by Daily Caller, the neo-Nazi rapped about the "Great Replacement," a central white nationalist propaganda theory that claims immigrants of color will replace white populations.
This wasn't the first time the Daily Caller has been linked to white supremacy; it has published several white supremacists and antisemites and has had some on staff.
After a November 2018 Sludge report on the Koch foundations' funding of pro-Trump media, three CKF top officials claimed to Washington Post opinion writer and Reason alumnus Radley Balko that, "they personally and the Kochs and their foundations more generally find the Daily Caller abhorrent, and feel the same way about Tucker Carlson." The officials argued that the CFK funding went towards writer fellowships for articles that are made available by wire to a broader range of news outlets. It is not publicly known whether CFK has funded the Daily Caller News Foundation this year.
The Daily Caller New Foundation's 2018 revenue numbers aren't yet public, but CKF's donations in 2016 amounted to 84 percent of the foundation's annual contribution total.
RealClear
Two entities of the conservative media operation RealClear got money from the Koch foundations in 2018. The Real Clear Foundation, which funds RealClearInvestigations and "news aggregation and content creation that is in the public good," according to tax records, received a $375,000 consulting contract from CKI.
RealClearPolitics, the company's news, opinion, and poll aggregation website, and CKI teamed up to poll the public and veterans on military intervention and specific wars in 2017 and 2018. Also in 2017, the website published a piece critical of activists organizing against a Koch-funded center at Wake Forest University. RealClearPolitics accepts trainees from CKI's Media and Journalism Fellowship program "with no strings attached."
RealClearPolitics got $75,000 from CKF in 2018. Neither entity received money from the Koch foundations from 2015-17. RealClearPolitics published an op-ed from CKF official Will Ruger in October 2018 and another by Sarah Ruger, director of free expression at CKF, this June.
RealClear Foundation has been funded by right-wing megadonors for years. In fiscal year 2013, the sole disclosed donor was Nelson Broms, an insurance executive who co-founded the Koch-funded Manhattan Institute, who gave $50,000. By FY2016, the Real Clear Foundation had significantly increased its fundraising ability, getting $2,250,000 from the Koch-tied DonorsTrust. CMD has tracked over $5.5 million in Real Clear Foundation funding since April 2013, including $1 million from the similarly Koch-tied Donors Capital Fund and six-figure amounts from conservative megadonor foundations in the Koch funding network, such as the Ed Uihlein Family Foundation and the Sarah Scaife Foundation.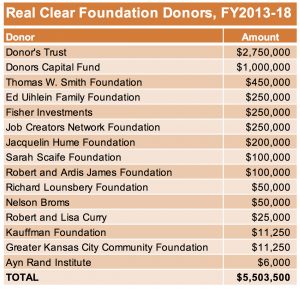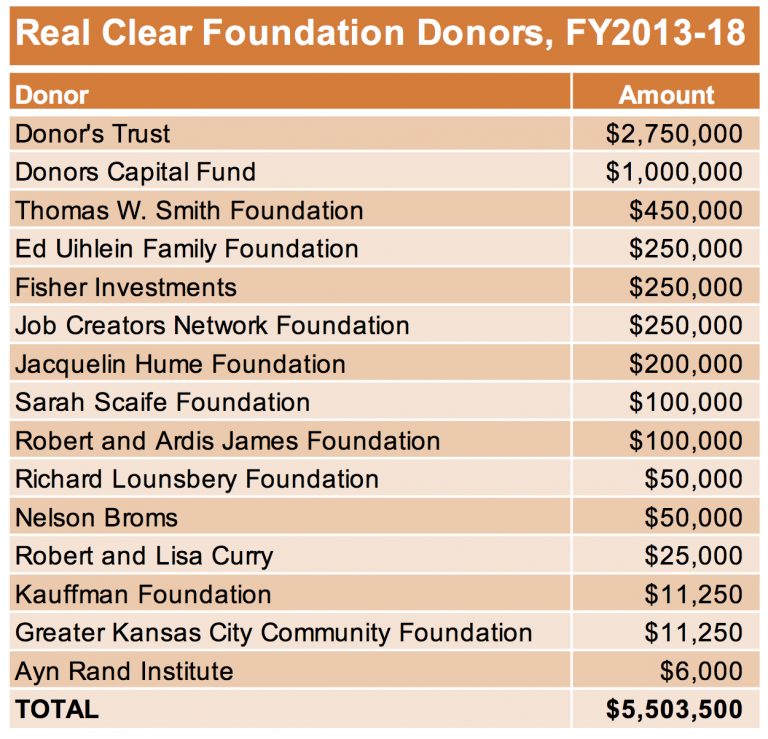 RealClearPolitics co-founder John McIntyre is tied to the far-right Federalist website. He and his wife, Jenn, are listed as directors of The Federalist on a 2017 securities offering filing, alongside co-founders Ben Domenech, who is married to Meghan McCain, and Sean Davis. Jenn McIntyre is also listed as an executive for The Federalist, which is not connected to the Koch-funded Federalist Society.
Center-Left Publications
The foundation of Charles Koch, whose political network has installed scores of right-wing state and federal lawmakers and funded ideological free-market centers and conservative student groups on college campuses, began funding initiatives in 2018 to counter the political polarization that it has catalyzed.
On its 2018 tax return, CKF listed a $300,000 contract with The Atlantic Monthly Group, which publishes The Atlantic.
The Atlantic magazine has a long history of publishing liberal and centrist writers. Since the conservative-friendly Jeffrey Goldberg took the reins in late 2016, the publication has devoted its pages to stories questioning political correctness on college campuses, criticizing the #MeToo movement, and defending controversial figures such as Jordan Peterson.
Peterson has been accused of misogyny, bigotry, and conspiracy theorizing. Conservative New York Times opinion editor Bari Weiss interviewed Peterson at the Aspen Ideas Festival, which is presented by Atlantic Live and supported by Koch Industries and the foundation of GOP megadonor Paul Singer.
Goldberg even briefly hired extreme misogynist Kevin Williamson, whom he first defended and then let go under enormous public pressure. Still, the publication is seen as part of the liberal media sphere.
On Nov. 28, The Atlantic kicked off a year-long series, "The Speech Wars," which was underwritten by CKF, the Reporters Committee for Freedom of the Press, and the Fetzer Institute. The series presents "a marketplace for competing ideas," said Goldberg. CKF is "excited" to "[support] The Atlantic's expansion of their courageous and nuanced coverage of growing polarization," said CKF's Ruger. "America's an increasingly diverse nation, and we can be better for our differences. Dedicated efforts like The Atlantic's stand to deepen our understanding and ultimately address barriers to that peaceful and productive pluralism."
A larger 2018 contract, $500,000 from CKI, went to Ozy Media, a company "tailor-made for the Change Generation–people from every corner of the globe who are challenging the status quo and bucking convention." The money supported a PBS primetime series, "Take On America," which has a similar theme to The Atlantic series: It "provides participants an opportunity to take a pause from the growing polarization by joining town hall meetings across the country." Ozy CEO Carlos Watson, who co-founded the company with former Goldman Sachs associate Samir Rao, hosts the series, which is also funded by the William and Flora Hewlett Foundation.
In addition to contracting with two media companies with liberal audiences, CKF also partnered with the Poynter Institute, a mainstream journalist education nonprofit, which it gave $225,000 in 2018. A year earlier, CKF gave Poynter its first grant, worth $75,000, to launch the Poynter College Media Project, a campus-based initiative that "encourage[s] the student press to use journalism to navigate divisive issues."
The Koch operation, which has surveilled and attempted to smear well-known reporters such as Jane Mayer of The New Yorker, has a new line about journalism. "Media plays a vital role in the free flow of knowledge essential to society," said Ruger. "Poynter's program takes that one step further, highlighting the critical and continuing role a free press has in facilitating conversations on even our most difficult issues."
This April, Poynter announced the Poynter-Koch Media & Journalism Fellowship, sponsored by CKI.
State Policy Network Associates
The Koch foundations donated to State Policy Network members the libertarian think tank Reason Foundation ($463,000) and, the Moving Picture Institute ($384,000) in 2018. The Reason Foundation, which had the late David Koch on its board, has received millions of dollars from several Koch family foundations over time. In recent years, Koch donation amounts have jumped around, but 2018's total is roughly $135,000 more than the previous year.
The Moving Picture Institute is a New York City-based "modern-media production house and talent incubator that creates and supports high-impact film and video content designed to entertain, inspire, and educate audiences with captivating stories about human freedom," according to its website. In addition to Koch funding, the institute has received funds from other key right-wing sources including DonorsTrust and the Lynde and Harry Bradley Foundation. It has produced films and video series attacking environmental activists, explaining various aspects of economics, and questioning regulation.
Other major recipients of money from the Koch foundations in 2018 include, the National Freedom of Information Coalition ($118,000), and the Student Free Press Association ($88,000), which operates the conservative College Fix website with content from student journalists who "commit themselves to the principles of a free society." The group has also received funding from the Thomas W. Smith Foundation. Right-wing megadonor and current Education Sec. Betsy DeVos's son, Rick, was on the Student Free Press Association board as of 2017.
Conservative outlets The American Spectator ($7,700 from CKF) and National Review ($6,000 from CKI) got smaller amounts through their connected foundations in 2018.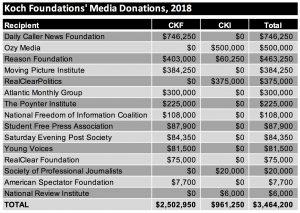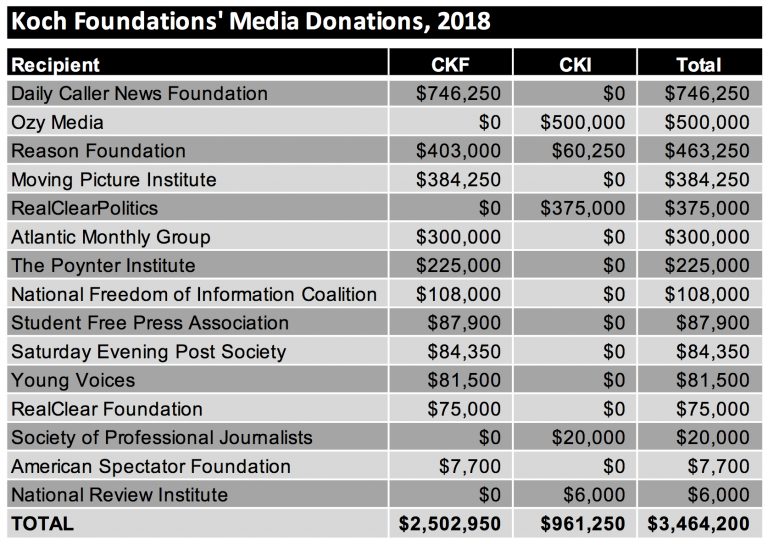 Since 2015, the two Koch foundations have spent over $8.5 million on media donations and contracts, including nearly $3.3 million in contributions to the Daily Caller News Foundation.