The far-right, Trump-aligned student activist group Turning Point USA (TPUSA) is attempting to exploit the coronavirus pandemic to out "radical leftist" professors "corrupting our youth."
On March 22, TPUSA President Charlie Kirk asked "all college students" to record their classes, which had been converted to online formats as a method of coronavirus protection. "Now is the time to document & expose the radicalism that has been infecting our schools. Transparency!" he tweeted.
Kirk maintains that "leftist professors are corrupting our youth" and that college campuses pose a threat to the country by teaching students to hate America.
TPUSA has a history of harassing professors. The group launched a "Professor Watchlist" site in November 2016, which is an attempt to target liberal college and university professors. The project, which purports to expand academic freedom, is in reality a threat to academic freedom, according to The New York Times. The site has led to harassment and intimidation of higher education faculty, and it parallels a similar effort to target liberals more broadly by the anti-Muslim hate group the David Horowitz Freedom Center.
This time around, a powerful right-wing network that has worked with TPUSA in the past is speaking out against its latest attempt to direct ire at liberal professors. Charles Koch Foundation Vice President of Philanthropy Charlie Ruger said in a statement:
"Inciting harassment against scholars isn't just wrong at a time when many are seeking out new ways to engage their students during a crisis, it's always wrong. Targeting, intimidating, and otherwise attempting to silence academics chills the open exchange of ideas and, in turn, chokes off progress."
"The Koch Foundation's statement against faculty harassment is hypocritical and insincere," Samantha Parsons, director of campaigns for activist group UnKoch My Campus, told the Center for Media and Democracy (CMD). "The Koch network is funding media outlets like Campus Reform and The College Fix, which directly attack scholars that are critical of free-market capitalism and white supremacy. Some of the professors covered by these donor-funded stories have received death threats or been forced to leave their institutions."
Just as Koch has funded outlets such as the Leadership Institute, which runs Campus Reform, and the Student Free Press Association, which publishes The College Fix, his political funding network has been instrumental in getting TPUSA itself to where it is today. A CMD investigation of federal tax records has found that a number of funders in the Koch donor network, including a charity that the Koch Foundation uses heavily to distribute charitable donations, have provided a large part of TPUSA's revenue since the fiscal year of 2014.
Over one dozen TPUSA funders since FY2014 have also donated to nonprofits at the helm of Koch's political network, such as Americans for Prosperity, Freedom Partners Institute (rebranded in 2017 as Capital Leaders), and the Seminar Network Trust. Many more have contributed to heavily Koch-funded groups such as the Institute for Humane Studies, a free-market economics center at George Mason University that is funded by the Koch Foundation, and the libertarian think tank Cato Institute, which Koch co-founded.
TPUSA Funders
Overall, CMD tracked more than $11.1 million in donations to TPUSA from FY2014 through 2018, which amounts to roughly 43 percent of the organization's revenue from FY2014 to FY2018.
DonorsTrust, a donor-advised fund sponsor that invests and delivers right-wing donors' money to charitable nonprofits of their choosing while keeping their identities hidden from the Internal Revenue Service and the public, gave $610,000 to TPUSA from 2017-18, most of it coming in the latter year. Numerous conservatives use DonorsTrust to score tax breaks and distribute their charitable dollars. 
Koch family foundations are some of DonorsTrust's biggest clients. In 2014-15, the Koch's Knowledge and Progress Fund gave $5.3 million to DonorsTrust, and the Charles Koch Foundation has given $980,000 to it since 2014. The connected Donors Capital Fund, to which Koch family foundations have also contributed large sums, donated $100,000 to TPUSA in 2016.
The biggest TPUSA donor in the Koch network is the Ed Uihlein Family Foundation, the foundation of wealthy Uline CEO and GOP megadonor Richard Uihlein, which gave $750,000 to TPUSA from 2014-18. The biggest donation, $250,000, came in 2018.
Other Koch network donors since FY2014 include the Deason Foundation, the charity of Affiliated Consumer Services founder, billionaire Darwin Deason ($510,000; Deason's son, businessman Doug Deason, is on TPUSA's Advisory Board); Lynde and Harry Bradley Foundation and the connected Bradley Impact Fund ($232,500 total from 2014-18, plus an additional $100,000 from the Bradley Foundation in 2019, according to its website); the Thomas W. Smith Foundation ($400,000); and the Einhorn Family Charitable Trust ($120,000).
The biggest known donor to TPUSA is the family foundation of Home Depot co-founder Bernie Marcus. The Marcus Foundation gave TPUSA $1,573,000 from 2015-18.
Another donor is the Tracking Foundation, which donated $800,000 to TPUSA from 2017-18 and was funded by Cerberus Capital Management CEO Stephen A. Feinberg and his wife, Gisela Feinberg. The couple resigned from the board at the end of 2018, according to the nonprofit's most recent tax filing. Stephen Feinberg is a GOP megadonor and Trump ally but is not affiliated with the Koch network. The only other grantee of the Tracking Foundation from 2017-18 was the U.S. Chamber of Commerce, which received $420,000.
Balance for Freedom, a nonprofit led by digital trading billionaire Thomas Peterffy, contributed $302,000 to TPUSA in 2018.
Major donor-advised fund sponsors including Vanguard Charitable ($950,000), Schwab Charitable ($407,000), Fidelity Charitable Gift Fund ($363,000), National Christian Foundation ($283,000), and National Philanthropic Trust ($160,000) have all given six-figure amounts to TPUSA since FY2014. As with DonorsTrust and Donors Capital Fund, donors can contribute to nonprofits anonymously through their donor-advised funds, which are managed by the sponsors for a fee.
TPUSA's Koch Network Ties
Koch-funded groups have collaborated with TPUSA on events over the years. In late 2017, the director of the Center to Protect Free Speech, a project of corporate bill mill the American Legislative Exchange Council (ALEC), took part in a "campus free speech" panel hosted by the conservative Washington Examiner. The director, Shelby Emmett, is now director of free speech initiatives at Koch's Stand Together nonprofit. 
The two groups have some rotating staff. For example, a former Americans for Prosperity field director is now a TPUSA field director, and the former Florida state director at TPUSA is currently grassroots engagement director at Americans for Prosperity.
A photo on the now-deleted Facebook page of TPUSA's University of Minnesota chapter shows its members making get-out-the-vote calls for Koch's premier political nonprofit, Americans for Prosperity.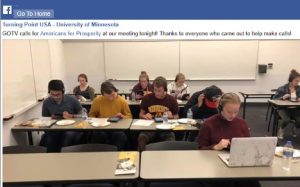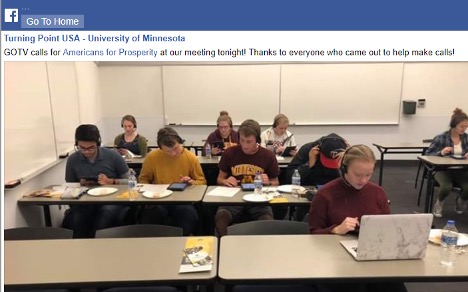 Koch has for decades funded ideologically right-wing and libertarian economics professors and programs at hundreds of colleges and universities around the country. With George Mason University, a public university in Virginia, as the hub, the Koch Foundation has launched free-market centers, created professorships, and sponsored lecture series that seek to indoctrinate young minds with libertarian economic ideas of low taxes and minimal, if any, regulations.
Some of the Koch Foundation's agreements with universities have allowed foundation officials to have a say in the hiring process and even impact course curricula.
In a recent statement, Ruger says the Charles Koch Foundation is "proud to partner with universities and professors who continue to demonstrate steadfast commitment to expanding students' access to a diversity of ideas."
UnKoch My Campus's Parsons disputes that characterization, pointing out that the Koch network has been pushing legislation to quell students' ability to protest extremist speakers and hate speech on campus.
"The Koch Foundation is also behind a recent wave of anti-protest bills that prevent college students from speaking their mind on campuses across the country," said Parsons. "To suggest that the Koch Foundation wants to increase the diversity of ideas on campus completely ignores the ways in which the Koch network itself is leveraging its wealth to lead the charge in intimidating and silencing ideas that do not align with their own agenda."
Ralph Wilson contributed to this report.