An estimated 1,500 protestors converged on the Wisconsin capitol grounds Friday afternoon to demand that Governor Tony Evers (D) suspend his stay-at-home order and reopen the state. Many attending the rally did not wear masks, nor did they adhere to Center for Disease Control (CDC) social distancing recommendations.
But they did hold American flags, Tea Party flags, Gadsden "Don't Tread on Me" flags, posters, and guns.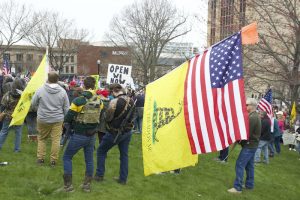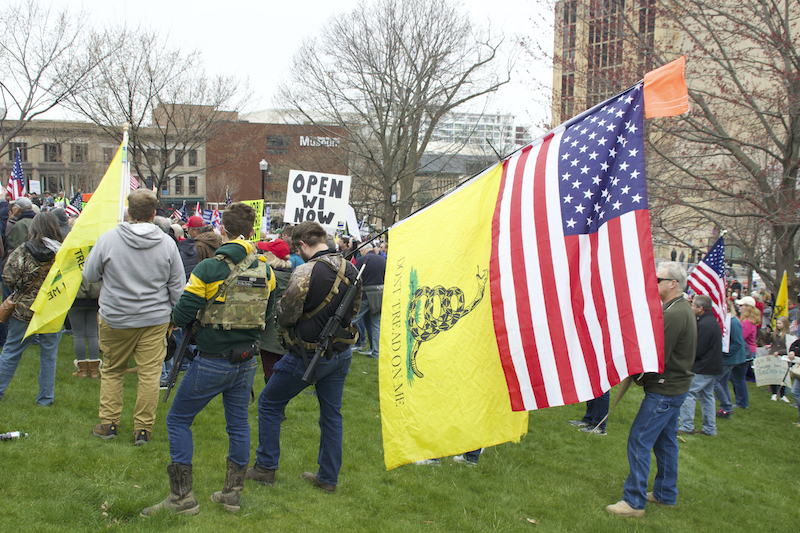 Midway through the rally, Wisconsin's Department of Health Services (DHS) announced online a new total of 5,356 positive tests for COVID-19 and 262 deaths in the state.
Speakers at the top of the capitol steps positioned themselves under American and Trump campaign flags and repeatedly called into question Evers stay-at-home order, leading chants of, "Open up. Open up."
A man who described himself as a small business owner said that he is concerned that more are dying from the quarantine than the virus. 
Angie, a registered nurse, claimed that hospitals are not overwhelmed and that there are "plenty of beds for patients." Angie added that discussions with colleagues working at sister hospitals in Milwaukee and elsewhere in the state were reporting similar situations.
Another speaker questioned Evers's closing of small businesses, churches, and parks, while allowing Menards, Home Depot, and Aldi to remain open. 
The event was originally promoted on Facebook, but the event page has since been disabled. Facebook told NBC 15 that the site was removed because the group did not ask attendees to abide by social distancing recommendations.
"If you'd like to follow the CDC guidelines, that is your decision. If you don't follow guidelines, that is your decision. You are responsible for your and your family's health and safety. I have to say this for all of the spiteful people who might try to use this against us," the group wrote. CMD copied the site's text before it was removed.
"Children are welcome!!" the page stated.
The protest was organized by Thomas Leager and Madison Elmer. Elmer applied for a permit for the protest, but was denied.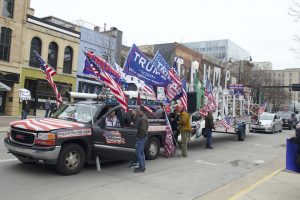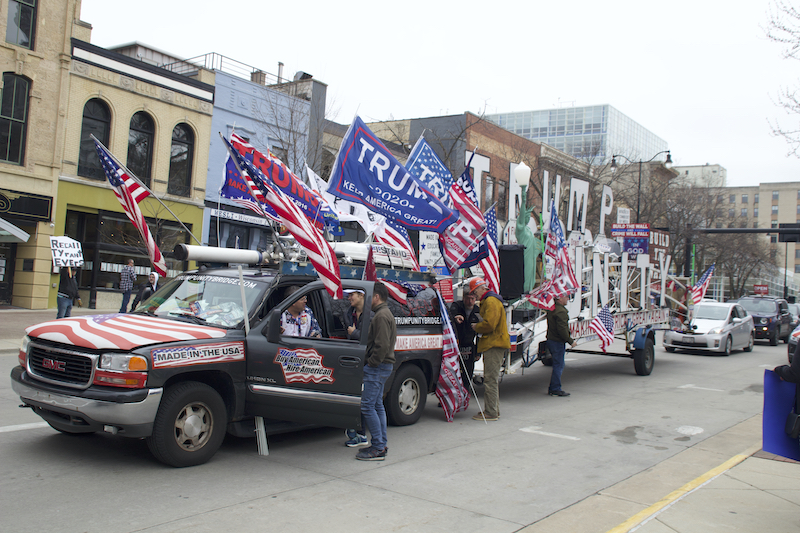 Convention of States (COS), a right-wing group working to radically rewrite the U.S. Constitution,  also promoted the event through its Open the States site. COS-Wisconsin State Director Joanne Laufenberg helped to organize its activists in the state to attend the rally.
COS, along with FreedomWorks, an offshoot of a Charles and David Koch group that was instrumental in the Tea Party movement, are also promoting the coronavirus protests. 
Both organizations receive funding from major right-wing donors, as CMD reported earlier this week.
Mark Meckler, president of COS, launched online forums as part of Open the States yesterday in response to Facebook shutting down many of the protest sites. 
"Facebook…[is] literally working with the governors to find out what the policy is and they're trying to shut [us] down," Meckler said during a COS Facebook livestream on Tuesday, Politico reported. "So what we're trying to do is we're trying to create other ways to communicate with people about what we're doing."
Meckler co-founded the parent organization of COS, Citizens for Self-Governance with Eric O'Keefe, a right-wing political operative with deep ties to the Kochs and the Tea Party movement. O'Keefe also sits on the board of COS.
O'Keefe told the Journal Sentinel, "We didn't launch any (protests), we don't own any, nobody owns any…[Open the States] is just a place for people to interact."
Senator Kathy Bernier Announces "Back to Business" Plan
Wisconsin State Senator Kathy Bernier (R-Chippewa Falls), likely the only elected legislator to speak, thanked the crowd for turning out and announced that she is working on a "Back to Business" plan that would start May 4, with 64 counties opening up.
Bernier added that the plan could be viewed at wmc.org, the website of Wisconsin Manufacturers and Commerce (WMC), the state's chamber of commerce and close ally of the state Republican party. WMC is one of the largest dark money spenders in the state and was infamously investigated in bipartisan "John Doe" proceedings for illegal campaign coordination with former Governor Scott Walker's campaign and O'Keefe's Wisconsin Club for Growth.
Bernier also criticized Evers's stay-at-home order and told protestors that the last order to extend it, which began today, was given by DHS Secretary-designee Andrea Palm because Evers could not legally extend his beyond 60 days. 
The Republican-controlled legislature asked the conservative-tilted State Supreme Court to suspend the order, not long after it asked the court to strike down Evers's order to delay the spring primary. The Supreme Court has not ruled on the stay-at-home order yet, but it quickly struck down Evers's primary order on the eve of the election, drawing widespread negative attention to the state. 
As of April 21, 19 new cases of coronavirus have been linked to in-person voting in the primary.