The American Legislative Exchange Council (ALEC) has arranged for its legislative members to take part in a six-part webinar this month with Fair Lines America (FLA), the Center for Media and Democracy (CMD) has learned.
ALEC, a pay-to-play operation where legislators and corporate lobbyists meet behind closed doors to adopt model legislation on a broad range of public policy issues, has provided FLA and its Executive Director Adam Kincaid access to its membership since at least December 2017, when FLA held a workshop at its States and Nation Policy Summit. 
FLA works to prevent independent redistricting commissions from establishing in the states, conducts redistricting trainings, and weighs in on redistricting litigation.
In addition to heading up FLA, a 501(c)(4), and its affiliated Fair Lines America Foundation, a 501(c)(3), Kincaid serves as the executive director for the National Republican Redistricting Trust, "the central Republican resource to coordinate and collaborate on a 50-state redistricting effort; focusing on the GOP's redistricting-related legal and data needs."
NRRT senior adviser Guy Harrison told Politico of Kincaid's leadership, "Adam is a chief authority on redistricting within our party, and he has the experience and expertise to meet the Democrat litigation juggernaut head-on."
ALEC's CEO Lisa Nelson writes in an email to legislators on April 30 obtained by CMD, "please sign-up and recruit your legislative leadership and key redistricting staff to also sign-up for these critical webinars by our good friends at Fair Lines. You might think you have all the expertise in your state, but you need to know what other states are doing and the implications on your state."
The email, which includes an invitation from Kincaid, suggests that the webinar series was organized to replace a series of "trainings" that would have taken place in Arlington, St. Louis, and Salt Lake City, and that an in-person "event" could be held in December 2020 at the earliest, depending on whether the Census Bureau receives an extension from Congress or not.
"Mapping America"
Fair Lines America has held two of its "Mapping America" webinar series so far, on May 5 and May 13. The first, titled "Redistricting Basics and the 2020 Census," gave an "overview of the tools and skills" needed for redistricting and featured "experts" on the 2020 Census.
The May 13 webinar on "Changes in Redistricting Law" again featured "experts" who spoke on the "volume and impact of liberal (i.e. Democrats) litigation this decade and the changing redistricting legal landscape heading into 2021."
Attendees to the third webinar scheduled for this afternoon, May 14, will hear from "academic experts and lawyers" on "The Fourteenth Amendment, Voting Rights Act, and Recent Academic Literature."
The fourth webinar on May 19, titled "Redistricting Data Science," will delve into the technical resources available to map drawers and how FLA and its Foundation can be of assistance.
"Commission Litigation and Engagement," the fifth webinar on May 21, will focus on legal challenges to redistricting commissions and how to "engage" with them, and the final webinar on May 27 will give legislators the "tools" to defend their "maps, push back against liberal redistricting strategies, and go on offense."
FLA, with $950,000 in annual revenue in 2018, has engaged in redistricting fights in Michigan, Missouri, North Carolina, and Colorado. In 2018, FLA gave $50,000 each to Citizens Protecting Michigan's Constitution (CPMC) for "litigation support" and Michigan Freedom Fund (MFF) to "oppose Michigan ballot measure." MFF spent over $3 million on the "Protect My Vote" campaign in opposition to a 2018 ballot measure to create an independent redistricting commission. The measure passed with 61.8 percent of the vote.
FLA also filed an amicus brief in support of CPMC's legal challenge to the creation of the independent commission following the vote. Last month, the 6th U.S. Circuit of Appeals dismissed a challenge by the state Republican party, which claimed that the commission violated its constitutional rights.
In 2018, FLA gave $50,000 for "legal assistance" to Advance Missouri. Advance Missouri opposed the Missouri Amendment 1 ballot measure, to create a "non-partisan state demographer" that passed with 62 percent of the vote. 
Despite Missouri voters strong support for the reform measure, Republican legislators rammed through legislation this week to put a repeal measure on the ballot this fall.
In Colorado, FLA contributed $50,000 in 2018 to the Better Jobs Coalition (BJC) to "support redistricting reform education." Colorado voters passed ballot Amendments Y and Z in 2018 to allow an independent commission to draw districts after the census. BJC ran ads in 2018 "telling voters that signing petitions could result in identity theft."
Late last year, FLA announced in an email blast that it "is supporting several North Carolina plaintiffs in a new federal lawsuit" that is asking the court for the 2020 congressional elections to proceed under a map that was blocked by a state court. 2019 IRS filings are not yet available, so the amount of money FLA spent on this effort is unknown.
FLA appears to be engaged in the redistricting effort in Texas as well. In April 2019, it held a joint event with National Republican Redistricting Trust over a couple of days in the upscale Hunters Creek Village on "the threats and opportunities redistricting presents."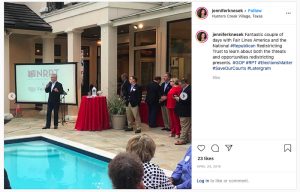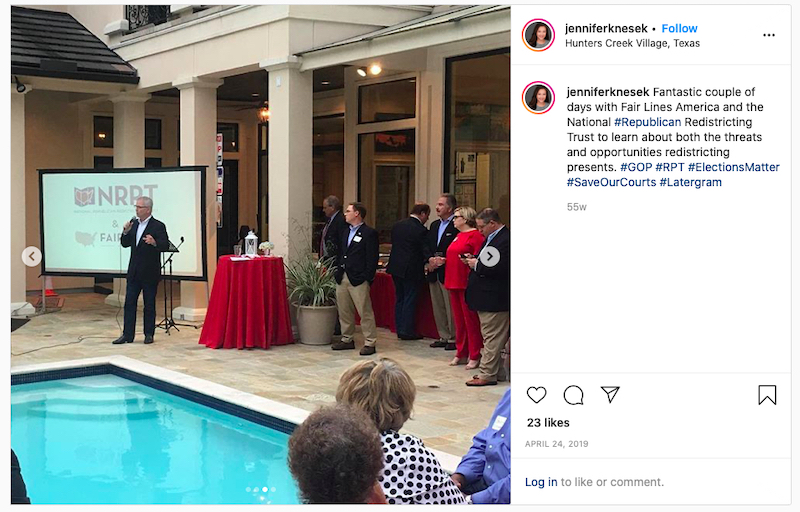 Who Funds Fair Lines America?
FLA and its sister foundation are not required to disclose their donors. CMD was only able to identify two donors through an exhaustive search: the Bradley Foundation and the Legacy Foundation. 
The Bradley Foundation, a major funder of right-wing infrastructure in the states, gave $100,000 to FLA Foundation in 2019 to "support start up efforts," and its donor advised fund, the Bradley Impact Fund, lists the Foundation as an "approved grant recipient."
The Legacy Foundation, a little known 501(c)(3) in Sioux City, Iowa, gave $12,000 to the FLA Foundation in 2018.
FLA Foundation also received $225,000 from DonorsTrust in 2018, the preferred funding vehicle of the Koch network of right-wing donors.