The American Legislative Exchange Council (ALEC) meets virtually this week for its second conference of the year, the States and Nation Policy Summit. Like its annual meeting in July, ALEC had hoped to hold the meeting in person, but moved to an online format when that no longer seemed possible due to COVID-19 public health restrictions.
Last summer, ALEC went so far as to circulate among its members a thank you letter to Florida Governor Ron DeSantis (R) for "wisely tak[ing] the first steps to safely reopen Florida," but it appears that the letter never went out after ALEC moved its annual meeting from Orlando to Zoom.
ALEC has played a leading role in pushing for the economy to remain open during the COVID-19 pandemic, going so far as to circulate a sign-on letter from "policy leaders and elected officials" to President Trump and state leaders urging them to "reopen the economy and get people back to work."
Confirmed speakers for this week's meeting include Federal Communications Commission Chairman Ajit Pai, who recently announced that he will step down on January 20, and newly elected congresswomen and ALEC alumni Nancy Mace (SC-01) and Victoria Spartz (IN-05).
ALEC summit attendees will also have the opportunity to hear a number of panels on "what will be needed to restore consumer confidence in air travel," on "effective strategies for regulatory reform in the 2021 legislative sessions," and on "how this election will effect the future of energy moving forward," among many others.
ALEC Expands Its Call for a Rewrite of the Constitution
ALEC will again call for an Article V convention to radically rewrite the U.S. Constitution at the policy summit, although this time ALEC is focused on maintaining its right-wing majority on the U.S. Supreme Court by requiring that the nation's highest court stick with nine justices.
If passed by members, the Model Application under Article V of the U.S. Constitution to Propose an Amendment to Require the Supreme Court of the United States to Be Composed of Nine Justices provides state lawmakers with language to introduce in legislative sessions next year.
And just in case the Article V route does not work, ALEC members will consider a model resolution calling on Congress to send to the states a constitutional amendment to do the same thing.
This fall, ALEC circulated and submitted a letter urging the swift confirmation of Amy Coney Barrett, stating that she is "tremendously qualified" for the Supreme Court, despite having less than three years of experience on the bench, and that she "has also promised to follow in the footsteps of one of her mentors, Justice Antonin Scalia." Barrett was nominated by Trump following the death of Justice Ruth Bader Ginsburg.
At its annual meeting last summer, ALEC introduced a new plan to force an Article V convention. "The new plan, presented during the ALEC workshop with a PowerPoint presentation from conservative activist David Biddulph, is to take the 28 state resolutions seeking a balanced budget amendment and combine them with six state resolutions passed over the last two centuries generally seeking a constitutional convention," the Associated Press reported. 
Exploiting COVID-19
ALEC again will exploit the COVID-19 crisis to push through a number of policy items on its wish list at the summit. The first, the Emergency Power Limitation Act, would limit governors' power to enact emergency orders, shifting the balance of power during an emergency to legislatures.
During the pandemic, many governors have faced legal challenges from right-wing litigation outfits such as the Bradley Foundation-funded Wisconsin Institute for Law & Liberty in Wisconsin, the National Rifle Association, churches, and others to upend public health orders designed to prevent the spread of the virus. If passed, ALEC's model bill will make it harder for governors to quickly respond to public health emergencies.
After publishing a letter opposing federal assistance to states and localities facing budget shortfalls due to the ongoing pandemic, calling it "harmful," ALEC is now asking members to consider passing a Resolution in Opposition to Federal Bailouts of State Budgets. If passed, ALEC lawmakers could introduce the resolution for passage in by state legislatures and put pressure on the federal government to not provide financial relief to the states.
ALEC is also asking members to support passage of a Statement of Principles on Sound Rainy Day Fund Practices that encourages states to set up "rainy day funds" for economic downturns and require a supermajority vote to withdraw funds. 
ALEC Offers Election Trainings
ALEC will again also offer ALEC meeting attendees special trainings. Despite its charitable 501(c)(3) status, which prohibits it from engaging in politics, ALEC is coaching its legislative members, the vast majority of whom are Republicans, on winning election strategies.
In "Digital Media: Applying Presidential Strategy to Legislative Races," ALEC will teach attendees how to utilize digital tools like Trump to "build a base of supporters to help spread a grassroots message online, drive online donations and expand your reach."
In another special training, "renowned pollster and friend of ALEC" Frank Luntz will educate attendees on "the best way to engage and invest your constituents in a commitment to lifelong learning and skill development to empower the future workforce." With this training, Luntz is following up on his October 15 presentation for ALEC legislative members on "Words that Work in 2020," where he told them, "COVID 'trumps' jobs and the economy."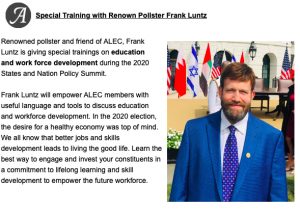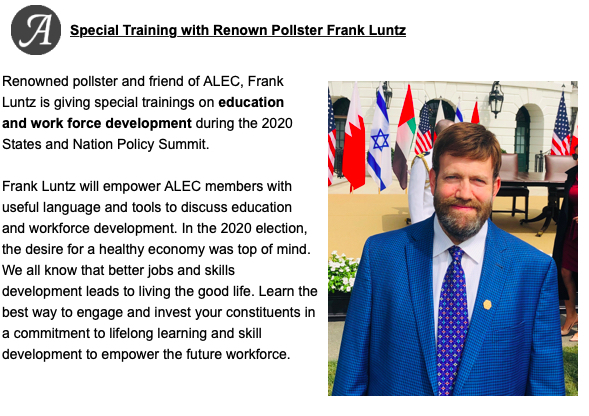 Limiting Plaintiffs' Rights in Court
ALEC has two measures on the table at its policy summit to make it more challenging for injured people to hold corporations accountable. 
The Anchors Away Act, if passed, would prevent plaintiffs from asking for a specific dollar amount "noneconomic damages" like pain and suffering in tort cases. ALEC argues that, "Because noneconomic damages are subjective, the suggested award may be arbitrary," and overly influence a jury's verdict.
The Asbestos Litigation Over-Naming Reform Act, is yet another in a series of model bills ALEC has proposed to disadvantage workers suffering lung disease from asbestos exposure and protect asbestos companies and their insurers. The bill would place further restrictions on the filing of asbestos exposure suits by requiring plaintiffs to submit specific information about each defendant within 30 days from the original complaint. 
ALEC Weighs in on Independent Contracting
In putting forth its Statement of Principles on Independent Contracting, ALEC is injecting itself into a renewed debate over how an independent contractor is defined in the so-called gig economy. The Statement proposes an end to government regulations over independent contracting and instead allow contractors and employers the flexibility over how to craft their working arrangements.
The introduction of this statement comes just weeks after California voters approved Proposition 22, in the costliest ballot measure battle in the state's history, which overturned a court ruling in order to allow companies such as Uber and Lyft to classify app-based drivers in the state as independent contractors
California passed AB 5 in 2019, which significantly reduced the number of workers that qualified as independent contractors. Uber and Lyft attempted to argue in court that their drivers do not qualify as employees under the new law, but a California Appeals Court disagreed in October. 
Although Lyft and Uber have not been confirmed as members of ALEC, Lyft is a member of NetChoice, a regular sponsor of ALEC meetings that sits on ALEC's Private Enterprise Board of Directors and chairs ALEC's Communications and Technology Task Force.
Other New Model Bills and Resolutions Being Considered:
Photo credit: @ALEC_states