Several right-wing advocacy groups are campaigning against two of President Joe Biden's nominees, reprising the Right's previous attacks on health care expansion and the Black Lives Matter movement.
Groups including the Judicial Crisis Network (JCN), the Heritage Foundation's political arm, and the recently established Americans for Public Trust (APT) are spending millions of dollars on TV and digital ads that began running on Feb. 19. The groups are reportedly trying to repeat the tactics and successes of the Right's advocacy efforts to get Donald Trump's Supreme Court nominees confirmed, efforts led by JCN and other groups in the network of former Federalist Society executive Leonard Leo.
Additional organizations involved in the campaign are the free-market think tank the Competitive Enterprise Institute and right-wing advocacy groups CatholicVote and the Susan B. Anthony List.
The groups are taking aim at former California Attorney General Xavier Becerra, Biden's nominee for Health and Human Services (HHS) secretary, and Vanita Gupta, a Barack Obama alumna whom Biden has tapped for associate attorney general, the third-highest position at the Department of Justice.
Attack Ad Paints Becerra as a "Radical Partisan"
Becerra is a progressive who has in the past supported Medicare for All. The Senate Committee on Health, Education, Labor and Pensions will begin his nomination hearing on Feb. 23.
Heritage Action's $600,000 ad against Becerra paints him as a "radical partisan" who "would decriminalize illegal immigration." Becerra has said he supports decriminalizing unauthorized immigrants, but as HHS chief, his agency would have no jurisdiction over law enforcement.
Heritage Action Executive Director Jessica Anderson worked in Trump's Office of Management and Budget. The Trump administration implemented racist and Islamophobic policies, including the Muslim Ban on immigration from majority-Muslim countries and the deliberate separation of immigrant families. More than 600 immigrant children are still stranded without their parents.
Much of the Right's opposition to Becerra involves his position on abortion. Becerra led a group of state attorneys general last year to defend long-held abortion rights, and he challenged a Mississippi law prohibiting abortions after 15 weeks.
Evangelical Christian group Students For Life, a dark money nonprofit, redirects users from StopBecerra.com to a campaign page that allows them to email their senators with anti-Becerra talking points. Another Students For Life petition faults Becerra for prosecuting anti-abortion activist David Daleiden, whom the group characterizes as a journalist. A jury convicted Daleiden and his anti-abortion front group of conspircy to commit fraud, trespass, and other crimes after they attended conferences under fake identities and illegally filmed Planned Parenhood doctors and staff.
The anti-abortion nonprofit Susan B. Anthony List tweeted out the StopBecerra.com link and hosted a "national pro-life call" to stop the "dangerous" Becerra with GOP Sens. Steve Daines (MT) and Tom Cotton (AR).
📢 Join the #StopBecerra event tomorrow night hosted by @SFLaction, Wed. Feb. 17 at 8p ET

Featuring:@KristanHawkins@marjoriesba@SteveDaines@SenTomCotton

Learn why Xavier Becerra is WRONG for HHS & how to STOP him from being confirmed

RSVP: https://t.co/eKZKTq76G7 pic.twitter.com/MsLNfk7OsY

— Susan B. Anthony List (@SBAList) February 16, 2021
CatholicVote has an online petition against Becerra and is reportedly contacting 350,000 activists, urging them to call their senators. CatholicVote spent millions last year attacking Biden, a Catholic, as an existential threat and used geolocation software to target churchgoers with political ads.
Fellows at the American Enterprise Institute (AEI) have gotten in on the action, penning op-eds for conservative publications opposing Becerra. AEI's Tim Carney attacked Becerra on abortion and called him a "culture warrior."
The right-wing advocacy groups' attacks on Becerra mirror opposition from their Republican allies in Congress. Sen. Cotton wrote a histrionic op-ed for the right-wing megaphone Fox News, also calling Becerra a "culture warrior" and referencing the convicted anti-abortion activists. And GOP staffers told Politico that they will try to pin California's Covid-19 failures and public safety-based restrictions on churchgoing on Becerra, although Gov. Gavin Newsom has taken the majority of the blame thus far.
Racist Ad Attacks Gupta, a Civil Rights Leader
Gupta is a prominent civil rights attorney who led the Department of Justice's Civil Rights Division during Obama's second term. She is on leave from her role as president and CEO of the Leadership Conference on Civil and Human Rights and previously worked for the American Civil Liberties Union and the NAACP.
JCN's $800,000 ad, "Dangerous Appointee," opposes Gupta and echoes many GOP ads during the 2020 elections that exaggerated violence and property destruction that occurred during Black Lives Matter protests in order to scare voters into backing "law and order" candidates. The strategy borrows from Richard Nixon's racist southern strategy, which did the same during the 1960s civil rights movement.
Over ominous music and clips of burning police cars and people vandalizing businesses, the ad uses false or misleading claims to allege that Gupta would make Americans less safe as associate attorney general. In one clip with obvious racial implications, young Black men surround and fight a white man.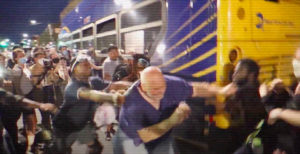 One evidence-free claim, that Gupta supports defunding the police, references a Reuters article that does not quote her as supporting the policy. In a Washington Post op-ed and a 17-minute PBS interview about police reform, Gupta does not mention reducing police funding.
Another claim, that she wants to weaken punishment for white supremacists including Charleston murderer Dylann Roof, is extremely misleading; on Feb. 9, when Gupta was already on leave from the Leadership Conference on Civil and Human Rights, the organization and over 80 other civil rights groups asked Biden to stop executing federal prisoners on death row, a practice that Trump restarted in 2020 after being on hold for 17 years. The "reduced punishment" for a terrorist like Roof and all other death row inmates would be life in prison instead of state execution.
If confirmed, Gupta will attempt to clean up the agency and its civil rights division after Trump appointees refused to enforce existing civil rights laws, supported voter suppression policies, opposed affirmative action, undermined LGBTQ protections, and fought coronavirus safety measures.
"In short, there is no administration that has done more to obstruct and defy the mission of the [civil rights] division in its 63-year existence," wrote Kristen Clarke, president and executive director of the Lawyers' Committee for Civil Rights Under Law and Biden's nominee to lead the department's civil rights division.
Dark Money Attacks on…Dark Money
Americans for Public Trust, a 501(c)(3) nonprofit, and JCN and Heritage Action for America, 501(c)(4) nonprofits, don't disclose their funders. But that hasn't stopped these groups from working on a "highly coordinated" multi-million-dollar effort to oppose the Becerra and Gupta nominations and attack Biden for doing the bidding of "liberal dark money groups."
In an ad and a website, DarkMoneyRewarded.com, APT slams Biden for election help from non-disclosing groups and singles out Biden Chief of Staff Ron Klain for his former position at the Center for American Progress Action Fund, a nonprofit organization that voluntarily discloses some of its large donors on its website.
"This is a highly coordinated effort to bring awareness to Biden's pay-to-play approach to the liberal dark money groups who spent money to elect him and Senate Democrats, and to oppose two of Biden's extremist nominees who will carry the agendas of those dark money groups to their administration posts if confirmed," a Republican operative involved in the campaign told Politico.
APT was established in 2019, and because of the lag in public tax disclosures, CMD was unable to find records of any of its donors.
As a 501(c)(3) charity, APT is barred from engaging in partisan activities, but it is clearly allied with the Republican Party. Caitlin Sutherland, who previously worked for GOP super PAC the Congressional Leadership Fund and the National Republican Congressional Committee, is executive director, and Nevada's former GOP attorney general, Adam Laxalt, is counsel.
Last year, while working for APT, Laxalt was the Trump campaign's Nevada co-chair. Days after the election, Laxalt and the campaign asked judges to stop the vote counting there, and weeks later, Laxalt was still trying to invalidate Bidens' win in the state.
Information on donors to Heritage Action is limited. While the group doesn't disclose its donors, one can discover the identities of some donors by searching potential nonprofit donors' tax records. The American Fuel and Petrochemical Manufacturers and the Pharmaceutical Research and Manufacturers of America (PhRMA) have donated five-figure amounts in recent years. Another known donor is the Brian and Joelle Kelly Family Foundation. (Brian G. Kelly is chairman of Activision Blizzard, a gaming company that makes the popular first-person shooter game Call of Duty.) In 2013, Heritage Action got $500,000 from Freedom Partners, a nonprofit central to the political funding network of billionaire industrialist Charles Koch.
The Heritage Foundation, the group's 501(c)(3) sister organization, has received millions from numerous key right-wing funders such as the Sarah Scaife Foundation, the Richard and Helen DeVos Foundation, and the Mercer Family Foundation. In addition, many corporations have donated to Heritage.
A Dark Money Judicial Confirmation Machine
In a Fox News op-ed, JCN President Carrie Severino criticized liberal dark money, claiming that Gupta is "deeply entrenched in the world of left-wing activism and dark money." But conservative dark money groups, led by JCN, spent tens of millions of dollars to boost Trump's three right-wing Supreme Court nominees, whom the Senate confirmed.
Shortly before the confirmation process for Justice Brett Kavanaugh, JCN received $17 million from a single mystery donor, the majority of its $22 million haul during its 2017 to 2018 fiscal year. Much of the group's prior funding came from the now-defunct Wellspring Committee, another dark money group.
Leonard Leo, who helped raise money for Wellspring, was executive vice president of the right-wing legal network the Federalist Society until launching a conservative dark money network through CRC Advisers to rival liberals' anonymous funding operations. Leo is the sole trustee of a mysterious dark money group, the Rule of Law Trust, which took in over $80 million in dark money in 2018 and may have been created to replace Wellspring. While shuffling money between right-wing advocacy groups, Leo has paid his consulting firm, BH Fund, millions of dollars.
JCN spent $10 million backing Kavanaugh, $10 million backing Trump first Supreme Court nominee, Neil Gorsuch, and another $10 million in support of Amy Coney Barrett. It even spent $7 million to block a Senate vote on Barack Obama's nominee Merrick Garland—money that came out of an $18 million anonymous donation in the 2016 to 2017 fiscal year. It also weighs in on lower federal court nominations and state supreme court races, spending millions of dollars on ads and donations over the years.
JCN has made large contributions to several controversial groups, including the now bankrupt National Rifle Association, the Rule of Law Defense Fund, the Republican Attorneys General Association, and Turning Point Action, which recently helped organize the rally and march that directly preceded the deadly invasion of the U.S. Capitol on Jan. 6.
The Susan B. Anthony List received $550,000 from JCN in 2018 as it advocated for Kavanaugh's confirmation.
More Attacks Likely
Republicans in Congress have expressed opposition to Biden's nominee to lead the Department of the Interior, Rep. Deb Haaland of New Mexico. Haaland, who would be the first Native American to hold a Cabinet position, is a progressive Green New Deal supporter. Her hearings in the Senate Energy and Natural Resources Committee began on Feb. 23.
Republican Sen. Steve Daines of Montana says he'll block her nomination over her opposition to the Keystone XL Pipeline and support for the Green New Deal. Daines' 2020 campaign received over $200,000 from oil and gas PACs. Joe Manchin, a conservative Democrat whose family coal business has made him millions of dollars, is still undecided.
GOP senators are also going after Clarke, the nominee to lead the Justice Department's civil rights division, for an article she wrote in response to Charles Murray's racist book, The Bell Curve, in 1994 while a student at Harvard University.