After failing to stop a ballot initiative to expand Medicaid last year, the Missouri branch of billionaire Charles Koch's Americans for Prosperity (AFP) continued its assault on Medicaid expansion in the state. In recent months, the group has written op-eds attacking the constitutionally mandated expansion, mobilized its supporters to oppose it, and advertised online.
AFP, which has affiliates in 38 states, is Koch's premier astroturf organization, activating people to oppose public sector unions, expanded health care, and environmental standards. Its budget, which is supported mostly by the Koch-funded Stand Together Chamber of Commerce, was $57 million in 2019.
An estimated 205,000 uninsured Missourians could get health care under expanded Medicaid, which would raise the income limit for program eligibility. The Kaiser Family Foundation also says that eight out of 10 people made eligible for health benefits under an expanded program are in families with at least one person working part- or full-time.
In August 2020, 53% of Missourians voted to expand Medicaid through a constitutional amendment in August 2020.
Nonetheless, AFP's campaign against health care for low-income people has been successful.
The Missouri state House refused to fund the Medicaid expansion in March 2021, and the GOP-controlled Senate voted 20-14 against the funding. All 10 Democrats in the Senate, along with four Republicans, voted to finance the Medicaid expansion, while 20 Republicans opposed the funding.
Then on May 7, the Missouri legislature passed a $35 billion budget with no funding for expanded Medicaid. Six days later, the state formally withdrew its federal application to expand the program, citing the legislature's refusal to fund it.
The successful ballot initiative stated that people ages 19-65 earning up to 138% of the federal poverty level (less than $17,774 per year for an individual or less than $37,570 for a family of four) "shall be eligible" and "shall receive coverage" for Medicaid benefits beginning on July 1.
But the state's GOP leadership insists it has no obligation to implement the program.
"There is not a need to enroll that population if there is no money to provide a benefit to them," House Budget Committee Chairman Cody Smith, a Republican from Carthage, told the Associated Press.
Democrats say that because the referendum changed the state constitution to provide for expanded Medicaid, lawmakers must make the money available.
Twelve states have not expanded Medicaid as allowed under the Affordable Care Act, leading to higher rates of uninsured residents, and AFP leads the opposition to expansion in many of those states. In 2019, the number of uninsured Americans had increased to 29 million.
AFP does not reveal its membership in each state, though its Missouri list, garnered largely during election campaigns, is thought to have tens of thousands of names. During its fight in the state legislature, AFP Missouri encouraged those members to write to their state legislators opposing the Medicaid funding.
AFP Missouri held town halls in nine cities across the state during the ballot referendum fight, and it paid for Facebook ads opposing the expansion as recently as May 13 of this year.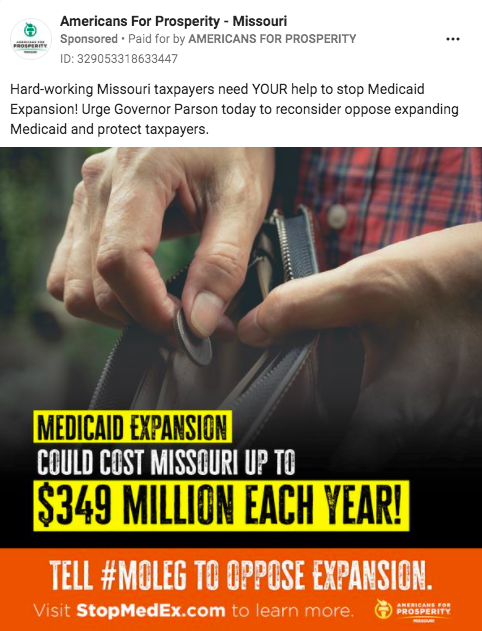 AFP Misleads the Public on Medicaid Expansion
Jeremy Cady, director of AFP Missouri, recently made multiple false claims about Medicaid expansion in the Missouri Times.
"The radical expansion of the program," he wrote, "tends to displace dollars that would otherwise go to important state priorities such as education, public safety, and transportation—and it would do so without improving health care outcomes."
Medicaid expansion, however, improves health care outcomes significantly, according to numerous studies. Expanding the program has led to lower mortality rates and improved outcomes among people with a number of chronic diseases, and better outcomes in sexual, reproductive, and behavioral health. The program also helps providers, as more Medicaid recipients means decreased uncompensated care costs.
"The state is not hurting for money to pay for the expansion," according to St. Louis Today, in another contradiction of Cady's claims. The state will end its fiscal year with roughly $1 billion in unspent funds, and it will receive an extra $1.2 billion in federal dollars over two years if it does expand Medicaid.
The Kaiser Family Foundation estimates that if Missouri were to expand its Medicaid program, 205,000 uninsured nonelderly adults, or 37% of the state's uninsured nonelderly adult population, would become eligible for coverage.
In the states that have not expanded Medicaid, residents have to weigh the costs of health insurance and medical care against other essential needs, such as housing, food, and transportation to work. Thus, many people forgo important health care or obtain it without compensating the provider.
Lawsuits are expected on both sides of the issue as people try to sign up for Medicaid during the expansion application period, which begins in July.
Wealthy Right-Wing Funder Behind Anti-Medicare Political Committee
Spending in favor of the ballot initiative far exceeded spending against it. The "No on 2 in August" committee that fought the measure received most of its money via in-kind donations by two Missouri-based entities, Cornerstone 1791 (nearly $240,000) and lobbying firm Pelopidas, LLC (close to $110,000).
Cornerstone 1791 is a 501(c)(4) nonprofit that shares an address with the Kansas City law firm of former Missouri GOP Chairman Todd Graves. Cornerstone has ties to another political nonprofit, Missouri Alliance for Freedom, which has received funding from the American Democracy Alliance, which has funded both Cornerstone and AFP. Cornerstone has spent money on other ballot initiatives, including one to increase gerrymandering powers, which it supported.
Pelopidas, LLC was until recently affiliated with GOP megadonor Rex Sinquefield, an index fund pioneer who co-founded the Show-Me Institute, a Missouri-based think tank in the right-wing State Policy Network. He has used his massive political spending and his institute to oppose the state income tax, attack public education, and move the Missouri GOP to the right.
Sinquefield created the No on 2 in August committee and used Pelopidas to oppose federal Medicaid funds going to Missouri. Pelopidas also spent money to privatize the St. Louis airport, a failed effort that would have netted Sinquefield a lot of cash. In September, Sinquefield parted ways with Pelopidas.