The Republican Attorneys General Association (RAGA) has added another weapon to its arsenal of pay-to-play groups designed to influence state attorneys general and national policy.
The "Rule of Law Endowment" received tax-exempt status from the IRS on Feb. 10, 2021, retroactive to Dec. 15, 2020, and operates out of the same office and with the same staff as RAGA, the Center for Media and Democracy (CMD) has learned. 
RAGA is a registered political organization bankrolled by unlimited contributions from corporations and special interests, including dark money groups like The Concord Fund, Koch Industries, the U.S. Chamber of Commerce, fossil fuel, telecom, and drug companies, and the National Rifle Association. Along with its 501(c)(4) affiliate the Rule of Law Defense Fund (RLDF), RAGA runs a cash-for-influence operation that coordinates the activities of Republican state attorneys general and sells access to those AGs and their staff to its corporate funders.
In June, the Endowment filed for a name change to the "Center for Law and Policy" with the Louisiana Secretary of State's office, but that has not yet been registered with the IRS.
An email from RAGA obtained by CMD describes the Center for Law and Policy as a "new public policy organization dedicated to open discussion with state AGs on issues affecting their offices and long-term policy development on the role state AGs play in our system of government."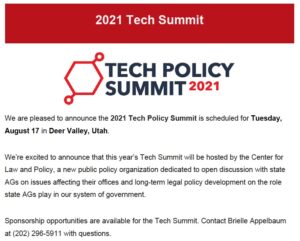 The Center for Law and Policy does not have a web presence but led a "Tech Summit" at RAGA's Summer Meeting in Deer Valley, Utah on Aug. 17, where Florida Attorney General Ashley Moody was a featured speaker, according to RAGA's agenda acquired by CMD.
Peter Bisbee, RAGA's executive director and the former executive director of  RLDF, heads up the newly minted 501(c)(3) nonprofit as its executive and policy director.
Bisbee and former RAGA director Adam Piper became the focus of controversy after RLDF sent out robocalls encouraging its supporters to "march to the Capitol and call on Congress to stop the steal" prior to the deadly Jan. 6 Capitol invasion. Piper resigned less than a week later.
Brielle Appelbaum, listed as the contact for "sponsorship opportunities" by the group, is also the new finance director at RAGA. Appelbaum replaced Ashley Trenzeluk, who resigned earlier this year after Bisbee was selected to be RAGA's executive director over staff objections, according to a letter published by the Alabama Political Reporter.
"As RLDF Executive Director, Pete Bisbee approved the robocall expenditure, and was the only other person [besides Piper] accountable for RLDF involvement in the January 6 events," Trenzeluk wrote. "Over the last few months, I have fielded, reassured and assuaged concerns from our core donor base on the future direction of our organization. The result of the executive committee vote to nominate Pete as RAGA's Executive Director is a decision I cannot defend."
The tax-exempt application for the new group lists Adam Piper, Luther Strange, and Charlie Condon as board members. 
Strange is a former U.S. senator and attorney general of Alabama. While attorney general, Strange served as RAGA's chairman in 2016 and 2017.
Condon is a former attorney general of South Carolina and the first chairman of RAGA.
Due to IRS filing schedules, information on the group's contributors will likely not be available for at least another year. Only the National Child Identification Program can be linked to RAGA's new nonprofit through a Dec. 29, 2020 letter to the IRS obtained by CMD asking for expedited processing so it could receive $100,000 from the group by Jan. 8, 2021.
That funding, however, never came. "We anticipated supporting it," Kenny Hansmire, executive director of the National Child Identification told CMD. "We did not move forward with any monetary support."