In May, the secretive Christian right Council for National Policy (CNP) celebrated its 40th Anniversary at the Ritz-Carlton in Naples, Florida with a Black Tie Gala following its spring meeting.
The American Legislative Exchange Council (ALEC) led two panel discussions on state legislation at the CNP gathering, in which it claimed credit for helping to push and pass a host of laws to make it harder to vote, block public schools from teaching about racism in America, and protect employers from COVID-related lawsuits, the Center for Media and Democracy (CMD) first reported.
In addition to publishing videos from those sessions, CMD also published a "confidential" agenda from the event.
At the meeting, CNP handed out awards to many of Trump's closest allies and insurrectionists. CNP is deeply tied to the Trump administration, #StoptheSteal, and the violent insurrection at the Capitol on Jan. 6, CMD has reported.
Trump's Attorney General William Barr received the Edwin Meese III Award for Originalism & Religious Liberty, sponsored by the Christian right litigation powerhouse Alliance Defending Freedom.
CNP also awarded its "Lantern of Liberty" award to Republican lawyer Cleta Mitchell, a Big Lie fueler and Trump legal advisor who lost her job following news that she participated in a January call in which Trump asked Georgia election officials to "find" votes to overturn the results and make him the winner of the state's electoral votes.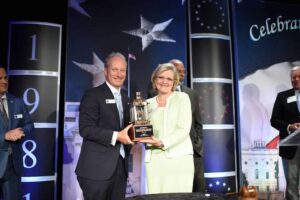 The gala celebrating 40 years of CNP following the meeting included dinner, dancing, and a keynote speech from Edwin Feulner, founder and former president of The Heritage Foundation. Feulner is a Bradley Prize recipient, a former Reagan consultant on domestic policy, and the current chairman of the Victims of Communism Memorial Foundation. 
Feulner told Robert O'Harrow recently for a Washington Post Magazine article that first disclosed his speech that, "CNP has always aimed at providing a forum where certain conservative elites could socialize and strategize — and raise money from wealthy donors. 'You could let your hair down and just talk candidly about shared visions,' he said. 'You also have a lot of people who can write significant checks.'"
A CNP email following the 40th Anniversary event obtained by CMD offers thanks to "CNP members who generously donated to our anniversary fund." The list is a mix of high-powered lawyers, pastors, and corporate leaders.
Council for National Policy 40th Anniversary Fund Contributors
Linda Bean, heiress to the L.L. Bean company
Bob Burckle, president, Eastern European Mission
Don Campion, founder and president, Banyan Air Service
Peggy Dau, Iran Alive Ministries
Diana Denman, president, The Reagan Legacy Forum
Vivian Noble DuBose, president and CEO, Noble Properties Inc.
Richard Hayes, partner, Hayes, Berry, White & Vanzant, LLP
Allen Herbert, chairman, American-Chinese Fellowship of Houston
George Hiller, president and CEO, George M. Hiller Companies, LLC
J.C. Huizenga, chairman, Huizenga Group
Alveda King, director of civil rights for Unborn Priests for Life
Gary Krings, financial advisor, Ameriprise Advisors
Joy Lamb, president and founder of Lamb's Books
Joan Holt Lindsey, founder and president, Lindsey Communications
Barry Meguiar, president, Meguiar's Car Wax
William Morgan, president John Bouchard & Sons
Steve Moxley, senior VP of Fifth Third Bank
Richard Norman, founder, The Richard Norman Company
Jack Park, Jack Park Law
Ralph Rebandt, senior pastor, Oakland Hills Community Church
John Slavic, founder and president Slavic401K
John Stemberger, president and general counsel, Florida Family Policy Council
Marcia Taylor, chairman and CEO, Bennett International Group
Ray Thompson, founder, Semitool
Gevie White, president and owner, GVSW, Inc.
JC White, developer, builder, and real estate investor, Almont Homes and Ashton Management