This is a series of annual special reports for CMD from guest contributor Alex Carlin about his observations at the United Nations climate conference. — CMD Editors

Blog #6: A Tale of Twenty Six COPs
It is easy to criticize the UN COP process and COP26 in particular. While astute readers of my blog understand that, parallel to reducing future CO2 emissions, we must also remove a lot of CO2 from the atmosphere, the 26 COPs have utterly failed to accomplish any emissions reductions at all. In fact, emissions are still rising. And the Glasgow COP26's vaunted "net-zero" carbon off-setting scheme theme only made COP's credibility worse among average citizens, since it smacks of a fake solution, with seemingly devious creative accounting and scant prospects for finally reducing emissions.
Nonetheless, I would like to outline some good news that came out of COP26. Article 6 of the Paris Agreement has become a lightning rod for critics because it provides for the trading of carbon credits, which apparently lands us in that above-mentioned net-zero false solution zone. But still, the fact that Article 6 was finally ratified at Glasgow does have a certain positive effect on jump starting and accelerating critically important new projects that benefit from the kind of financing that Article 6 engenders. In my opinion, to avoid Climate Ruin, we will really need these cut-straight-to-the-solution types of programs to become fully implemented very soon, projects such as Ocean Pasture Restoration or OPR. Time is truly of the essence.
By restoring the health of the underwater deep ocean biomass, such as plankton, fish, kelp, and other life forms, OPR has the capacity, via photosynthesis, to remove very significant amounts of CO2 much faster than land-based solutions to quickly reduce the greenhouse effect. And speed is crucial if we are to avoid dangerous tipping points, such as thawing permafrost causing disastrous releases of methane. So, the hope is that, because of the Blue Carbon credits OPR can generate, Article 6 will lead to a very fast investment in OPR around the world, whereas without Article 6 OPR may be on too slow a track to make that key significant contribution.
But unfortunately, the big picture of the COPs is a daunting depiction of 26 years of not doing what science says needs to be done. As Greta Thunberg says, only "blah blah blah," rearranging the deck chairs on the Titanic as it goes down. COP is an organization of nation states whose actions are decided by top leaders representing the elite oligarchies, or power centers, of each state. How is it possible that these leaders, rather than demanding a plan that will pilot the Titanic away from hitting the iceberg that will destroy us all, instead allow the ship to head directly to the crash? 
In my view, properly designed climate plans are perceived by these "powers that be" as severely interfering with their current business models. These leaders are not ready to dismantle the gravy train of money and power that is so dizzyingly successful for them. The military-industrial complex that is so intertwined with the fossil fuel system has a massive momentum. The Crash is still too distant for them, too theoretical. They hear the science telling them to change, but they think they will get bailed out somehow. They would rather hope that a deus ex machina will save them than disassemble their beloved edifice of unimaginably opulent profit and power.
So much for the top at COP. Amongst the ground-level participants that I conversed with every day there, this predicament gets more obvious every year. They believe that the real answers will come from below. They hope that we will somehow force the proper plans to be implemented by the top echelons, or at least we will not let the elites block the real solutions from happening. And solution plans that do not require much elite action, such as Climate Restoration featuring OPR, may indeed succeed in avoiding  immediate doom. That would give us time to work on the necessary long-term projects of system change, moving humanity away from the current  version of capitalism with its marauding atrocities in the Global South, its rampant consumerism in the North, and its absurdly bloated military budgets, all of which exacerbates the climate crisis.
A note about Russia. A lot of hay was made in the media coverage of COP26 about "Russia and China not being there," referring to the fact that the leaders of those two countries did not attend. But of course, the two delegations were indeed there in force, working as much as any other delegations. I saw first hand on my visits to their work station the Russian delegation working the same as they do every year.
In fact, the leader of the Russian delegation, Deputy Prime Minister Alexey Overchuk, made a notable statement on November 9 on behalf of the Russian Federation at the high-level segment of the conference. 
His statement was remarkable in its relevance to the potential in Russia of the development of Ocean Pasture Restoration, OPR. For example, whereas OPR absorbs CO2 naturally from the deep seas in volumes at least equal to the vast forests, his statement emphasized "managing and improving greenhouse gas absorbing capabilities of our natural ecosystems including forests, tundra, farmland, marshes and seas" to "maximize absorbing capacity."
OPR has been extensively researched since the 1980s and is now ready to be deployed to restore the oceans to historic health and abundance, and in doing so repair the climate as a newly applied science and new technology. Overchuck declared that for climate efforts to have "success depends on availability of new technologies and funds to finance this transition." And as OPR will produce prodigious volumes of carbon credits, blue carbon, Overchuck said "it is critical to develop common fair and transparent rules for carbon pricing measurement and ensure their multilateral recognition and comparability between countries."
So, onward and upward to Egypt for COP27 in November of 2022. I have hopes that by then Ocean Pasture Restoration planning will be underway in at least five of the seven seas, putting us firmly on the path to Climate Restoration.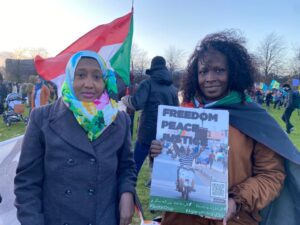 Blog #5: Military Coup Subverts Progress in Sudan
As I stated in my first blog here, each COP event is a marvelous place for people to meet dynamic, constructive activists and start networking and pushing the real solutions. On the big climate march in Glasgow on November 6th I met one such effective person, Rania Amin, a Sudanese activist. Her message was not directly about climate, but rather of an immediate problem that needs to be trumpeted in the media.
Recently, the Sudanese military took control of the government in a military coup. Rania and her many compatriots were out in force in the park where the Glasgow climate march was assembling for speeches. Her group was making a circle, and chanting in defiance to the coup. Their exuberance commanded my attention, and Rania and I decided to do an interview.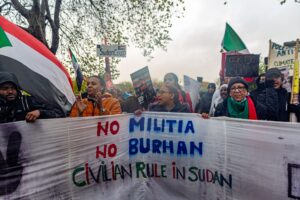 Rania clarified the current coup situation. Sudan had experienced a 30-year-long military dictatorship that ended in some respects when a coup in 2019 resulted in a promise by the coup leaders to hand over power to a transition government this month as a step on the way to civilian rule. But civilian rule went out the window because, instead, another coup happened on October 25th, just two weeks before I met Rania at the rally, and the circumstances in Sudan right away became dire.
Rania told me that,
Immediately, the internet was totally blocked. The telephones were blocked, except that people from outside Sudan can call people inside Sudan, but people inside Sudan cannot make any phone calls. So, it is extremely difficult for people to make their voices heard. Every day in Sudan there are protests in all the cities, not in central squares; it doesn't work that way in Sudan. But people are on the streets, they do not want to go back until the military relents and turns power over to civilian rule.

People have been protesting since October 25th, facing a lot of violence. In just a few weeks 40 people have been killed including children, and over 200 are injured. The injuries from being shot on the streets are of course urgent cases, but the medical services have collapsed because the military has been taking over the hospitals, kicking medical staff out, to prevent them from helping the injured. They are blocking ambulances on the way to hospitals. They have attacked medical staff. Yesterday a nurse was shot in the head and killed. They are targeting medical staff so they are unable to help the protesters.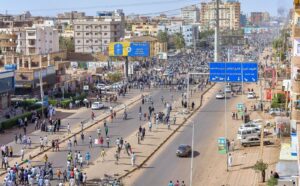 Rania explained to me the basis of support for the military regime, which she doesn't want to say "are 'the government' because they are just some people currently illegitimately running the country." She said,
They are in power because they are supported by other governments like Saudi Arabia, UAE and Egypt. These regional powers do not want democracy to be a model affecting the rest of the region. Sudan is big, central, and bordering them. If democracy is possible in Sudan it can be possible in Saudi Arabia or UAE, which they do not want. They are kingdoms, oppressing their people.
Rania surprised me by explaining that Sudanese soldiers are a big factor, as Saudi Arabia and the UAE want to keep utilizing the "supply of Sudanese soldiers who are crossing the borders to fight for their war in Yemen."
Another surprise was how the neighboring powers are "getting control over Sudanese land to grow crops, growing food, and taking it away. They can only buy this land if there is a corrupt government. This is happening now."
I asked her about the responsibility of the U.S. for this crisis in Sudan. She said that "the USA made a statement that they want the rule to go to a civilian led government, but this was just a statement, with no action."
I asked her what she wanted the U.S. government to do. She replied, "The US can impose more sanctions on the regime and its personnel. And apply pressure to its regional allies, Egypt, Saudi Arabia and UAE, to stop providing the military with weapons and financial support."
Her further list of demands to the U.S. and to the world, is, "Call for getting our communication channels back. Freedom of press and media. Immediate turnover of power to a civilian government. Hold all those responsible for killing protestors accountable to international courts."
Her ask to the American people, beyond writing to their congressperson, is simple: sign the petition to have the Rapid Support Forces, the main force behind the recent coup in Sudan, designated as a terrorist organization.
In general, she said, "The main thing is raising global awareness, and to amplify the voices of those who don't have their own voice because the internet has been blocked."
A few days after we completed this interview, breaking news came in that the same prime minister who was ousted during the October coup was reinstated by Sudan's military chief as some kind of "partner" with the coup regime in a transitional government.  Rania responded to the breaking news this way:
It is all talk. And it is not what the people want. They don't want a partnership with the military. They want a civilian-led democracy, and the military should be there to do their job like in any other country. Defend the country at times of war or when required, like some countries did with the pandemic. Instead, even after signing the agreement today, a 16-year-old boy who was peacefully protesting for his rights was shot in the head. Protests are still ongoing,  and the crackdown on protesters continues.
And please sign the petition because the Rapid Support Forces are in partnership with the current military forces, and they are terrorists and should be recognized as that. They have been responsible for the genocide in Darfur for years and are now ruling the country and terrorizing people.
The Sudan Doctors Syndicate (SDS) dismissed the news, saying, "The blood of the martyrs still irrigates the streets and has not dried up," with the hashtags ​​#no_reconciliation, #no_settlement, and  #no_partnership.
Regarding Climate Ruin, Rania said, "Throughout Africa there are higher temperatures, drought, and big changes in rainfall. In Sudan we have had floods every year since 2005 that are severely affecting people and their crops and animals. It causes conflict where water is a problem. Some want the scant water for their crops while some want it for their livestock."
In recent years, Sudan has been hit by a devastating cycle of drought and floods, sometimes in the same year, that experts blame on climate change.
And considering the current regime's wanton shooting of citizens, it goes without saying that civilian rule would be a lot better than the current regime for finding the best adaptation strategies for the Sudanese people as we move forward into the brave new world of Climate Restoration. 
Blog #4: A Master Class in Eco-Defense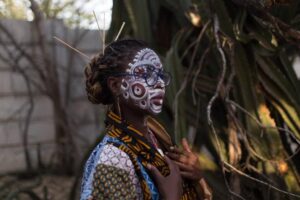 I had the honor of interviewing an amazing woman from Namibia, Ina-Maria Shikongo. Her story will shake you and take you to the essential core of why we are on the brink of Climate Ruin. As you see how the betrayals and treacheries threaten to decimate her homeland, you can understand how similar scenarios are being played out across the planet, and how her actions to foil these perfidies can become a road map for the rest of us.
Inspired by Greta Thundberg's international movement of students who skip Friday classes to demand climate action, Ina, a war orphan and mother of three, established a "Fridays For Future" (FFF) chapter in Namibia's capital, Windhoek, in 2019. 
Then, in 2020, the news arrived of an invasion by a small-cap "junior oil company," a breed of corporation with a business structure conducive to committing the most heinous of eco-crimes. Such companies will identify a resource to extract, which is commonly in somebody's pristine homeland, and — because they are typically start-ups playing the quick-buck game of recklessly extracting resources and then swiftly selling out to a big company — they tend to be exceedingly aggressive when it comes to running roughshod over people and their homelands, smashing plenty of eggs to make their omelettes. Later, the big company that buys them out can say, "we did not do all those terrible things, our predecessor did."
Enter ReconAfrica, a junior oil company from Canada, swooping down on the Kavango Region. Ina describes it as "one of Namibia's treasures, unique in its fauna and flora" and "the one place where us Namibians can grow food simply because there is water." Besides inflicting clear threats to this water, and other major disruptions to the people and their land, the company's drilling plans threaten Africa's largest remaining herd of savanna elephants, which moves through ReconAfrica's license area. The company plans to conduct a seismic survey, which biologists say could disrupt the sensitive animals.
It gets worse. But that "worse" contains the seeds of a successful tactic to defend the homeland. The irony begins here: ReconAfrica's pitch to investors in the USA involved extolling the easy availability of extracting oil in the Kavango. But that was not the truth. In fact, the only way to achieve the promised level of production would be by fracking, which would open a Pandora's box of troubles for the investors in terms of costs and risks of failure, not to mention the ecological disasters for the people living in the Kavango, such as contaminating the groundwater and diverting huge amounts of water needed by the people trying to live their lives there.
The good news is that the investors in the USA smelled a rat and filed a lawsuit. Ina has high hopes for this legal action, and it seems quite likely that the lawsuit will succeed and thereby put a big damper on the whole project. You can read the litany of ReconAfrica's violations here. 
Plus, there is another form of leverage available for stopping this project in its tracks. A few years ago a huge scandal erupted in Namibia surrounding a similar situation of a foreign company making big money from Namibia's natural resources, in this case their bountiful fisheries. 
This affair became known as the FishRot scandal, a term derived from Fishcor, the state-owned National Fishing Corporation of Namibia. Fishcor has two subsidiaries which are responsible for the catching, processing and marketing of Namibia's highly valuable fish and fishery products. In a nutshell, foreign companies were bribing Fishcor in a way that not only resulted in their getting lucrative unfair access to Namibia's fisheries, but also had a direct effect on the election of Namibia's president and his political party, SWAPO. 
So, foreign companies in bed with the Namibian government are together siphoning huge amounts of wealth from the Namibian people. And the numbers are appalling. Namibia has only 2.5 million citizens, so the billions of stolen dollars involved would represent something like a middle class lifestyle for every family in the nation if instead allocated to every citizen.
This scandal is still front page news as it continues to rock the nation, and it is very present in people's minds as an outrage. Ina has a plan to appropriately link this FishRot scandal to what ReconAfrica is trying to do now: a foreign company, in bed with the government, is planning to pillage Namibian resources to the extreme detriment of the Namibian people. And this Recon scandal is in some ways worse than FishRot, as it stands to directly destroy the wonderland where they are living, and also indirectly destroy it by adding to the greenhouse effect.
Another bit of good news is that Canada has pledged to end financing for foreign fossil-fuel projects in 2022, which will hopefully add interference to ReconAfrica's plans.
So what have Ina, her colleagues, and FFF actually been doing to block this nightmare from happening? Last year, on December 4th, they held a protest at the UNESCO office in Namibia and handed them a petition, because the Kavango Delta is actually under UN protection as a UNESCO World Heritage site, the world's largest "Wetland of International Importance." The Kavango Basin, where the first drilling is located, is a bit upstream from the Delta, which is bad enough, but ReconAfrica actually has some licenses within the Delta itself. The UNESCO action succeeded in getting mandates for some buffer zones to protect certain areas.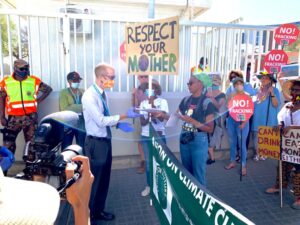 Then in February of this year they went to the Namibian Parliament and asked them to stop the project, which led to a public hearing with the Environmental Committee of the National Assembly on June 15th where they presented their case. That resulted in Parliament sending an investigatory team to the site in September, which concluded that the project was not at all beneficial for the Namibian people.
Also, early this year, FFF along with other groups obtained a meeting with Minister Calle Schlettwein at the Ministry of Land Reform to demand that he investigate the lack of water permits. They also delivered a formal letter to him outlining many violations, including rules about clearing land without notifying anybody, and conducting illegal evictions.
Their strategy is to apply all these kinds of pressure, and more, until the project is stopped. And they are appealing to international groups to help as well, such as getting the International Union for Conservation of Nature (IUCN), a respected authority, to call for the end of the drilling.
Ina's team efforts have even reached the U.S. Congress. On June 16, 2021, Sen. Patrick Leahy, a Vermont Democrat, and Rep. Jeff Fortenberry, a Nebraska Republican, called for an investigation, citing the risk to the wildlife and habitat. National Geographic magazine was central to this move, providing evidence of inadequate environmental impact studies and scant consultations with local communities. 
A whistleblower complaint was also filed with the Securities and Exchange Commission (SEC) alleging that ReconAfrica has misled investors by producing overly positive investor presentations, press releases, interviews, and paid advertising while omitting critical information, such as ReconAfrica's lack of proper permission for water and land use. 
This is difficult and dangerous work. The government of Namibia considers eco-protectors as anti-government personas non grata. Ina and her team talk about the FishRot crimes at the top levels of the Namibian government, the massive kickbacks, collusion, and the illegal campaign contributions. But moreover, simply bringing up the subject of the ReconAfrica project in any critical way is enough to make them an enemy of the state. 
Ina told me about the plight of one of her colleagues who was prevented from joining her at the COP in Glasgow. The authorities bogusly claimed his ticket had incorrect data, and they demanded he show an absurdly huge amount of cash to proceed any further, effectively preventing his travel.  
Fortuitously, the COP protocols here in Glasgow actually encourage reporting these outrageous reprisals against delegates to the proper UK authorities. I accompanied Ina to the Information Services desk at the COP, a fellow there did a splendid job of showing us the appropriate instructions on our designated COP26 phone app, and Ina is currently preparing a complaint. 
But make no mistake, Ina is facing serious repercussions for her actions. She showed me some evidence of intimidation, a profanity laced text message which was quite threatening in tone. 
"The government does not want us to talk about this," Ina said. "The Minister of Environment and Tourism was calling us hooligans. The President of Namibia said we talk too much. We don't know if it is jail or poisoning or intimidation that is awaiting us when we return to Namibia, but I am sure the intimidation will be more and more, because I am talking about what they don't want the world to know."
How many of us can match her bravery, knowing that a record 227 environmental and land defenders were killed in 2020 for protecting their homes and our planet, according to the annual Global Witness report released in September? That's an average of more than four people a week, and more than double the number reported in 2013.
Ina's relentless campaigning to stop the destruction of her homeland is the epitome of what we all should be doing or supporting. And beyond following whether ReconAfrica will indeed be stymied in their malevolent plans, we will be monitoring what happens to Ina when she returns home. And of course, this CMD news portal will alert you, the readers, if she is detained, and we will do everything we can to support her and keep her free to defend Namibia and our planet.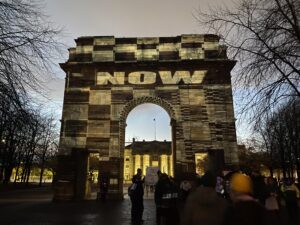 Blog #3: The Big March
On Saturday Glasgow exploded with a grand Climate March drawing more than 100,000 people from all over the world. I was lucky enough to  jump into it in the city center just as some very important contingents were passing by, including the Extinction Rebellion (XR) folks.
In fact, adjacent to the march, I had just completed a fascinating lunch meeting with Michael Raphael from the XR Israel Coordinating Circle.
Michael and I discussed the tactics and priorities of the Climate Movement, and these themes continued to resonate throughout the day and night.
I emphasized the need to recognize carbon dioxide removal (CDR) as a top priority, in light of the fact that we are currently being cooked by 1 trillion extra tons of CO2. Michael countered that, because of the way our society is structured and operates today, future CO2 emissions will continue to blow away the progress we might make with CDR, and so he argued that the priority should be to change our basic structures and mentalities, such as consumerism, so that the forces that drive carbon emissions would no longer have such unstoppable power. I told him that I would enjoy discussing with him the ways that such sweeping mental and societal changes can happen in time before we are wiped out by the greenhouse effect — but then suddenly the march was upon us, and we jumped in with enthusiasm.
The mirthful exuberance of the marchers was amplified by Glasgow's gothic architectural power as we clamored through the historic center on the way to the speeches in the park. A marching band wearing gold lamé perfectly propelled the mood, and our chants swirled throughout the urban canyons.
"Climate Justice" was the predominant theme out there. While this subject does not directly address the details of how we will stop the greenhouse gases from broiling us as we speak, it is of course connected. The point is that rich countries caused the overheating problem, poor countries are suffering the brunt of it, and therefore the rich countries owe the poor countries a huge amount of money and assistance to deal with it all.
I would put it this way: A heinous eco-crime of vast proportions has been committed, and the verdict is in. Now let's proceed to the penalty phase. Of course, first we need to create aWorld Eco-Court.
Apropos of that, there will be a session tomorrow in the COP of a group led by Raya Salter who will "take up the enforcement challenge and 'sue the bastards' to defeat the climate crisis by any legal means necessary." They will discuss "the legal means to increase commitments, promote collaboration and force compliance using rule of law, including existing international law, US law and litigation" and the need to "use every legal means necessary to enforce the promises made at COP and facilitate the solutions needed to defeat the climate crisis." Unfortunately I will not be at that genuinely germane session, but moving forward I will be reporting on their efforts with great interest.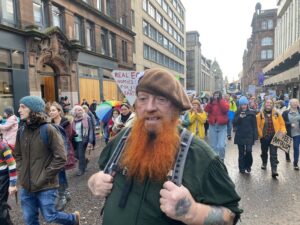 As we approached our destination in the park, there were several groups forming circles and stridently making their cases. Prominent were the International Socialist Alternative (ISA) who claimed that capitalism is the culprit. They argue that "our planet's destruction is still just too profitable for those in control – the super rich," and for public ownership and democratic control of the major corporations and financial sector. Kshama Sawant, the capable socialist city council member from Seattle, will be a keynote speaker at one of their events.
A group from Sudan also had formed a ring to explain the connections between their struggles with the recent military coup in Sudan and the climate crisis. I will be following up on that by interviewing one of their members.
Finally, the stage was alive with short speeches and radical rappers. Again, the theme of Climate Justice was leading the way, but the unfulfilled promises and commitments that the rich countries have made hung treacherously like a cloud of betrayal over the rally, a grim reminder of the insatiable greed of those controlling the levers of finance.
After the rain, wind, cold and darkness ended the rally, I walked through Glasgow with a fellow who had arrived from another part of the UK to help organize the movement here. After playing songs in some bars on the way, we ended up at a place where many of his colleagues were staying, and the captivating conversations and music continued until about 4:30 a.m.
People there were discussing the XR tactic of disrupting traffic to make their points. Activists are really struggling with this tactic because working people get very irritated by the XR-caused traffic jams, with thoughts of ambulances being blocked, etc. But the argument for doing this XR-style disruption is strong when you consider the specifics of our predicament. Science is telling us that we face extreme misery and massive death if we do not treat this emergency as a true emergency and make the necessary changes immediately. And the harsh reality is that the urgently needed changes are not coming fast enough, although some measures like Ocean Pasture Restoration are obtainable now.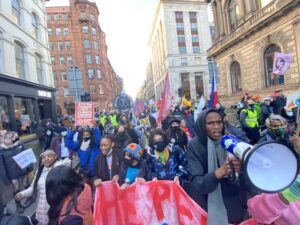 One reason for the inertia is that, in many places, the emergency is not visible, not palpable, and so the powers that be can just kick the can down the road without fear of a widespread rebellion by the victims. Therefore, XR tactics can be worth the risk of offending supporters. Perhaps such disruption is the only way to mobilize the public at large in time, to wake them up out of their somnambulance, to alert them enough to get them to demand that this crisis is properly addressed by their governments.
One fellow argued that societal collapse can actually be beneficial, if it destroys the pernicious societal structures, and if out of the ashes we can put together a better way to conduct our societies. In his opinion, a major collapse is inevitable anyway, and we might as well look on the bright side and start preparing for that new and better version of civilization where the rules are not rigged by the most avaricious among us.
One of the main chants on the march was "the people united will never be defeated," But will they unite? As we move into this most critical period, the choice of tactics the people can agree on will be crucial, as well as which political philosophies they can unite behind.

Blog #2: Live Long and Prosper
In my previous blog I talked a lot about seeing a path where we land on our feet, but I gave no specifics. Here are the details.
It starts with the fundamental pillar of the New Paradigm: Climate Restoration, whose credo is "we will restore our climate all the way to a status that allows us to flourish, not merely limit the damage." And the backbone of that credo are actions that result in a return to a safe amount of CO2 parts per million (ppm) in the atmosphere. When we achieve under 300 ppm we will be in a very good position to say to the next seven generations, "we almost ruined your lives, but fortunately we sorted it out."
With that goal in mind it is clear that two things need to happen: removing CO2 from the atmosphere and reducing future CO2 emissions. Let's first discuss removing CO2.
During 12 years of climate journalism, I have searched for the best ways to remove CO2. The key elements include feasibility, speed, low cost, safety, and scalability. One method stands out head and shoulders above the rest in those terms: Ocean Pasture Restoration, or OPR. It is the main reason that I wrote in my previous blog that I believe we will live long and prosper.
OPR is about how we treat the vast underwater biosphere. Most of the Earth's biomass is indeed there in the ocean, and most of the air we breathe comes from underwater photosynthesis. So, while the Amazon forest is famously called the "lungs of the planet," historically there have been about 50 Amazon-equivalent underwater pastures in the deep ocean which also behave like lungs, as they breathe in CO2 and then give to us most of the oxygen that we all breathe.
With 50 Amazons doing their part repurposing CO2 into oxygen, plankton and other life forms, you would be correct to imagine that our goal of CO2 removal would be close at hand and the greenhouse effect greatly lessened. But the problem is that the ocean's capacity for photosynthesis is so much less today compared to its historical norm. Let me explain how that happened and how we can restore that capacity.
When a land farmer tends his pasture he hopes for enough rainfall. Ocean pastures need "dustfall," nutrients delivered via dust in the wind, blown into the oceans from dry land masses. This has been the normal flourishing ecology of ocean life for eons. Unfortunately, there has been a 50-year dustfall drought, caused by many of those historically dry land masses getting more and more moist due to the higher levels of CO2 caused by industrialization. Less dust in the wind means less photosynthesis, less life in the ocean pastures, and therefore less CO2 removal.
OPR is a process that carefully directs the replacement of those missing amounts of nutrient-rich dust, and after only a short year or two the pastures are back to their historical norms of robust CO2 removal.
OPR is very eco-friendly, feasible, cheap, fast, and safe. One reason we know it is safe is that Mother Nature for centuries, with her countless volcanoes and dust storms, has deposited essentially the same dust that OPR uses. But while Nature's doses are thousands of times larger than OPR's deposits,  there has never been a recorded detrimental effect, nothing toxic, nothing remotely dangerous.
For a full analysis and proof of the safety of OPR please check out  my article Misconceptions Shouldn't Hold Up Key Climate Solution.
About the cost: OPR does not require billionaires or taxpayer trillions to succeed. Rather, upwards of 100 fishing villages around the world, with logistical support from their governments but not depending on their financial support, will fairly easily find the financing to make it happen, because when the ocean pastures are restored, that restores the plankton populations, and that brings the fish populations back to their historical bountiful levels. Consequently, the value of the fisheries restoration is nearly sufficient to pay for the sustainable replenishment and restoration of the ocean 'fish' pastures.
After we do OPR, those 50 rejuvenated ocean Amazons will be back to their historical strength, and then they will draw down enough CO2 to get us back onto a safe road.
And OPR's good news is not only about CO2 removal. The primary effect of OPR is a large increase in our best friends and allies in the climate world: plankton. You see, plankton do three crucial things beyond CO2 removal.
First, they generate massive amounts of white clouds which reflect the sunlight and significantly cool the planet.
Second, in their daily sojourns up and down the water column, their trillions of stirring fins bring cool water up to the surface, which helps a lot with the problem of the surface water being too hot.
Third, during OPR, when CO2 interacts with the ocean, rather than creating acidic molecules that cause the scourge of ocean acidification, it instead it creates more plankton and other non-acidic forms.
Sir David King, former Chief Scientific Adviser to the UK Government, and now the founder and chair of the Centre for Climate Repair at Cambridge, lists OPR as a key natural way to tackle the greenhouse effect problem, and, reportedly, his Cambridge group will be sending ships to three locations across the world's oceans in the next four years to move OPR forward.
But don't forget to do the math. Sir David stated that ocean pasture restoration has the potential to remove more than 30 gigatons of CO2 from the atmosphere per year. That is a huge number, but the world still keeps emitting about 43 gigatons of CO2 per year. Therefore the carbon polluters will get no excuses from me, and our efforts to reduce emissions must be as relentless as Greta.
I am not an expert on emissions reduction, but in the coming blogs I will be writing about exciting news on that front. With so many millions of people and countless groups deeply committed to it, I am predicting steady progress and some breakthroughs in the near future.
So, no more doom and gloom. The old paradigm of demanding only emissions reduction clearly does not solve the problem, But with the new paradigm of Climate Restoration featuring OPR combined with emissions reduction, we now have a way forward leading to a safe and flourishing world. And we are already on our way.

Blog #1: The Race to the Bottom
I just now arrived in Glasgow for another UN Climate Conference, and I must say that it feels very good to be back in this stimulating international environment where you constantly meet fascinating colleagues from every corner of the globe, fighting shoulder to shoulder in the midst of this dire drama of survival we find ourselves in.
In the very long security line to enter the venue I was conversing with an astute "Observer" from India, and her welling tears were imparting to me the poignant and painful climate reality that Indians are now facing. She described how crops back home are simply not growing on the parched land as temperatures reach 120 degrees. When it is too hot to work and too hot for plants to grow, well, that means Climate Ruin is at our doorstep.
But I say "no" to doom and gloom. In fact, this Friday I will be featured on a panel here that shows a path to a safe and flourishing existence.
Nonetheless, a certain battle line is being drawn here in Glasgow.
The phrase "net-zero" has become a lightning rod here, paradoxically from both a positive and negative perspective. On the rosy side, this COP26 conference has proudly dubbed itself the "Net Zero COP," referring to the recent bandwagon of nations who blithely trumpet their own magic decade, be it 2030 or 2040 or 2070, when their stubborn CO2 emissions will be equalled by rather inflated estimates of their projected CO2 removal attainments.
The rain on this parade is that most of the CO2 removal that they cite is something that they bought and paid for, that is, a nation will claim the credit by paying for somebody else's supposed CO2 removal.
One can argue that the net result of paying somebody to clean up your mess is, at best, neutral in terms of emissions reduction, or worse, simply a status quo pollution, if the seller of the carbon credit would have removed that CO2 anyway without being paid to do it.
On the other hand, these offset schemes can actually be good for the climate if the seller gets their large-scale CO2 removal enterprise kicked into high gear by the financial boost.
But before unpacking too much of this, you can already guess that the activists on the streets are not supporting this foray into what they see as creative accounting.
In fact, the word on the street is that "net-zero" is just code for "nyet-zero" (not-zero) – that is, not a zero in any meaningful sense, but rather a cynical ploy by polluters to use carbon removal as an escape hatch to continue polluting.
Before the opposition gets too smug about their criticism, in my opinion they should come clean on their own failure to stipulate that even if by magic we woke up in the morning to a real bonafide zero emissions world, that would not put a dent into those extra 1 trillion tons of CO2 that humans have put into the atmosphere which are already actively cooking us.
Nonetheless, the unintended irony of the powers that be here knows no bounds. Beyond "net-zero" they have a campaign slogan of "Race to Zero," as if net-zero emissions is really such a worthy goal that success would solve the problem at hand, which it will not. Moreover, they are oblivious to how much it sounds like "Race to the Bottom".
So where does that leave us? Where does COP26 go from here?
I remain an optimist, based on the science. A teenager in 2021 does not have to feel doomed to a nasty, brutish and short life. I do see a real path forward where we live long and prosper. Plus, there are so many wonderful citizens of the planet on worthwhile missions here that I am keeping hope alive. And COP26 is a perfect setup for me to meet them and learn about other paths to a liveable future. I will ask them. So stay tuned.