While an undergraduate at Columbia University, former New York Times opinion editor Bari Weiss was a relentless advocate for the firing of pro-Palestinian professors based on bogus claims of anti-Semitism. The New York Civil Liberties Union characterized her campaign as "attacks from within…the university that jeopardize academic freedom." 
But now, years later, Weiss is a founding trustee of a new "university" that is allegedly committed to freedom of inquiry. Its first course, "The Forbidden Courses," will commence next summer and address "the most provocative questions that often lead to censorship or self-censorship in many universities." 
On Nov. 8, Weiss' newsletter announced the new project: University of Austin (UATX), a school "dedicated to the fearless pursuit of truth."
The "university's" founding trustees, founding faculty fellows, and advisers include Weiss, fellow jilted writers such as Andrew Sullivan, "canceled" professors such as Peter Boghossian, right-wing think tank leaders such as Tyler Cowen of the Mercatus Center, and celebrities such as the Trump-supporting David Mamet. It's not accredited and does not offer classes yet, but it's already raising money.
Many of the figures involved in planning the school have produced discredited research or made discriminatory statements, and some have been accused of sexual misconduct. Journalist Eoin Higgins described the roster as "a murderer's row of censorious right-wing activists."
Within a week of Weiss' announcement, two advisory board members, Harvard psychology professor Steven Pinker and Robert Zimmer, the chancellor of the University of Chicago, had already resigned. UATX admitted "missteps" in a Nov. 15 post on its website, saying it failed to distinguish its founding trustees, who bear responsibility for the school's actions and statements, and its advisers. Zimmer wrote that "the new university made a number of statements about higher education in general, largely quite critical, that diverged very significantly from my own views."
UATX, which claims to be "fiercely independent—financially, intellectually, and politically," is undoubtedly a conservative, "anti-woke" operation. The individuals behind both the "university" and its fiscal sponsor are mostly right-wing. Some have political ties to Republicans, including Donald Trump, and some have had careers financed by Charles Koch, the fossil fuel billionaire whose family and corporation has funded the Republican Party, right-wing think tanks, and ideological free-market university programs for decades.
As UATX has not received its tax-exempt status yet, the school's fiscal sponsor is Austin-based Cicero Research, a nonprofit that supports "free-market based solutions" that was founded in 2020 and reported no income or assets that year.
The school's only known financier is Joe Lonsdale, a board member of Cicero Research and a founding UATX trustee, who co-founded the controversial Palantir Technologies big-data firm with GOP megadonor Peter Thiel. Along with Lonsdale—who has been accused of rape, something he denies—two apparent family members and a colleague at his venture capital firm, 8VC, make up Cicero Research's board.
Founding president Pano Kanelos said that UATX has raised $10 million in seed funding and is seeking $250 million more.
Koch Connections
University of Austin's many ties to Koch's powerful political and education network makes the Charles Koch Foundation a likely target of the school's fundraisers. These connections include:
The Koch family foundations, especially the Charles Koch Foundation, have heaped funding on the above institutions over many years. Since 2014, the foundation has granted these amounts:
$598,000 to the American Enterprise Institute

$72.4 million to George Mason University

$795,000 to the Heritage Foundation

$302,000 to Hillsdale College

$430,000 to Hoover Institution

$240,000 to Jack Miller Center

$712,000 to the Manhattan Institute

$4.7 million to the Texas Public Policy Institute
Joe Lonsdale has donated to Americans for Prosperity Action, the super PAC affiliated with Koch's premier political organization, Americans for Prosperity. Lonsdale generally gives to the campaigns of Republicans and conservative Democrats.
Anti-Anti-Racism
Several UATX figures have taken public stances against efforts to combat racism and other bigotry in society, and they have used the resulting blowback from their communities to launch right-wing media tours as free speech warriors and victims of oppression.
In a piece he wrote for the white nationalist-friendly Quillette during a resurgence of Black Lives Matter protests nationwide, Princeton classics professor and UATX adviser Joshua Katz called a Black student activist group a "local terrorist organization," resulting in condemnation by other faculty and the university's president. Then Rupert Murdoch's Wall Street Journal printed his characterization of the events, including his "survival" of "cancellation." Katz sued the American Council of Learned Societies for alleged "viewpoint discrimination" after it withdrew his delegate status because of his anti-anti-racist Quillette piece.
Katz is responsible for other controversies. He admitted to having an inappropriate sexual relationship with a student, for which he was disciplined, and additional accusations of inappropriate conduct have emerged.
University of Chicago geophysics professor and UATX adviser Dorian Abbot co-wrote an op-ed for Newsweek called "The Diversity Problem on Campus," arguing against diversity, equity, and inclusion practices with regard to admission, faculty hiring, and course content. Abbot's assertion was that universities are being racist against white people by trying to help traditionally marginalized people enter traditionally white-dominated spaces. He even compared diversity, equity, and inclusion to practices in Nazi Germany. As a result, MIT canceled a lecture he was scheduled to give, and Weiss lent Abbot her blog for his account of being "cancelled."
Newsweek's opinion editor, Josh Hammer, is a fellow at the right-wing nationalist Edmund Burke Foundation and previously worked for right-wing publications including The Daily Caller. The Edmund Burke Foundation hosts an annual National Conservatism conference. At this year's conference, which concluded on Nov. 2, several UATX figures spoke alongside Hammer and other right personalities, including Mark Krikorian, executive director of anti-immigrant hate group the Center for Immigration Studies: Hirsi Ali and UATX advisers Sohrab Amari and Glenn Loury. Peter Thiel gave the keynote address.
Heather Heying, a founding trustee of UATX, is, along with her husband, Bret Weinstein (whose brother is managing director at Thiel Capital), associated with the "Intellectual Dark Web," a loose group of contrarian "free thinkers" promoted by Weiss in The New York Times. The couple, who are white, filed a lawsuit against their former employer, Evergreen State University, for not protecting them after Weinstein objected to anti-racist protests and activities and faced blowback from the university community. They won a $500,000 settlement and, like many of their UATX peers, quit their jobs for paid newsletters and monetized videos.
Anti-woke crusader Peter Boghossian, a UATX founding faculty fellow, was found to have committed research misconduct while he was a philosophy professor at Portland State University. In his resignation letter, originally published on Weiss' blog, Boghossian called the university a "Social Justice factory" and bemoaned diversity, equity, and inclusion.
On the gender front, UATX founding faculty fellow Heather Stock is an outspoken anti-transgender academic who resigned from her position at the University of Sussex after students protested her. 
UATX adviser Larry Summers, the former Treasury secretary under President Bill Clinton, is well known for his claim that women are inherently worse at science and math than men due to genetic differences. Because of this, hiring inequities, feuds with Black faculty, and other matters, Summers resigned from his post as president of Harvard University in 2006.
Extremist Ties
In the announcement of the "university," founding president Kanelos cites multiple surveys conducted by the Center for the Study of Partisanship and Ideology, a new nonprofit with several staff members who have written for Quillette. The center laments the "Great Awokening" of white liberals in the U.S. and published a report on what it claims is "authoritarianism and political discrimination in academia."
Quillette, which was founded by Intellectual Dark Web member Claire Lehmann, is a website that has published discredited research and writing by white nationalists and fascist sympathizers, and has attempted to revive widely panned "race science," even phrenology. Boghossian, Katz, and Stock have also written for the publication.
Founding faculty fellow Hirsi Ali, another Intellectual Dark Web member, has called Islam "a destructive, nihilistic cult of death" and frequently associates with anti-Muslim hate operations, having worked with Islamophobic Dutch nationalist Geert Wilders, spoken at ACT! for America's annual conference, and produced a documentary with the Clarion Project. In addition, she has starred in multiple videos produced by right-wing propaganda organization PragerU, which flirts with white nationalist tropes.
While Muslims may be Hirsi Ali's longtime targets, she now has a new enemy. In her speech at the National Conservatism conference this year, Hirsi Ali stated, "The ideology that threatens us today, and has the potential to ruin our societies…goes by many names. But I will call it 'wokeism.'"
Trump appointed Hillsdale College's McClay, a UATX advisor, to his 1776 Commission to foster a "patriotic education," and it produced a widely panned and politically motivated curriculum of American history that was based on a book by McClay. The curriculum, which Hillsdale College expanded on this year, was concocted as a response to the 1619 Project, a curriculum that analyzes U.S. history in the context of slavery and racism.
UATX advisor and blogger Andrew Sullivan, formerly of New York Magazine, has frequently supported debunked eugenics and "race science," alleging that people of some races or ethnicities (white, Asian, and Ashkenazi Jews) have higher IQs than those of other races (Black and Brown people, and presumably Sephardic Jews). The leading right-wing scholar of this brand of race science is white nationalist Charles Murray of the American Enterprise Institute, and in 1994, Sullivan published chapters of Murray's discredited The Bell Curve in The New Republic, where he was editor.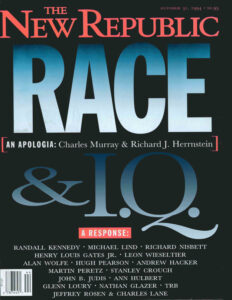 Like some of his UATX peers, Sullivan dramatically quit his job to go it alone on Substack, a paid newsletter platform that has become something of a home to anti-transgender writers. 
As academics, writers, and celebrities get "cancelled," they often turn to the right-wing media, including Weiss' blog, which cast them as martyrs, brave renegades who dare to speak truth to increasingly "woke" universities, corporations, and the greater populace.
For example, when MIT canceled Abbot's lecture because of his opposition to diversity and inclusion, numerous Koch-funded media operations came to his defense, including the heavily Koch-funded, libertarian Reason, the Koch-backed Daily Caller News Foundation, the Heritage Foundation's news site, the Daily Signal, and Real Clear Politics.
Other right-wing media staples such as Fox News often give airtime to the "canceled," and think tanks like the American Enterprise Institute keep their martyrdom alive. 
Fiscal Sponsor Is a Trump-Tied Nonprofit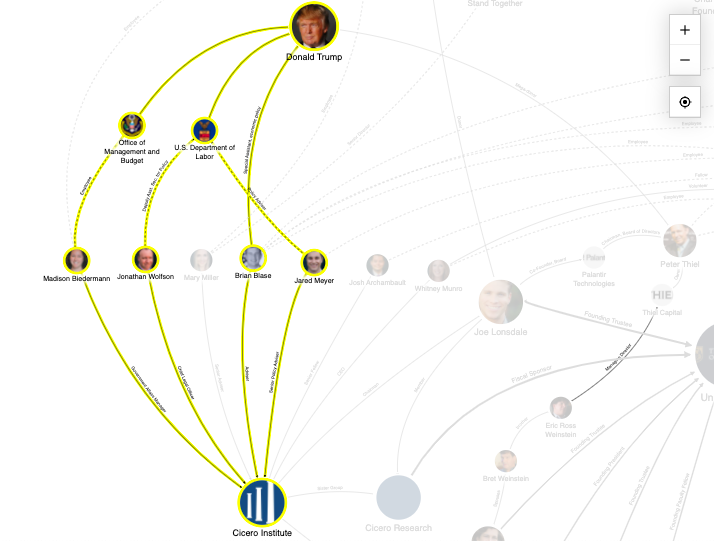 Cicero Research, UATX's fiscal sponsor, has multiple sister organizations: Cicero Action, a 501(c)(4) "social welfare" nonprofit, and the Cicero Institute, which employs conservatives who worked in the Donald Trump administration, for Koch's top political advocacy organization, and think tanks in the Koch-funded network, and have written for right-wing publications such as the Daily Caller and the Washington Examiner:
Niall Ferguson, another founding UATX trustee, is also an adviser to the Cicero Institute.
UATX did not return a request for comment.
Correction: The Princeton classics professor named in this piece is Joshua Katz, not Jonathan Katz, as the article originally stated.