This is a series of annual special reports for CMD from guest contributor Alex Carlin about his observations at the United Nations climate conference. — CMD Editors
#6: Real Solutions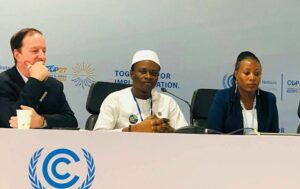 As the desert dust settles on COP27, the drama of the climate crisis is reaching a crescendo. The lethal Climate Ruin greenhouse gas "blanket" has arrived, already tormenting people, especially here in Africa. It should be obvious that removing CO2 (CDR) is much more urgent than future emissions reduction (ER). ER does not actually reduce the CO2 blanket, and so does not stop the floods and hurricanes and droughts, whereas CDR can remove the blanket and restore a safe climate by 2050.
Will the delusional goal "ER" with its road to ruin be replaced by Climate Restoration with its road to a decent future featuring nature-based, scalable CDR?
As I reported in earlier blogs, I found indications at COP27 that we are moving towards that better road.
One promising approach, Ocean Pasture Restoration (OPR), brings plankton-driven photosynthesis back to its historical robust capacity, which is enough to remove the majority of the CO2 that we need to draw down. OPR benefits from 50 years of focused research, being the oldest, most studied, and most affirmed as safe and sustainable of all such methodologies, as well as the most scalable.
Turning to the land, soil can also play a key role in climate restoration. It stores an extraordinary quantity of carbon—twice the amount contained in all plants and trees. 
Innocent Antoine Houedji, whom I mentioned in my last blog, told me that he is very active in regenerating the soil and land of Benin, his home country in West Africa.
Innocent is thinking big in Benin. He works with a group called "10MymiLAND" with a long subtitle: "10 Million Youth Building Climate Resilience on 10 Million Hectares: Coming Together to Fight Land Degradation and Desertification." They identify degraded or at-risk lands and get young people to reforest and manage the land with regenerative agriculture practices. Removing atmospheric CO2 is a main goal.
He also co-founded and is executive director of YILAA – Youth Initiative for Land in Africa. With that organization, Innocent is "collecting land, and selecting local young people" to plant trees and "create the agriculture villages for youth," building outstanding African leadership in the climate world in the process.
Innocent told me, 
Today, the average age of African farmers is 60, and youth unemployment rates are rising. To continue to feed Africa, younger farmers need to be recognized as valued contributors and take their place in agricultural supply chains to build more sustainable farming, herding and forestry.

We identify the skills needed to help youth access land to implement sustainable land management techniques and serve as climate champions in their communities. We want to strengthen the skills of youth so that they can take a place at the center of the development debates and discussions related to land degradation, desertification, and climate action.
The Power of Solidarity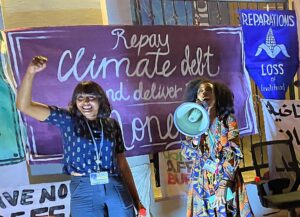 Meanwhile  at COP27, the severe repression of activists in Egypt by the Egyptian government was like a parallel pernicious "blanket" poisoning the atmosphere here. Most prominent was the plight of the political prisoner Alaa Abd el-Fattah, who was on a hunger strike during the meeting. He ended his strike on Nov. 17 after collapsing, but he remains in prison. His sister made several presentations at events inside the conference center.
But it's not just Alaa. Human rights groups estimate Egypt now holds some 60,000 political prisoners. Nonetheless, Egyptian activists were able to express themselves quite freely inside the walls of the convention complex during COP27. For the first time in UN history, protesters were allowed to march inside the venue. But now that this COP conference is over, these local activists may face dire consequences for their actions. They will need the world community to be watching for what happens to them and to find ways to support and defend them.
Nigerian activist Ige Aderonke Motunrayo, with Corporate Accountability International, at one of those unrestrained demonstrations, told me:
Please don't forget solidarity. Solidarity is always important in everything we do. It doesn't matter where you are in the world, we are one. If we destroy humanity we have nothing left. We should always remember that what we do today is going to have a huge impact on the generations to come. We want to leave a world that is peaceful and safe for our children, and we don't want to destroy the Earth while we are here, so we should always remember solidarity.
I asked Ramon Mejia, an organizer for the Grassroots Global Justice Alliance from Dallas Texas, who was sharing the megaphone with Ige, "How can somebody sitting in Texas help to free Alaa Abd el-Fattah?"
He said, 
Look for the organizations that are calling for the release of Alaa, that call for the release of prisoners of conscience. Join abolitionist movements, join the climate justice movement, join the anti-militarist movement. Join an anti-carceral group like All Of Us Or None. Build these bridges, no longer be in silos, work together, do not despair, there is hope, we must continue fighting.
For the entire two weeks, the activists I listened to were not expressing much confidence that the COP leadership was on their side. Yeb Saño, formerly the chief climate negotiator for the Philippines and now the executive director of Greenpeace Southeast Asia, made this statement to DemocracyNow!, the indispensable daily news portal that reports in situ from every COP: 
I don't think this battle will be won or lost in these plenary halls, nor in chambers of law. This will be won in the chambers of people's hearts. And therefore, that will have to be done by organizing people. There is no magic wand. There is no silver bullet to this. Organizing means talking to people, organizing communities, and making people understand the root causes of the climate crisis.
While many of the actions and oratories from the top COP leadership miss the mark, the messages from the activists here do address the climate conundrum, telling us to not despair because the real solutions will come from the grassroots. We can hit the mark by breaking out of our silos and joining together to gain that immense power from solidarity. And then, finally, we can start implementing the real solutions.
#5: Africa Is Waking Up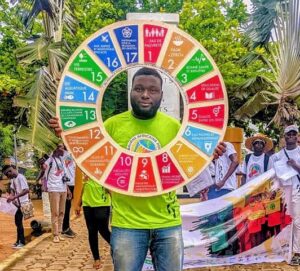 As promised in my first blog (below), here at COP27 I have been gathering examples of Africa leading the way with nature-based climate solutions, specifically in the oceans. I was fortunate to interview the brilliant Gina Bonne, head of the Environment and Climate Change Department for the Indian Ocean Commission (IOC), which focuses its assistance on the African Indian Ocean island states of Madagascar, Mauritius, Reunion, Comoros, and her homeland of The Seychelles –plus the East African states that have an Indian Ocean coastline, such as Mozambique, Tanzania and Kenya.
She started with a bang, saying:
Africa is waking up. This is the time for Africa. We missed out on the agricultural revolution, we missed out on the technological revolution, this is our time for the oceans. Africa has been ocean-blind for too long. For so many years we have been very dependent, but we are now discovering our true potential, and by doing so Africa is now turning towards the ocean.

And it happened only after the island states worldwide have been advocating, talking so loud about the importance of the oceans. I think it is only now that everybody is beginning to understand that we need to know more about the oceans, we need to protect our oceans.

The ocean is a regulator for climate. So, we need to be able to take care of our oceans, because it will help in determining the climate and the atmospheric conditions. 
I let her know that the African Union (AU) hosted a meeting a few days before the start of COP27, an event in Madagascar called the "Special Information and Strategic Planning Forum on Ocean Restoration." This featured an "innovative African solution to mitigate climate change" called Ocean Pasture Restoration (OPR), which uses nature-based methods to replenish vital natural minerals in specific offshore locations. Within a year or two, it brings back massive amounts of currently waning fish populations and removes enormous amounts of CO2 from the atmosphere by restoring plankton photosynthesis.
The event had African ambassadors, government ministers, scientists, international banking and global aid agencies in attendance. I asked her how she might further the momentum of such a good start on African leadership in removing CO2 as a critical climate solution.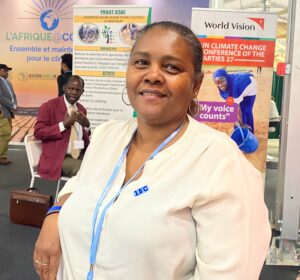 She supported this good start, saying, 
I believe we are [moving] in the right direction. Now Africa understands the value of the oceans not only for the blue economy but for the air that we breathe. So, we need to be able to take care of our oceans, because it will help in determining the climate, since the ocean parameters regulate atmospheric conditions.

Now we know it, and we have the technology, [albeit] developing slowly. Countries are having access to observation technologies [and] building their capacities in meteorological services.

I believe we can do many things, we just need to believe in ourselves and believe in our institutions.
And the progress is worldwide. She said, "The discussion is ongoing between the Indian Ocean region and the Pacific. We believe that we have a lot to learn from one another, and we can build our capacities together. Also, I believe that most of our best negotiators are from the island states."
On the other side of the continent, I have been interviewing and engaging with a variety of spirited and enthusiastic denizens of West Africa, all with charming French accents, many of whom are becoming interested in OPR as a way for their countries to be leaders in the climate movement. 
After discussing these subjects at the Togo Pavilion, they asked me to sing and play guitar, so I invented a catchy melody on the spot called "Africa Will Be The Leader of the Climate Solution Today," and the crowd took it to heart, continuing to sing it even after I stopped. 
I also made a new friend, Innocent Antoine Houedji, who canvasses in support of women's rights, children's rights, and land reform in his home country of Benin, just east of Togo. He recommended that I talk with an environmental activist from there named Carin Karl Hubert Setondji Atonde.
Carin told me: 
In our country we make a caravan, we cross all the country, we go to many communities to understand their realities about climate change, about how they are affected. We go to people who are affected by coastal erosion, by floods, farmers affected by lack of rain, to understand what they want to propose to this COP27. 

We hear their voices, we find out what solutions they want for their local level, and that's what we put in the declaration of the caravan. For example, adaptation programs to fix flood and erosion damage and resilience for future floods and erosion. Of course they need financing for this. But their first desire is that their voices are heard.

In our country we don't have many activists on climate change. Young people have other interests, but young people need this. So, in our caravan I create a platform of young activists about climate adaptation and climate justice. This platform is called Youth Coalition for Climate Adaptation (YC4CA.)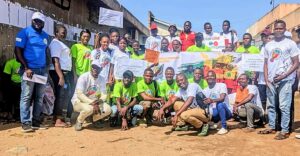 I suggested to Carin to include climate solutions that would actually solve today's greenhouse effect problem so that adaptation and climate justice would not be eternally tormenting subjects for Africa. 
He said, "I think that would be very great, because our activists are about concrete actions, planting mangroves, planting those kinds of plants that absorb CO2."
I said, "Those are very good things, but in the ocean the results are much more consequential, since plankton repurposes CO2 on a much larger scale. Benin can be a leader in this."
Carin said, "I will be a leader! Give me all this information and I will teach the communities. It is our role."
I asked him what message he would like to give the American people. He said, "Hello American people. Plankton are our best friend. We will try to disseminate all those good practices to our communities in Benin, through our organizations Young Volunteers for Environment (YVE) and the YC4CA. I think we can lead this fight for climate solutions. And we want climate justice."
Another impressive example of potential African leadership came from the nation Côte d'Ivoire (Ivory Coast), located to the west of Togo, just past Ghana.  I met twice with Kouame Georges Kouadio, a top advisor to their Minister of Environment. He is an ocean bio-chemist, a specialist on the oceans, and a lecturer on environmental science, and so when we discussed the OPR project promoted by the African Union, he had a deep understanding of the subject.
At the first meeting he said, "There are two possibilities for our earth to capture atmospheric CO2–the forests and the oceans."
"Do the oceans have a bigger capacity for capture?" I asked. 
He said, "Yes. But 50 years ago we had 60 million hectares of forest. Now only 2 million."
I said, "Of course, I understand then why you would be focused on restoring your forests."
He replied,
Yes, but ocean photosynthesis as a new idea [is] faster than forests. I agree with you, because we want to accelerate the reduction of the impact of climate change. We need to reduce the CO2 in the air, and for that we need innovation in our thinking. You have brought this idea in order to accelerate action to have more benefits to human life. I agree with you. You can send me the papers. After I read them I will meet with you later in the week to give you my response.
At the next meeting I ventured to say that, since the African Union had already hosted the Madagascar event on ocean-based CO2 removal utilizing OPR, Africa is already leading the way in climate solutions, given the abject failure to solve the problem by the Global North. 
Kouadio kept his focus, saying, 
I understand very well that the process is to put some nutrients in the area, and that will help the fish to come back. In chemistry you can see iron as a catalyst of the reaction. Without the presence of iron, the rate of the reaction is very, very slow. But if we have an atom of iron in the area, this catalyzes all the reactions, and you have a plankton bloom that provides nutrients for the small fish. I am very interested. I work in biochemistry, and I have ideas about phytoplankton and chlorophyll and how they can help life in the ocean to be better. It is the same idea as in land where there is no water. If you bring water, it is beneficial for the soil, it regenerates the soil. It is the same idea in the ocean. 

My country will be very interested in this project. It is a good idea to contact the AU about this.
I said, "Doing this requires your nation actively wanting it to happen. Do you have the right kind of relationship with the government to get this process going?"
He said, 
From 2012 to 2017, I was General Director of Environment. After that, until last year, I was the general coordinator of four projects supported by the World Bank in our Ministry of Environment. And since June 2022, I am the Advisor to the Minister of Environment. I will write a note to the Minister to explain that there is a project with the AU, and this project concerns the restoration of the oceans. I understand that the key first element is to bring back the fish. We need the fish. Now it is difficult with the fish, the nutrition is very faint.

If the Minister gets interested then everything happens.

It is a very beautiful project. My students will work on this project in order to develop some more information about it.
There is a greenhouse-gas heating blanket in the sky currently causing great destruction, such as the 2022 flooding of Pakistan. The leadership of the COPs for 27 years has chosen to not call for the removal of that blanket, but instead to call for the reduction of a future additional blanket that is quite small compared to the current one. This means that they are targeting something that only adds roughly one percent extra heating per year. That is what emissions reduction and net-zero signifies, a one-percent solution annually. That is clearly poor leadership.
At the beginning of this COP, I hoped that my conversations with Africans would reveal a willingness to actually tackle this irrational yet crucial situation head on. As the conference draws to an end, I am extremely glad to report to you that these people from Africa are indeed rising to the occasion, evincing great spirit, and taking the lead on real climate restoration solutions.
#4: Ocean Pasture Restoration and the Precautionary Principle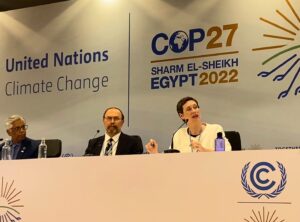 Here at COP27, talk is often heard about a "climate budget," which can be defined as the amount of fossil fuels that we can still burn before arriving at a level of misery and ruin that would be unacceptable. That calculus typically works out in timescale to be roughly "10 years of fossil fuel burning left." 
But since we are already experiencing enough misery and ruin to be deemed unacceptable – just ask any Pakistani whose nation was largely underwater this year because of the greenhouse effect –it's clear we are already over-budget, and therefore we must urgently and massively remove heat-trapping CO2 from the atmosphere.
So, when a promising method for such CO2 reduction becomes available that is eco-friendly, inexpensive, gets fast results, and scales up enough to make a big difference, such as Ocean Pasture Restoration (OPR) – which would restore plankton-driven photosynthesis to their normal historically robust levels –  a key question is how many delays will be thrown in from regulators, and whether those delays are warranted.
Here at COP27 I attended a large important panel discussion that focused exactly on this question, called, "Carbon Dioxide Removal as an Ocean Climate Solution: Urgently Taking a Precautionary Approach."
Much of the discussion and remarks by the panel concerned lists of tasks and requirements to be fulfilled to satisfy a variety of concerns before CO2 removal methods can actually begin. Of course, being cautious can sometimes lead to years of delays, perhaps taking us past climate "tipping points of no return," such as the alarming loss of billions of Bering Sea King crabs, a population decline of 80% between 2018 and 2022  due to climate-caused Arctic warming. 
But one of the panelists, Dr. Sarah Cooley, Director of Climate Science at Ocean Conservancy in Washington, D.C., made the very astute point that in some situations of great urgency the precautionary principle can demand a high speed of implementation.
So, when the panel was ready for questions, I asked Dr. Cooley about this factor in the context of the great urgency we have for removing CO2 from the atmosphere. She answered briefly from the dais, and we continued our discussion in the COP27 main courtyard after the event finished.
Dr. Cooley said she understood the need for speed in this case, but nevertheless introduced items she believes are worth some delay. 
She stressed the importance of involving the communities who live in the region where a restoration project would be located. She mentioned that social scientists have yet to interview residents regarding their opinions on such projects, saying, "We don't know enough in the Global north about how pretty much anybody else in the world views their ocean resources, the urgency of acting. We haven't asked 'How do you feel about the ocean as a source of solutions?'"
She continued: "It is not my place to insert my 'comfort on risk' with what a particular community in Africa should do. Let's have that community decide its own tolerance for risk. And that community should have the self-determination to develop the right 'experiment' for them, how much are we going to perturb the system"
At that point I told her that I agree with her point about community consultation and brought up the example of an OPR project ten years ago in British Columbia near Alaska, where a tribe of 800 indigenous members known as "The People of the Salmon" had lost most of their salmon. So they conducted many meetings, with all of them attending and led by their matriarch. They decided to call in a restorer of ecosystems, Russ George, who had worked with them not long before on tending their forests. They unanimously voted to ask Mr. George to conduct the restoration of their ocean pasture in order to bring back their salmon. 
This project had the full permissions of the Canadian national, provincial, and indigenous governments. The scientific preparation took a year. The tribe paid for it with their own money. It was a massive success, resulting in more salmon than the processing plants could handle – over 250 million salmon, an historical record. Fifty million was the expected number without OPR.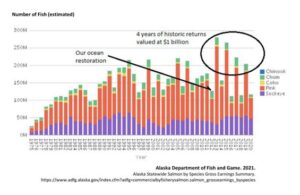 In addition to benefiting the fishery, significant amounts of CO2 were drawn down from the atmosphere due to the massive photosynthesis involved when that much plankton was generated and utilized as the base of the food chain. 
I suggested that this was a great model for future restoration projects.
Dr. Cooley then introduced the theoretical prospect of OPR engendering toxicity in fish that forage the blooming plankton. In response, I mentioned the fact that toxic events such as she was referring to have only been recorded on the coastlines, whereas OPR only happens in the deep ocean. 
She then extended her concerns to "larger scales" where negative effects might happen. She suggested that we might have "different tolerances for environmental risks from experiments." I replied that I suspect we don't differ, partly because OPR is not currently involving such large scales, and I offered this to her:
"I think that a three-year single ocean pasture OPR restoration project, with all the proper scientific preparations and monitoring, would be equally riskless to what you would accept in what you call a proper 'experiment'– fair?"
She answered, "Maybe. It's hard to say without going into the details of time and space scales and monitoring plans."
We left the issue sitting right there. But I believe this dialogue bodes well for how all of us in the climate movement can now move forward together. I am confident that if those details of time and space scales and monitoring plans are quickly established to satisfy all concerned, projects such as OPR can be implemented swiftly, and we will make real bonafide progress towards restoring a safe climate.
Blog #3: The Water Diplomat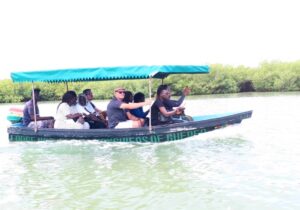 The importance of the world's oceans have always taken a back seat at UN COP conferences in terms of climate solutions. But the efforts of many people who have been trying to at least get the world's water ecosystems recognized as a core factor made a big step forward at COP27 with the designation of an entire day of events this week as WATER DAY. 
Apropos of that, I interviewed Dr. Tobias Schmitz from South Africa, a development advisor who calls himself "The Water Diplomat." I was impressed by the remarkably worthwhile job he has traveling across Africa to conduct training sessions for journalists and youth groups to educate them on the importance of water to climate.
Tobias told me that for 20 years he has been trying to get the word "water" included in key COP climate documents:
[It] has been very difficult for a very long time. In 2009 Copenhagen we tried very hard, a concerted effort, we did not manage it. You would think it is self-evident that climate change and water are interrelated.

At COP23 in Bonn, Germany, a theme "Climate is Water" did appear, and we had quite a lot of political interest for the topic, but it wasn't mentioned in the official COP agreements. COP26 in Scotland allowed us to have a "Water Pavilion" alliance of more than 40 organizations and five governments. 

Here in Egypt, where for 4,000 years it is understood that "water is life," at COP27 the Egyptian government has been supporting us, and the 14th of November will be entirely dedicated to water, where all discussions should be about water, every event."
I asked him for examples of water-related actions he wants to see happen. He told me, "All river basins, from the source to the delta, must reserve enough water for ecosystems to survive, as opposed to 'pumping it all to Las Vegas.'"
He added that, "Dams are preventing nutritional sediments from flowing downstream and making the lands fertile. Easy to install 'Archimedes screws' installed at the river bottom on the front side of the dams allow the sediments to go through. This must be done at all dams."
"How does that help the climate?" I asked.
He said, "If that sediment nutrition doesn't go through the dams, then the plants downriver and in the deltas cannot sequester carbon, they cannot absorb carbon. Therefore these dams are bad for the environment."
I asked him if oceans are a part of his message, and he said "of course." I then explained Ocean Pasture Restoration (OPR), replacing currently missing trace nutritional elements to ocean eddies, which brings back plankton and fish populations on such a huge scale that it removes massively significant amounts of CO2 from the atmosphere. Asked if he might make OPR part of his training curriculum for journalists, he said, "Absolutely".
Then he made a key climate point that an important "part of the temperature exchange on earth is regulated by the oceans." Indeed, the basis for why OPR is a good climate solution is John Martin's insight that oceans determine the climate–that the varying levels of photosynthesis generated from ocean life such as plankton is inextricably linked to the temperature of our planet. More photosynthesis means less CO2 in the atmosphere and therefore less greenhouse effect, which can cause cooling even to the point of generating ice ages. The lesser photosynthesis we have today contributes to global warming.
In a related development, Oceanic Global organized a roundtable workshop on the ocean's role in climate last Friday in the palatial Sharm El Sheikh Park Regency Hotel. The question was raised as to how it could be possible that these UN COPs have not made the oceans a central part of their agreements? The speakers made it clear that an overreliance on emissions reduction as the only solution to the climate problem has led people to overlook the vital importance of the oceans to restoring a liveable climate.
At long last, the UNFCCC (the United Nations Framework Convention on Climate Change), which has been presiding over multinational efforts to address the climate crisis since 1992, says they are willing to talk about adding the bodies of water that cover 72% of this blue planet to the solution agenda. 
But unfortunately, the message from those top UN officials at the roundtable was nothing close to calling for immediate action with projects like OPR. Rather they called for an excruciatingly slow form of progress involving years of "discussions about discussions," with the "results" by COP29 or COP30 still merely in the realm of plans and considerations, and not actions.
But let's give Dr. Schmitz great credit for his campaign to educate the journalists and youth of Africa. This will make it more likely that water and ocean-based projects will assume their proper and crucial standing by applying upward pressure on the climate powers that be from the newly educated grassroots below.
Finally, I asked our Water Diplomat if he considered the WATER DAY designation to be a huge landmark achievement of his many years of hard work. He told me, diplomatically, that, "Well, as an alliance, yes, it is a huge achievement and we all celebrate it. All 40 organizations, we are all in a celebratory mood. It was expressed by many panelists today, with ministers among them. But will water be in the negotiation text or in the outcome document of COP27? That is what matters."
Blog #2: Climate Restoration as the New Goal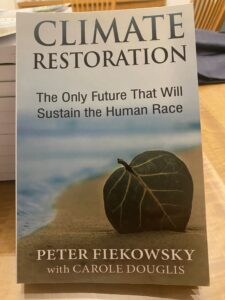 As I interact and converse with the people I meet here at COP27 I always bring up the tragic deficiency of the COP's emissions reduction climate goal. Even if we reduced emissions to zero tomorrow morning, that would not prevent some country from being walloped next year by the same kind of biblical flood that submerged a third of Pakistan recently. The greenhouse gasses that caused this year's flood would still be there to cause next year's flood. 
This all leads us to the question of what COP should adopt as a better goal than assured ruin.
Enter Peter Fiekowsky and his landmark book, "Climate Restoration – The Only Future That Will Sustain The Human Race". With his co-author Carole Douglis, this book makes the case that we can return to a hospitable climate by 2050, largely by removing enough CO2 from the atmosphere to arrive at a safe CO2 concentration level. 
The book sets out an important checklist for climate solutions that should be high on the agenda for the climate movement: Does it scale? Is it financially feasible? Can it be achieved fast enough? Fiekowsky and Douglis focus on several solutions that scale cheaply and swiftly, including the manufacturing of synthetic limestone, which repurposes and safely stores enormous amounts of carbon, and Ocean Pasture Restoration (OPR), which does the same on an even larger scale.
On Wednesday I was invited to attend the unveiling of that book here in Sharm El Sheikh. It was a kaleidoscopic nighttime event at a villa on a cliff, under an Egyptian full moon casting an inconceivably luminous ribbon on the Red Sea that skirted a nearby Saudi Arabian island facing our towering palisade.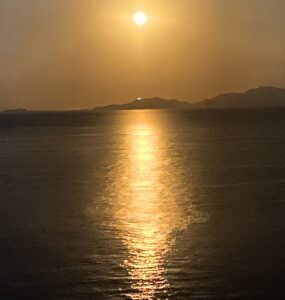 After an invocation from a local shaman, various speakers were asked to speak about the extent of awareness of Climate Restoration in their countries. I was asked the same question regarding my current home in Russia, and I told them that, while the government is indeed paying attention, the climate issue is barely discussed in the various social circles I participate in, although I am doing my best to let people know about the advantages and opportunities of Climate Restoration.  
I added that there is a large media company in Russia that does a lot of work with green projects, and when I told them about Climate Restoration, OPR and my "We Are The World"-style song about it, with Russian and American singers harmonizing together, they reacted by proposing to develop a project with a budget of several million dollars– only to be put on hold by the war in Ukraine.
At that point, Peter asked me to perform the song, and the crowd's enthusiastic response echoed a comment Jeffrey Sachs, a special advisor to three UN secretaries, told me today: "The climate movement needs that kind of music."
After Russ George, the leading practitioner of OPR, gave a succinct description of the process, they ended with a soulful closing shamanic incantation. 
Later, I asked Mr. Fiekowsky: "Please describe the traction you are getting at COP27 for Climate Restoration in terms of altering the goals and agendas for future COP conferences and for the UN. And after how many years do you expect to see the omnipresent goal of emissions reduction replaced by Climate Restoration?"
He replied: 
We have exactly zero traction at the official COP, and just a tiny amount of traction at the UN so far. Informal conversations are picking up exponentially this year, however.

Our goal regarding the UN is getting climate restoration on the table for discussion. Having it on the table will free up investors to put money where their hearts are–restoring the climate for their children and grandchildren. So far there is, and can be, no official traction at the UN and the COP. The moral voices in our society are still calling for "net-zero," which leaves a planet that no one claims can support humanity as we know it. Thus it can be called the "Paris Suicide Pact." 

Individually all the COP participants support climate restoration when we talk with them. It's only a matter of time before their institutions, such as the Environmental Defense Fund (EDF) or Union of Concerned Scientists (UCS) follow their members in promoting the specific goal of restoring CO2 levels that humans have survived long-term. 

We are getting rapidly increasing media attention [for Climate Restoration] now, including a prime-time piece on Israeli TV. The Financial Times of London printed an article this week about ocean fertilization, which is the most effective pathway to restoration. I'm finally getting a few interview requests as well. Once we have a few articles in serious media, like the NY Times, I expect the tsunami of interest will start.

I do expect that Climate Restoration will supplant emissions reduction in most climate discussions within three years.

The leverage point for this is the voice of youth, media, indigenous, and faith groups. Those voices will impact NGOs such as EDF, and those voices will finally impact the UN.
Every day I marvel and recoil at the fact that relying solely on Emissions Reduction– such an obviously inadequate and essentially suicidal strategy for solving the climate crisis–is still the overwhelming mantra of the movement. But there are signs that the needed change is coming. The Fiekowsky and Douglis book is a wonderful salvo. And Robert Hunziker, the intrepid and brilliantly readable journalist, recently published an excellent review of the book which includes an exhortation that I will repeat here: "Tell all your friends about Climate Restoration!"
Blog #1: The "African COP": Will Africa Lead the Way With Nature-Based Solutions?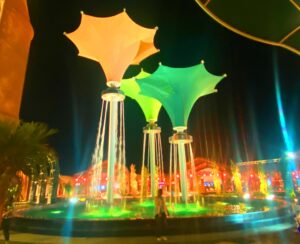 COP27 in Egypt is being called the African COP. This can conjure in people's minds a dismal ordeal of poor countries (who have hardly contributed to the lethal greenhouse effect) pleading with the guilty rich countries (who created this mess) to finally pay that money they promised for ameliorating the ravages that already torment the innocent countries, and to support the expensive required transitions in their infrastructures.
Fortunately, there are indications that this African COP, rather than doomed to be yet another dud, again failing to put us on any path that avoids Climate Ruin, might instead be a success driven by the African nations leading the way by engaging the best scalable nature-based solutions.
As readers of my blog know, for the past five years I have been writing about powerful immediately deployable plans to save the world from the ravaging impacts of greenhouse gasses. There are nature-based solutions to restore ecosystems, most importantly at sea where the capacity of a significant scale exists to employ photosynthesis to capture and repurpose climate-ruining CO2 from its deadly form into, instead, beneficial new life such as plankton.
And here is some evidence that African countries are showing the kind of leadership we need right now. In Antananarivo, Madagascar, last week, on October 27th, a meeting was hosted by the African Union and "OPR-MG" (Ocean Pasture Restoration – Madagascar) for African ambassadors, government ministers, scientists, international banking and global aid agencies to discuss ocean restoration of Africa's "ocean pastures" and plans for immediate action. At the meeting, it was said that "half of the people of Madagascar have depended on the ocean for much of their nutritional needs. It is clear that action is needed now to restore their ocean."
Ocean restoration results in bringing back large amounts of fish populations as well as the immediate capture and sequestration of tens of millions of tonnes of CO2 greenhouse gas. Curing simultaneously the problems of starvation and climate caused carnage would indeed turn some heads here at Sharm El Sheikh.
During this conference I will inquire if African countries are ready to utilize the fact that the Paris Climate treaty recognizes the "Blue Carbon" captured by ocean restoration to be a large and valuable climate change "carbon credit" commodity, which can become an important new natural resource for African nations.
I will also look for reactions to the introduction of a call for ocean restoration in the US. House of Representatives – HR 9027 – the "Ocean Restoration Research & Development Act 2022" (H.R. 9027) in the U.S. House last month with bipartisan support. 
And let's not forget that President Biden in his executive order of Jan. 27,  2021, just after his inauguration, called on American industry and science to deliver solutions for the connected crises facing the fisheries, oceans, and the climate.
This is all good news. But what is desperately needed at this COP are efforts to do more than simply fund more talking. Let's see if Africa will take the lead with real action, and if ocean restoration will be the key to being able to call the African COP a success.