The American Legislative Exchange Council (ALEC) grossly overstates the number of state lawmakers who are members of the organization, internal documents obtained by the Center for Media and Democracy (CMD) show.
For years, ALEC has claimed on its website that it is "comprised of nearly one-quarter of the country's state legislators," yet the secretive group has never disclosed its members' names nor the actual number of legislative members.  
There were 7,383 state lawmakers as of 2021, according to the National Conference of State Legislatures. If almost 25% of those were actually registered with ALEC, its membership would total roughly 1,845. But ALEC records show that it had only 897 members in early 2020, less than half of what it claims.
In its 2020 IRS filing, ALEC reported just over $50,000 in revenue from memberships, which represents less than 1% of its total income that year. ALEC charged individual legislators $100 for a two-year membership at the time, but has since increased the dues to $200. 
The group's tax returns show that ALEC's revenue from membership dues has plunged 48% since CMD launched its ALEC Exposed project just over 10 years ago, suggesting that it has lost close to half of its legislative members.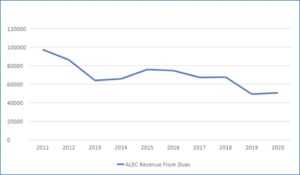 CMD has worked diligently over the years to track state politicians tied to ALEC, with full knowledge that its compiled lists have been incomplete. 
ALEC is a pay-to-play operation in which state legislators and corporate lobbyists meet behind closed doors to write model legislation that advances a radical right-wing, pro-corporate, and pro-Republican agenda on everything from suppressing voter access and denying climate change to crushing unions and undermining public education.
CMD has recreated the membership list it obtained so that it is searchable by both state and name.