Big tobacco had a big presence at last month's 50th annual meeting of the American Legislative Exchange Council (ALEC). As a top-level sponsor, tobacco giant Altria bought access for two lobbyists to speak directly to state lawmakers – at least half a dozen of whom serve on their state's health policy committees – during ALEC task force meetings in Orlando. 
ALEC is a pay-to-play operation that calls for corporations to pay a variety of fees in order to buy access to state legislators at its gatherings, where their lobbyists and lawmakers vote as equals on model legislation that advances their interests. 
This most recent ALEC meeting was no different, with the chief lobbyist from Altria – one of the world's largest producers and marketers of cigarettes and related products – urging state lawmakers to deregulate the tobacco industry despite the lethal, addictive nature of its products, which are responsible for nearly 500,000 deaths a year in the U.S. 
"Prohibitionist policies" – including bans of flavored tobacco meant to protect children and teens – "create so many unintended consequences: illicit markets, burdens on law enforcement, and it's a burden on the criminal justice system," said Mark King, Altria's senior director for state government affairs.
King gave an eight-minute presentation at ALEC's Tax and Fiscal Policy Task Force meeting attended by more than 20 state lawmakers, according to materials obtained and reviewed by the Center for Media and Democracy (CMD). In his presentation, he claimed that flavored nicotine products – including e-cigarettes – are good alternatives to smoking tobacco and should not be regulated.
"There's 30 million adult smokers in the U.S.," King said. "It's not just the data; it's your constituencies, people in our communities. But over 50% of them are interested in switching away from cigarettes. They want alternatives, and they want another product that they can transition away from smoking."
Altria's director of public policy Jennifer Baird also delivered a "policy update" to ALEC's Health and Human Services Task Force, CMD has learned.
Altria is the parent company of Philip Morris USA, the tobacco company that in 2006 was found guilty of racketeering for intentionally misleading the public about the health dangers of tobacco products. In addition to owning popular tobacco brands such as Marlboro cigarettes and Black and Mild cigars, Altria paid $2.75 billion to acquire NJOY e-cigarettes in June, and until recently, it held a 35% ownership stake in the e-cigarette giant Juul, which it sloughed off in March due to "significant regulatory and legal challenges."
There's much at stake for the tobacco industry. Companies that market e-cigarettes have come under increasing scrutiny from lawmakers due to their intense efforts to get young people to try flavored versions of highly addictive nicotine products. Last spring, Juul announced a $462-million settlement with multiple states (including California) due to the company's aggressive marketing to youth that precipitated a surge in use, and in May, Altria agreed to shell out $235 million to resolve more than 6,000 Juul-related lawsuits. Juul is estimated to have spent a total of nearly $3 billion settling lawsuits to date.
During the most recent legislative session, eight states proposed legislation to restrict or prohibit the sale of certain nicotine products, according to the Association of State and Territorial Health Officials.
"By using advertising and marketing strategies to lure young people to its products, JUUL put the health and safety of its vulnerable targets and the California public at risk," California Attorney General Rob Bonta (D) said in a statement. Last November, California voters opted for a statewide ban of flavored nicotine products.
Ongoing Shift to "Harm Reduction"
King argued that banning e-cigarettes "is not a policy that works" and claimed that marketing them is part of what the industry calls its "harm reduction" model – a viable way for adults to move away from smoking tobacco.
"We're not up here to say that there's a risk-free way of consuming nicotine," King said. "But you see this harm reduction model in a lot of other industries and it's the same with tobacco as well."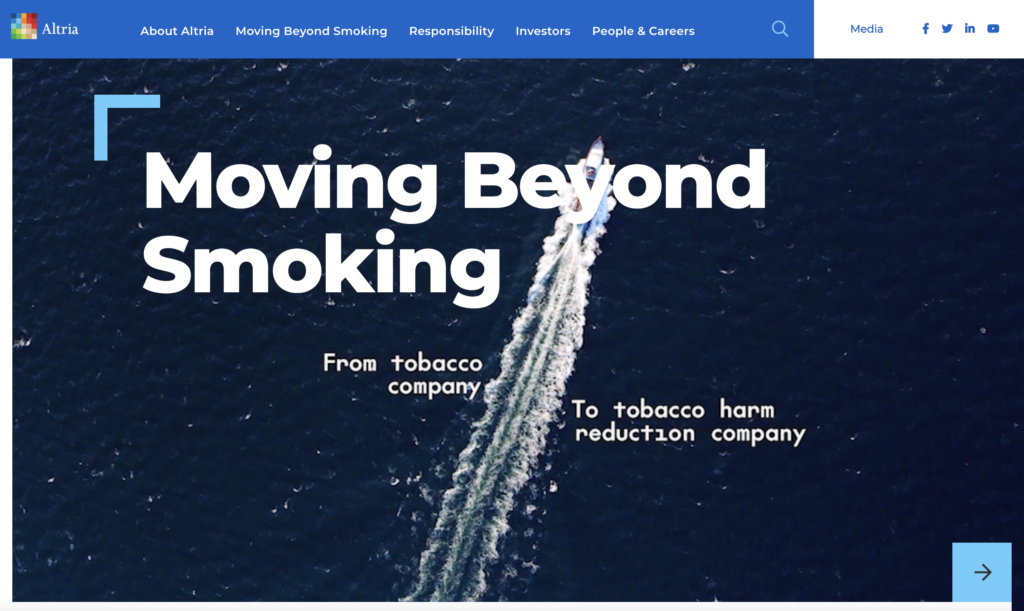 A screenshot from Altria's website.
Since at least 2017, Altria and other tobacco companies have been using the term "harm reduction" to refer to their drive to sell tobacco-free products. However, the term generally refers to efforts to reduce harm in populations that engage in risky or criminalized behaviors and otherwise don't have access to treatment. Most often, it's associated with needle exchange programs or medically-supervised methadone clinics to reduce heroin usage. 
The pivot to harm reduction started once tobacco companies "began buying up the e-cigarette industry and had an alternative product to combustibles," Michael Fiore, director of the University of Wisconsin Center for Tobacco Research and Intervention, told CMD.
"This represents profound hypocrisy," Fiore points out, since "the tobacco industry is the entity that's causing the harm. If they want to reduce the harm, they can stop the marketing and sale of combustible tobacco products." He and Harvard public health researcher Howard K. Koh wrote about the tobacco industry's co-opting of harm reduction in a November 2022 article in JAMA, the Journal of the American Medical Association. 
Although the Centers for Disease Control and Prevention (CDC) recommends that e-cigarettes be used by adults looking to transition away from smoking tobacco, the product is far from risk-free. A study by the American Heart Association found that e-cigarette use can lead to heart and pulmonary disease, and recent guidance set by the Food and Drug Administration (FDA) warns that accidental exposure to vaping liquid "can cause injury and even death in children."
A Long History with ALEC
Altria – the rebranded name Philip Morris adopted after being labeled "America's most reviled company" in the 1990s – is a longtime funder and member of ALEC. Altria lobbyist Daniel Smith currently serves on ALEC's Private Enterprise Advisory Council, where the company has had representation since at least 1999. Altria has also long been a sponsor of ALEC's annual meetings, doling out a large wad of cash this year to qualify as a Vice Chairman-level sponsor alongside the Honest Elections Project (HEP) voter suppression group and the right-wing think tank the Foundation for Government Accountability (FGA), among others.
ALEC has served as a front for the tobacco industry for decades and has adopted model legislation that directly benefits the industry, including cutting taxes on smokeless tobacco products. The industry also indirectly benefits from other ALEC model legislation, such as preemptive bills that seek to prevent local governments from taking action on the sale of tobacco products – like the flavor bans implemented by more than 360 local governments.
Reporting has found that in recent years Altria has donated to the campaigns of anti-LGBTQ politicians. Historically, it has also been one of the biggest funders of the Republican Attorneys General Association (RAGA), which was a key player in pushing false claims of fraud during the 2020 election.
In addition to the legislative members of ALEC's Tax and Fiscal Policy Task Force who listened to Altria's presentations, Private Enterprise Advisory Council members Stephen Moore of The Heritage Foundation and Paul Fitzpatrick, president of 1792 Exchange, also attended, as did Derek Kriefels, CEO of the State Financial Officers Foundation (SFOF), the organization behind the effort to hamstring financial action to address the climate crisis.
The following partial list indicates the legislative members of the task force who were present and which of them serve on committees that regulate state health policy:
Alabama State Rep. Susan DuBose (R) – member of the Alabama House Health Committee

Colorado State Rep. Lisa Frizell (R)

Idaho State Sen. Doug Ricks (R)

Idaho State Sen. Phil Hart (R)

Kansas State Rep. Ken Rahjes (R)

Kentucky State Rep. Wade Williams (R)

Kentucky State Sen. Shelley Funky Frommeyer (R) – member of the Kentucky Senate Health Services Committee

Michigan State Rep. Jaime Green (R)

Michigan State Rep. Mike Hoadley (R) – member of the Michigan House Behavioral Health Subcommittee

Missouri State Rep. Ben Baker (R)

Montana State Rep. Jane Gillette (R) – member of the Montana House Human Services Committee

New Hampshire State Rep. Keith Erf (R)

New Hampshire State Rep. Michael Harrington (R)

New Hampshire State Rep. Ted Gorski (R)

North Carolina State Rep. Kevin Crutchfield (R) – member of the North Carolina House Health Committee

Ohio State Rep. Angela N. King (R) – member of the Ohio House Public Health Policy Committee

Ohio State Rep. Jim Thomas (R)

Oklahoma State Rep. John Kane (R)

Texas State Rep. Carrie Isaac (R)
For more information on ALEC state lawmakers and the task forces they serve on, visit CMD's ALEC Exposed site.