Hotels are making a killing.
Occupancy rates are exceeding pre-recession highs, and are expected to reach record levels in 2016. Profits per room are up over 11 percent this April compared to April 2014 and the average daily rate for a room is almost 13 percent higher than it was a year ago. Executive salaries have skyrocketed.
But the little-known trade association representing this robust $163 billion dollar industry is a major force fighting behind the scenes on Capitol Hill and in statehouses and courtrooms across the country to keep workers wages low.
On Wednesday, April 15, the same day that hundreds of thousands of working people in over 200 cities are expected to participate in the largest-ever mobilization of underpaid workers, the American Hotel & Lodging Association (AHLA) which represents the 1.8 million-employee U.S. lodging industry will join forces with the National Restaurant Association to ask Congress to block a federal minimum wage increase, shrink the number of workers eligible for employer-provided health care insurance, and challenge the National Labor Relations Board ruling protecting the rights of franchise workers.
Condemning $15 an Hour as an "Extreme Wage"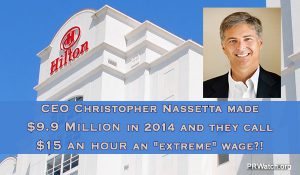 The American Hotel & Lodging Association is the trade group for companies in the hotel industry, including chains, independent hotels, hotel management companies and industry suppliers. AHLA's board includes members from major hotel and resort companies, including Marriott, Hilton, Hyatt, Omni, and others. The well-compensated heads of those hotels include:
CEO Christopher Nassetta, Hilton Worldwide, who made $9.9 million in 2014;
CEO Arne Sorenson, Marriott Hotels, who made $14.9 million last year; and
CEO Mark Hoplamazian, Hyatt Hotels, who made a paltry $6.3 million last year.
Omni Hotel CEO Robert Rowling is one of the richest people in the world, says Forbes, with a net worth of some $5.8 billion. Rowling has given huge contributions to Karl Rove's American Crossroads and the Koch Brother's Freedom Partners, which contribute to politicians across the nation working to block higher wages, paid sick days and union representation.
And some of Rowling's money works behind the scenes to keep wages in the hotel industry low through the American Hotel & Lodging Association.
Despite claiming that most industry workers are already paid above minimum wage, AHLA strongly opposes efforts to raise it. The term "extreme wages" first appeared widely in January 2014 when AHLA announced it would "beat back the growing emergence of extreme minimum and living wage initiatives." The association then commissioned a "study" of the effects of "extreme wage initiatives" on the hotel industry, specifically instructing the former hotel executive who wrote it to use the word "extreme."
In a September 2014 op-ed, AHLA CEO Katherine Lugar warned of "local extreme wage battles in cities such as Seattle, Chicago and Los Angeles." And she referenced "extreme wage initiatives" no less than five times in a November 2014 Lodging Magazine interview. At a hotel conference that month, a Lugar slide show showed the map of "future threats" where the hoteliers are preparing to battle local proposals to raise wages: "various" California and New Mexico cities, plus Detroit, Louisville, Baltimore, Cleveland, Boston, Minneapolis and Portland, Maine. According to the slide show, defeating "extreme wage initiatives" is the top industry priority.
Now in Los Angeles, where more than 40 percent of the city's hotel workers currently earn below the federal poverty line, AHLA has sued to block an ordinance raising minimum wages for hotel employees to $15.37 an hour. In other parts of the country, as CMD has detailed, the goal is to pass laws at the state level to preempt local government ordinances to raise the wages.
Strategy to Undercut Wages Discussed at ALEC
The lawsuit is part of a coordinated legislative, legal and PR strategy detailed by an AHLA lobbyist at a recent conference.
At the 2014 joint meeting of the American Legislative Exchange Council (ALEC) and its local offshoot, American City County Exchange (ACCE), AHLA Senior Executive Brian Crawford compared the industry's battle against local wage laws to a game of Whack-a-Mole: "We're trying to beat them down when they pop up."
In San Diego, Crawford reported, AHLA bankrolled a front group, the San Diego Small Business Association. The group used alarmist claims and outright lies to gather enough signatures to postpone a minimum wage increase and earned sick days bill unanimously approved by the city council, and put the question on the 2016 ballot. More than one local petitioner for the group was caught on tape lying that the petition was actually in support of a minimum wage hike. Meanwhile contributions to the association from actual San Diego small businesses were "few and far between," as the San Diego Reader put it.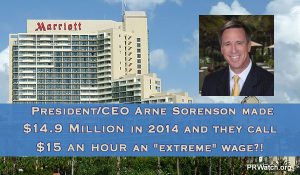 In fighting against higher wages for workers, it was crucial, he said, to have "the right face… Not the Hyatts, not the Hiltons, not the Marriotts, but the small business people, telling their story about the American Dream–the independently owned Holiday Inn, owned by an Asian-American who came to this country, put all their life-savings into it, and now they're going to lose this business because they can't afford a $15 wage…. The key component is the PR.'"
This may be why the AHLA is working with the Asian American Hotel Owners Association to put a friendlier face on their low-road strategy.
This is also why AHLA is a major mover behind the "Coalition to Save Local Businesses", which is encouraging lawmakers on the Hill to challenge the National Labor Relations Board general counsel's determination that McDonald's is a joint employer of franchise employees. The joint employer standard has thrown the big fast food and hotel franchisors and their trade associations into a panic, as it calls into question the business model that has allowed franchisors to get rich while offloading responsibility for low wages and poor working conditions onto local franchisees.
As with its lobbying partner, the National Restaurant Association, the AHLA seeks to preserve an industry wage structure that leaves many workers living in poverty while company executives and owners reap millions. The sale of Hilton last year earned its private equity owners $10 billion on a business they owned for six years!
Now that's extreme.
---
Read more about AHLA and the NRA in their corporate profiles on Sourcewatch.org. Learn more about the legal strategies to block living wage campaigns here. Jessica Mason and Rebekah Wilce contributed to this article.