CLEVELAND — Squadrons of police and Secret Service were mobilized in full riot gear in Cleveland last night for the conclusion of the Republican National Convention (RNC). Even the police horses were sporting face shields.
Although it is true that a small parade of doctors and nurses, armed with stethoscopes, did approach the Quicken Arena, thankfully they were turned back by an army of police who had been imported from across the country.
The $60 million display of police force, which resulted in only a dozen or so arrests over three days, fit right into the night's proceedings, which ended with a remarkable speech by the Republican nominee for president, who painted a dark picture of America in crisis and pledged to be America's "law and order candidate."
"Proud to Be Gay, Proud to Be a Republican"
But the evening was not all doom and gloom. Trump's softer side was highlighted by speakers chosen to speak before the Republican nominee.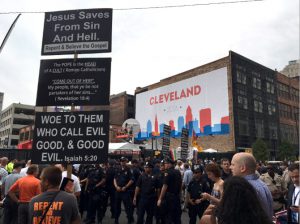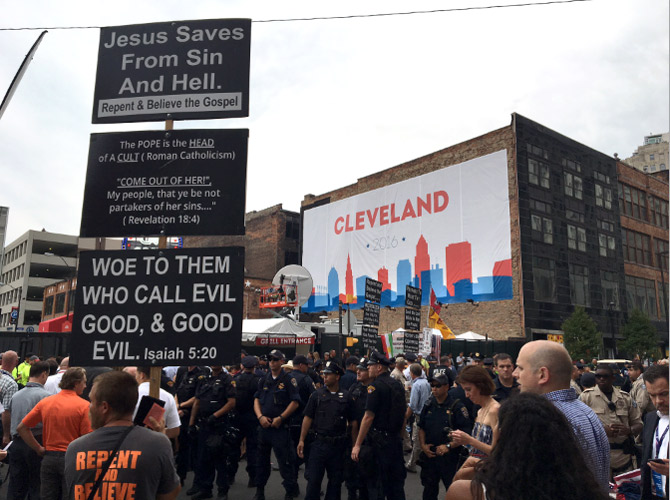 PayPal founder Peter Thiel, whose net worth is estimated to be $2.2 billion, took to the stage to say a number of remarkable things. "Instead of going to Mars we have invaded the Middle East," he said to loud applause. "It's time to end the era of stupid wars and rebuild our country."
He noted that when he was growing up, America fought the Cold War. "Now we are told that the great debate is who gets to use which bathrooms… Who cares?" he asked to applause and some confusion among delegates. "I don't pretend to agree with every item in the platform, but fake culture wars distract and nobody in this party is being honest about it other than Donald Trump."
Thiel concluded: "I am proud to be gay, I am proud to be a Republican, but most of all I am proud to be an American."
His remarks were historic and apparently well-received by an audience that on Monday approved a party platform that strives to roll back the clock on gay marriage and encourages businesses to decline services to gays and lesbians if it violates their religious views. (Thiel is known for the extreme claim that democracy and capitalism are incompatible, as the Guardian has documented, and he has claimed that giving women the right to vote was bad for democracy.)
"A Strong Ethical Compass"
Ivanka Trump, whose net worth is estimated to be $150 million, took to the stage to show a softer side of her dad and to be the feminist standard-bearer for the campaign.
Trump talked of using building blocks while playing on the floors of the suites of her dad's buildings, and said her father taught her the importance of "a strong ethical compass."
She spoke of watching her father rip articles out of the newspaper containing stories of people facing hardship, and inviting those people in to his office to lend a helping hand.
She also spoke out on women's issues. "In 2014, women made 83 cents for every dollar earned by a man," and mothers who take time to raise their children fall further behind. "As researchers have noted, gender is no longer the factor creating the greatest wage differential, motherhood is." "Politicians always talk about wage equality, but my father has made it a reality for his employees throughout his career," and he will help moms by "making daycare affordable for all."
The remarks were particularly striking because equal pay is not mentioned in the GOP platform, nor is "child care." In contrast, the Democratic platform has pages on those topics and many others that impact the lives of working women, including paid sick leave. The comments signal that Ms. Trump may be utilized as a surrogate to carry women's issues forward for her father as he runs against the first major party woman presidential nominee in U.S. history.
"Real change is only going to come from outside the system. I have seen him fight for his family, his employees, his company, and now I am seeing him fight for his country," she concluded.
The "Law and Order Candidate"
But the most remarkable speech of the evening was Trump's, clocking in at 73 minutes. Forbes estimates Trump's net worth to be $4.5 billion, although Trump says it's double that. His speech was leaked to a super PAC backing Clinton hours before its delivery.
Nonetheless Trump stuck to the text with some modest changes.
The vast majority of the speech painted an extremely gloom and doom picture of the state of the nation and the world.
Our Convention occurs at a moment of crisis for our nation. The attacks on our police, and the terrorism in our cities, threaten our very way of life. Any politician who does not grasp this danger is not fit to lead our country.

Americans watching this address tonight have seen the recent images of violence in our streets and the chaos in our communities. Many have witnessed this violence personally, some have even been its victims.

I have a message for all of you: the crime and violence that today afflicts our nation will soon and I mean very soon come to an end. Beginning on January 20th 2017, safety will be restored."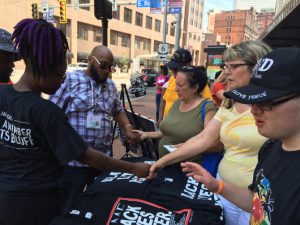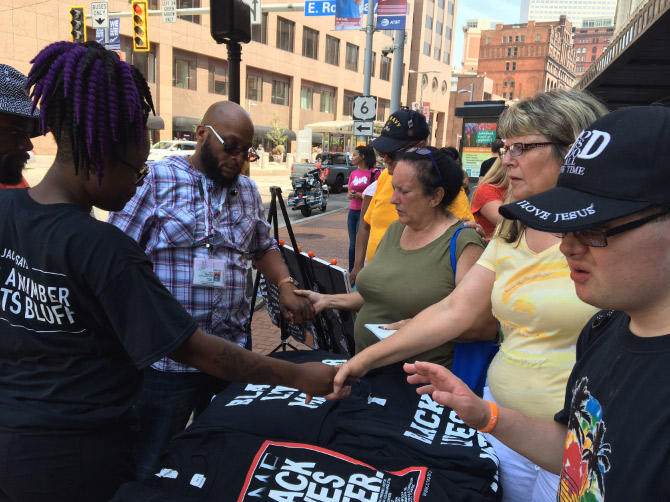 Trump would return to the theme of trauma and violence repeatedly.
With regard to foreign policy, Trump declared that the legacy of Secretary Clinton was "death, destruction, and weakness."
On crime, Trump declared that "Homicides last year increased by 17% in America's fifty largest cities. In our nation's capital, killings have risen by 50 percent. They are up nearly 60% in nearby Baltimore… In the President's hometown of Chicago, more than 2,000 have been the victims of shootings this year alone, " said Trump, and "the number of police officers killed in the line of duty has risen by almost 50% compared to this point last year."
His tagline, "I am the law and order candidate," appears to be the answer to all social ills.
No Reaganesque "morning in America" here; instead the speech is reminiscent of Richard Nixon's dark 1968 acceptance speech where he invoked "cities enveloped in smoke and flame."
Yet outside the Arena and especially around East 4th Street, commandeered by MSNBC and the Washington Post, protesters and police were mingling cheerfully in a tight space, Bible thumpers and Hari Krishnas were co-existing, and the atmosphere was festive, more summer block party than dark night of terror.
The question now is, will voters share Trump's bleak assessment of America and the world?