A cache of documents released today by The Guardian shed new light on how Governor Scott Walker, his top advisors and allies evaded Wisconsin's campaign finance system to win his recall election, and to maintain Republican control of the Wisconsin State Senate during the tumultuous recall period of 2011 and 2012.
The strategies pursued and measures taken were unprecedented in the State of Wisconsin and sparked a criminal investigation by a bipartisan group of prosecutors, the future of which is now pending before the U.S. Supreme Court.
The expose revealed that Walker fundraiser Kate Doner conducted detailed opposition research on donors whose contributions might prove embarrassing. On November 14, 2011, Walker campaign manager Keith Gilkes sends a 13-page opposition research memo prepared by Kate Doner to Walker saying he wants Walker to be aware of the donor research so he would be aware of what he "might need to defend in in terms of contributions when these are disclosed." Some of these checks ended up in the account of Wisconsin Club for Growth instead. (Ex. 31.2, 1-100 doc.)
This type of "vetting" and control of where checks were being deposited raised red flags for prosecutors and supports their theory that Wisconsin Club for Growth was effectively a "subcommittee" of the Friends of Scott Walker campaign in violation of the campaign finance statutes. In addition, quid pro quo corruption–money for favors–is a potential violation of Wisconsin criminal misconduct statutes.
One of the controversial figures flagged by Doner and Gilkes was Dallas billionaire Harold Simmons. He had never previously given publicly to Walker before, but he donated $750,000 in corporate and personal checks to Wisconsin Club for Growth in 2011-2012. It is not known how many contacts Simmons had with Walker staff or associates.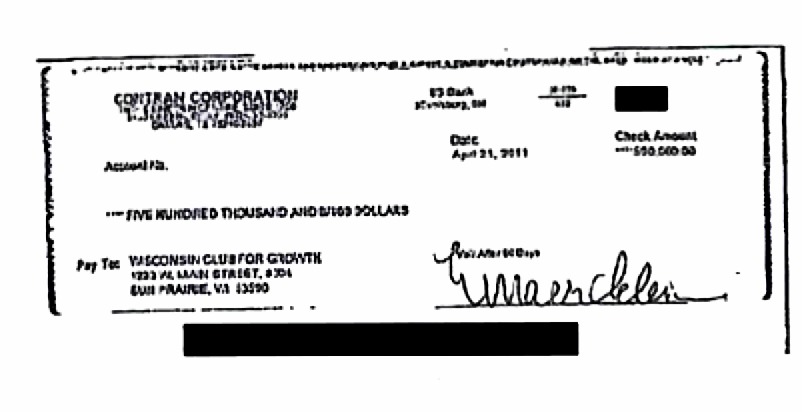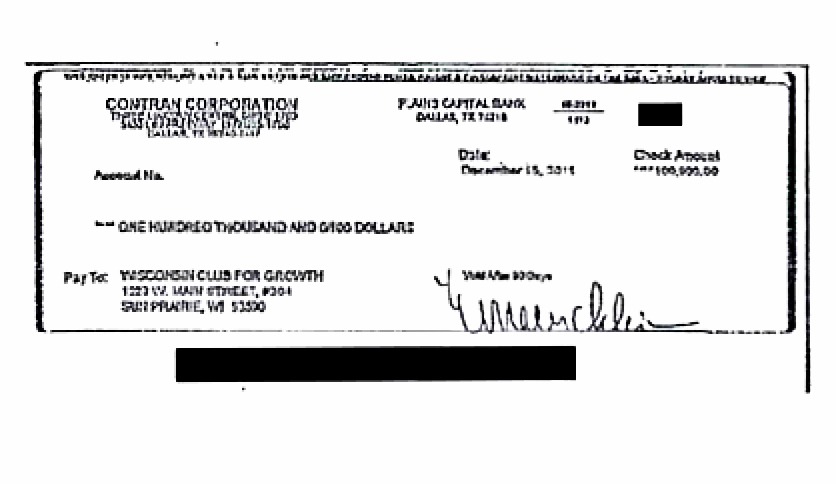 Forbes describes Simmons as a "legendary empire builder and corporate raider." Among other businesses, Simmons owned CONTRAN and its subsidiary NL Industries (formerly known as the National Lead Company), which had been a leading maker of lead pigment paint. In 2010, NL Industries was a defendant in multiple lawsuits in along with other former manufacturers of lead pigment.
Among the lawsuits were those brought by attorney Peter Earle on behalf of 173 Wisconsin children who had suffered catastrophic exposure to lead paint–at levels many times higher than the children of Flint, Michigan–whose exposure to lead sparked a national outcry earlier this year. The children's lawyer had been suing white lead pigment manufacturers in state and federal court since 2006 developing a factual record, medical records, expert witnesses, and other resources to demonstrate the terrible injury suffered by small children exposed to the toxic substance. The Wisconsin cases were pending in state and federal court.
After Harold Simmons' generous donations to Wisconsin Club for Growth, late one night in June 2013, Wisconsin's Joint Finance Committee chairs Alberta Darling and John Nygren sponsored a last-minute change to the 2013-2015 Biennial Budget that change tort law in a manner intended nullify these suits. (The "Motion 999" can be seen here).
At the time, a memo prepared by the Wisconsin Legislative Council warned legislators that any such action would be unconstitutional. The Wisconsin Association for Justice wrote a letter to the governor asking him to veto the measure, but the controversial and unconstitutional measure was rolled into the budget and was not vetoed by Walker, as other last minute measures were. Walker was slated to do a call with Simmons after the money was given, "Thank you for making this work!" exclaims the Republican Governor's Association staffer to Walker's scheduler as they set up the call.
With a $750,000 secret contribution, in one fell swoop hundreds of Wisconsin children were robbed of their substantive due process rights and denied their day in court.
Outraged that his clients had been victimized again, their attorney, Milwaukee's Peter Earle, filed an open records request with numerous legislators. Records released by Senate Majority Leader Scott Fitzgerald included a memo by lobbyist Eric Petersen of Capitol Consultants, who represented NL Industries. The memo shows that the one paragraph law change was identical to the language submitted by the lobbyist. The language submitted by the lobbyists had a handwritten notation at the top "NL Language." (See the memo here.)
Attorney Earle would go on to document that the lead pigment manufacturers spent hundreds of thousands of dollars on lobbyists working against his clients in the Wisconsin legislature. The $750,000 secret donations revealed by The Guardian is a hefty sum weighed against the rights of low-income children.
The retroactive application of a law to the children's cases was later found to be unconstitutional by both state and the Seventh Circuit Court of Appeals. But litigation over the matter is still pending and lawyers for the firms are trying to get at the state case in front of the Wisconsin Supreme Court.
When asked about the new revelations attorney Earl called the donation "appalling."
"It is appalling that Scott Walker, Scott Fitzgerald, and the people who run Wisconsin Club for Growth would do this. These people all coordinated together to crush the rights of these small children. All we wanted was our day in court," he told the Center for Media and Democracy.
Harold Simmons died on Dec 30, 2013, but the allegations in the Guardian expose are roiling the state of Wisconsin today as new discoveries are made.
You can access the Guardian documents here.
Lisa Graves and Arn Pearson contributed to this report. Stay tuned to @PRwatch and this site for more news shortly.