The Republican nominee for U.S. Senate in the state of Delaware, 32-year-old Lauren Witzke, has expressed support for the dangerous conspiracy theory movement QAnon and recently gave an interview to the white nationalist hate site VDARE, run by the VDARE Foundation, which she has often promoted on social media. On top of that, she's rallied with the neo-fascist street gang the Proud Boys, which the Southern Poverty Law Center considers a "general" hate group.
In the recent past, the Delaware Republican Party might have disavowed Witzke, who has little hope of ousting incumbent Democratic Sen. Chris Coons. But in today's hyperpolarized society, the state party is supporting Witzke, even in the face of mounting evidence of her far-right extremism.
In addition to the party's backing, Witzke has earned support from a Trump megadonor, Matt Miller, the president of the Indiana-based winnebago company Newmar, who donated the maximum allowed contribution of $2,800 to her campaign.
As CMD reported, Miller, also maxed out to QAnon adherent Marjorie Taylor Greene, who is running unopposed in the general election for Georgia's 14th Congressional District, and Florida candidate Laura Loomer, a bigot whose Islamophobic rants got her banned from online platforms, apps, and payment processors including Twitter, Facebook, Uber, Lyft, and PayPal. Miller donated $2,800 to each candidate for the primary and general elections, meaning he gave $5,600 to both Greene and Loomer.
Close Ties to Hate
On Oct. 4, Witzke appeared in a video with VDARE Foundation president Peter Brimelow, a prominent white nationalist. YouTube has banned VDARE from its site for hate speech, but the video appears in a new channel called "Immigration Patriot!" In the interview, Witzke made several racist and xenophobic statements, claiming that immigrants are "dismantling our culture" and that Somali-American Muslim Rep. Ilhan Omar (D-MN) is "a Third-World dictator."
Brimelow claimed to have donated $2,800 to Witzke on Sep. 26, saying he supports her because of her immigration policies. Witzke wants a 10-year moratorium on immigration, something VDARE has long promoted.
"If she wins, Witzke would be, far and away, the best senator on immigration," reads an article on the hate group's website.
In addition to making bigoted comments herself, Witzke has repeatedly associated with racists, antisemites, Islamophobes, hate groups, and terror threats.
VDARE Foundation president Brimelow has said that "crime in this country is ethnically variegated. There's ethnic specialization in crime. And Hispanics do specialize in rape, particularly of children. They're very prone to it, compared to other groups."
In 2016, Brimelow said, "There is no quote-unquote 'diverse America.' There's only white America. The people who've already voted for Trump. They are America. Everyone else is just along for the ride."
Witzke's former campaign manager promoted the idea of royal rule in the U.S. to drive Jews out of positions of authority. The same man invited white nationalist and antisemite Nick Fuentes, whom YouTube banned for hate speech violations, to speak at an immigration forum before he worked for Witzke.
After Witzke's September primary victory, Fuentes tweeted his congratulations, for which she thanked him.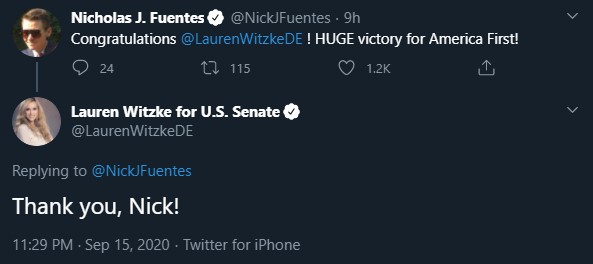 The neo-fascist hate group the Proud Boys provided "free security" for Witzke and her supporters during a recent rally, after which the candidate heaped praise on the hate group and later defended its "patriotic masculinity."
Witzke has attempted to distance herself from QAnon, which the FBI classified as a domestic terrorism threat in May 2019, but she's been photographed wearing a QAnon T-shirt and tweeted the movement's slogan. QAnon adherents, informed by an alleged government whistleblower who goes by "Q," think that President Donald Trump is waging a secret war against Democratic politicians and Hollywood elites, who are leading a satanic child sex trafficking ring. QAnon's theories have allegedly inspired the murder of a baby and a mob boss, a murder by sword, and child kidnappings.
CMD asked Witzke if she is a white nationalist, if she agrees with Brimelow's racist statements, if she supports QAnon, and what she thinks about the FBI's designation of QAnon as a terrorism threat.
"The notion that QAnon is somehow a public safety risk but AntiFa and Black Lives Matter are not is a bigger joke than extreme far-left media outlets and nonprofits like yours slandering every person who believes in immigration restriction as a 'white nationalist,'" Witzke claimed in an email to CMD.
Antifa, a loose movement that opposes fascism, has not been linked to a single murder in 25 years, according to a June 2020 article in The Guardian. Over that same time period, rightwing violence claimed the lives of 329 victims.
Jane Brady, the Delaware Republican Party chair, is supporting Witzke and told The New York Times that the candidate is "mainstream on most issues." Witzke appears on the party website as one of "our candidates," and Brady interviews Witzke in a video promoted by the party.
The Delaware GOP and the Coons campaign did not respond to CMD's requests for comment.
While the national Republican Party has not endorsed Witzke, national GOP groups are standing behind QAnon-friendly candidates.
The National Republican Congressional Committee embraced Lauren Boebert, the GOP nominee in Colorado's 3rd Congressional District who has praised QAnon.
Kevin McCarthy, the House Minority Leader, welcomed Greene, who has a history of making racist, Islamophobic, and antisemitic statements, to his caucus after her August runoff victory. The House Freedom Caucus has raised money for Greene and Boebert, and its PAC has spent a combined $118,000 on independent expenditures backing them.
In the Delaware GOP's video, Witzke claims to have worked for Trump Victory, the joint fundraising committee of the Trump campaign and the Republican National Committee, in Iowa before launching her Senate campaign.
Big Trump Fans
The "Mission" page of Newmar's website, the company run by Trump megadonor and Witzke backer Matt Miller, explains that the company is "built around the Christian faith, specifically the beginning of the Mennonite faith in 1525 under the guidance of Ulrich Zwingli, and the founding of the Amish fellowship under Jacob Amman in 1693."
The page goes on to extol "a strong sense of community, which means helping one's neighbors, worshipping together and bearing the burdens of others" and "forgiveness towards others."
"Peace with one's neighbors, whether down the road or across the oceans, is the preferred approach," reads the site.
Miller's contributions to racist and anti-immigration candidates, including Trump, does not comport with these stated values.
Miller is one of only three donors to God, Guns, Life PAC, a pro-Trump super PAC that received $100,000 from him in June. The PAC has reported spending $17,000 so far supporting Trump or opposing Biden. The group is funding an anti-Joe Biden billboard in Milwaukee, Wisconsin.
God, Guns, Life PAC's president is Terry Beatley, a Catholic anti-abortion activist who has appeared on the show of Tony Perkins, president of the anti-LGBTQ hate group the Family Research Council.
Miller and his family are donors to Trump's campaign and the Republican National Committee (RNC). Since 2018, Miller has given nearly $16,000 to the Trump Make America Great Again Committee, a joint fundraising committee of the Trump campaign and the RNC, and Mahlon Miller—who is Miller's father and founded Newmar—has donated $7,800. Both father and son have each maxed out to the Trump campaign, giving $5,600, and the two have combined to give the RNC over $25,000 since 2001.
Over decades, Miller, his wife, Pamela, and his parents have made over $1 million in total federal contributions. In Indiana state politics, Mahlon Miller gave $15,400 to now-Vice President Mike Pence's gubernatorial campaigns.
In 2018, Trump's White House invited Newmar to take part in Trump's second "Made in America Product Showcase" in Washington, D.C. Newmar said it was "honored to participate," and Trump toured its winnebago. Pence and Housing and Urban Development Sec. Ben Carson took a photo with Miller inside the vehicle.
Matt Miller, Kevin Bogan, Vice President Pence and Ben Carson-United States Secretary of Housing and Urban Development. Also a picture of the oval office from the inside of the London Aire. pic.twitter.com/goWCFNpXzW

— Newmar Corporation (@GoNewmar) July 23, 2018
The event was "one of the most exciting things I've been a part of in my life," said Miller.
Newmar did not return CMD's request for comment from Miller.
Miller is an example of the kind of extremist donors that Trump attracts. Since first running for president, Trump has excited far-right extremists, including white nationalists and the Proud Boys, with his nativist rhetoric and policies.
Most recently, Trump refused to condemn the Proud Boys, instead telling the group of street thugs to "stand back and stand by." In the same debate, amidst a torrent of lies about voter fraud, Trump called on supporters to become poll watchers, a practice that the Republican Party has a history of using to intimidate voters of color and others who tend to vote for Democrats.
Voter intimidation is just one of many voter suppression tactics that the Republican Party and independent right-wing political groups are using to undermine the November elections.
A recently released Department of Homeland Security threat assessment names "white supremacist extremists" as "the most persistent and lethal threat in the Homeland" and states they may target elections.
"Some [domestic violent extremists] and other violent actors might target events related to the 2020 Presidential campaigns, the election itself, election results, or the post-election period," reads the threat assessment.
"Open-air, publicly accessible parts of physical election infrastructure, such as campaign-associated mass gatherings, polling places, and voter registration events, would be the most likely flashpoints for potential violence."
The featured image is adapted from a photo via Lauren Witzke/Twitter.