The American Legislative Exchange Council entered into a new partnership last month with a radical-right pro-Trump group, Turning Point USA, that played a major role in promoting Trump's lies about voter fraud and organizing the Jan. 6 rally aimed at overturning the presidential election, documents obtained by the Center for Media and Democracy (CMD) reveal.
While the American Legislative Exchange Council (ALEC) released a statement on the day of the riot saying that it "condemns the lawless, extreme behavior of protestors attempting to block Congressional certification of electoral college votes," it failed to disclose that its partner Turning Point USA (TPUSA) helped organize the #StoptheSteal protest that turned into a deadly insurrection at the Capitol. 
Prior to the riot, TPUSA's affiliate, Turning Point Action was listed as a coalition partner on the "March to Save America" website, which has since been taken down, along with the Republican Attorneys General Association, Stop the Steal, Tea Party Patriots, and six other groups.
The group's president and founder, Charlie Kirk, tweeted out ahead of the Jan. 6 violent uprising at the Capitol that Turning Point Action and Students for Trump, which Kirk also leads, sent "80+ buses full of patriots to DC to fight for this president," and eerily predicted, that "This historic event will likely be one of the largest and most consequential in American history." This tweet has since been taken down.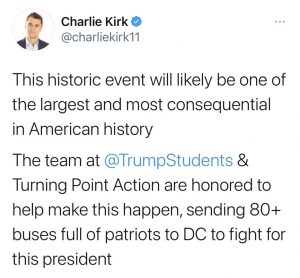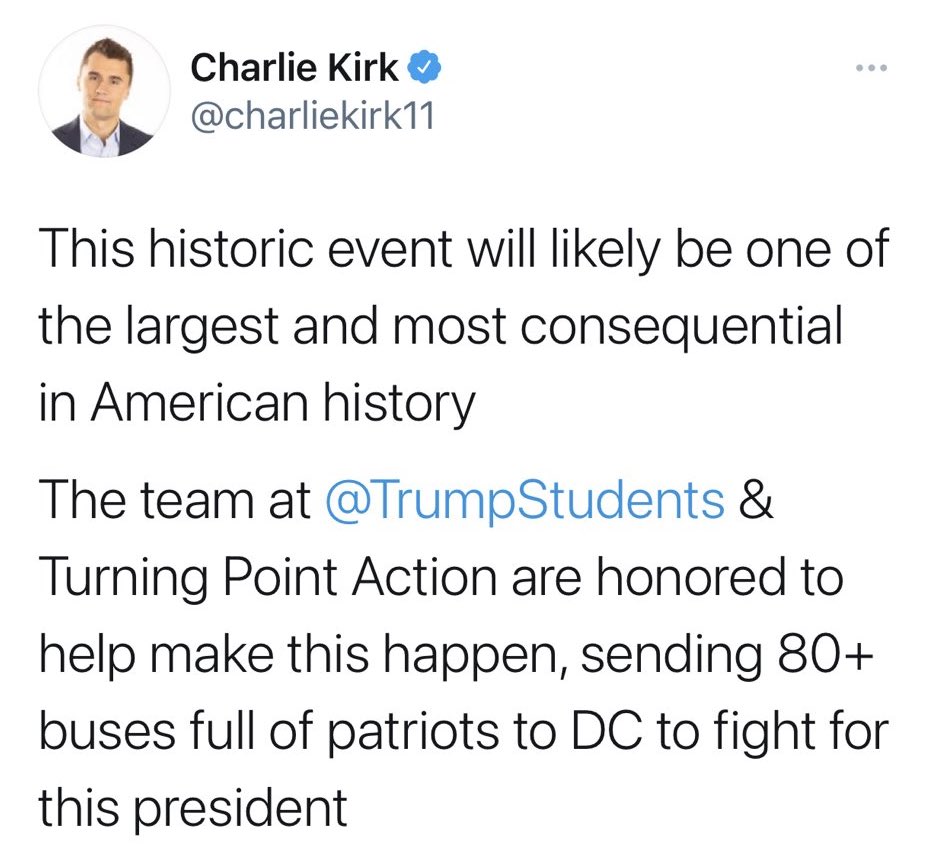 Kirk was also listed on #StoptheSteal's website as a leader of its Nov. 6 rally in Arizona, tying him directly to the start of Ali Alexander's effort to overturn the election, CMD first reported.
Kirk and ALEC's CEO Lisa Nelson may have forged the partnership idea through the influential Christian Right "charity" the Council for National Policy (CNP). Both Kirk and Nelson are members of CNP, which has its fingerprints all over the #StoptheSteal movement and the resulting insurrection at the Capitol.
The Anti-Defamation League and Southern Poverty Law Center have criticized TPUSA for affiliating with white nationalists and right-wing extremists, and the group was rebuked by Facebook and Twitter last September for running a pro-Trump "troll farm" that spread disinformation on voter fraud and Covid-19.
Will TPUSA and ALEC Work to Place Insurrectionists on University Boards of Regents?
ALEC's new partnership with TPUSA is designed to place more right-wing students on university boards of regents and to "mentor" students, CMD has learned.
ALEC's development manager, Giovanni Triana, revealed the new partnership in an email obtained through an open records request by CMD. In it, Triana promoted a "training session" on "How to Save America with Student Regents" at ALEC's December 2020 States and Nation Policy Summit, and took credit for "facilitating" the new partnership.
Triana served as a president of TPUSA prior to joining ALEC's staff, where he provided classes to college students on how to carry concealed weapons, according to ALEC's website.
ALEC's December training, "How to Save America with Student Regents: What They Are, Why They Matter, How You Can Help," was led by Colton L. Buckley, Director of Student Regent & Trustee Engagement at TPUSA.
Buckley stated in the presentation that TPUSA and its Campus Leadership Project "recruits and vets" candidates so that governors can nominate "ideologically sound" or "conservative" candidates in states where governors have the power to do so, and provides "staff support and recommendations" to ALEC lawmakers.
Buckley added that, if student regents are chosen by student bodies or student body presidents, "you're nine times out of ten going to get a Leftist." Therefore, he recommended using Arizona's policy as a model, where the governor makes the nominations, which then must be confirmed by the legislature.
However, Buckley stressed that, "student regents or student body presidents appointed by liberal governors" will "stand with Planned Parenthood," and "attack the education system of Donald Trump and the Right."
According to Buckley, TPUSA can assist ALEC by recruiting and vetting "ideologically sound" regents candidates and by providing "legislative recommendations, committee testimony, & grassroots support to secure legislative action."
"We're hoping that our partnership with legislators and ALEC will obviously increase the appointment of conservative student regents that will work to save our institutions and bring them back from the brink of lunacy and socialism," Buckley said.
ALEC's Triana added during the training session that ALEC's board has also developed a pilot "mentorship/partnership program" with TPUSA's board and student leaders that it hopes to expand to all members in 2021. 
See below for the full list of attendees to TPUSA's training session acquired by CMD.