Republican treasurers, auditors, and staff from 16 states are huddling together with corporate lobbyists and an array of right-wing groups for the State Financial Officers Foundation's Annual Meeting in New Orleans this week to discuss strategies to combat "woke" policies, fake news, and China.
The State Financial Officers Foundation (SFOF) describes itself as "the premier free-market organization bringing financial officers together with the nation's top private sector companies and organizations." Although SFOF is a registered 501(c)(3) nonpartisan nonprofit and claims "it is not involved in issue advocacy on behalf of elected officials," the "team" is composed of all Republican financial officers, most of whom serve in elected positions.
It's leader, CEO Derek Kreifels, is the former secretary of the Kansas Republican Party and served as assistant treasurer for Kansas under Republican Rep. Ron Estes when he was state treasurer.
Leadership of the American Legislative Exchange Council (ALEC) occupy key posts in SFOF and will be in attendance at the meeting, a final confirmed attendee list obtained by the Center for Media and Democracy (CMD) reveals. ALEC is a pay-to-play operation where predominantly Republican legislators and corporate lobbyists meet behind closed doors to adopt model legislation on a broad range of public policy issues, 
ALEC CEO Lisa Nelson is on the group's board of directors. ALEC Chief Economist and Executive Vice President of Policy Jonathan Williams is a senior policy advisor and sits on SFOF's National Advisory Committee. 
The agenda for the annual meeting obtained by CMD shows that ALEC's favorite economist and trusted advisor Stephen Moore will also be in attendance to receive an award alongside Trump's Vice President Mike Pence. Moore will also present on a panel with Williams focusing on inflation and a critique of President Joe Biden's tax and spending policies.
Agenda: Fighting Corporate Wokeness
Like ALEC, one of SFOF's top priorities this year will be fighting "woke" capitalism and "defend[ing] the market economy" against the growing Environmental, Social and Governance (ESG) movement among corporations to consider community interests and not just shareholders.
At its December 2021 States and Nation Policy Summit, ALEC members in the Energy, Environment and Agriculture Task Force unanimously passed an anti-boycott model bill that would punish financial companies that stop investing in oil, gas, and coal by barring them from receiving state government contracts or managing state funds, CMD first reported.
The bill was based on language from "anti-BDS legislation supported by ALEC" targeting the movement to boycott, divest, and sanction Israel over its oppression of Palestinians, and pitched by Jason Isaac, the Texas Public Policy Foundation's (TPPF) director of Life: Powered,  as a way for states to "fight back against woke capitalism," according to an email first obtained by CMD.
Isaac will likely discuss this model bill at the SFOF meeting in a panel on "ESG Solutions," where state auditors, treasurers, and staff will "learn how financial officers and legislatures are protecting public pensions from activist investors," alongside Darren LaSorte, director of government relations from the National Shooting Sports Foundation; Andy Olivastro, Director of Coalitions for The Heritage Foundation; and Andy Puzder, former CEO of Carl's Jr./Hardees.
Mike Nasi, an attorney with Life:Powered, a TPPF initiative designed "to inform the national discussion about energy resources and advocate for energy policies that promote economic freedom and advance the human condition," testified in West Virginia that he was "heavily involved as an attorney in the drafting process" of the Texas anti-boycott bill and with a "model bill…in conjunction with several different states." Nasi also mentioned that he is working with the West Virginia Coal Association to move the model in West Virginia.
In addition to West Virginia, variations of ALEC's bill to blacklist banks that divest from fossil fuels have been introduced in Louisiana, Indiana, and Oklahoma.
West Virginia Treasurer Riley Moore (R) claimed credit as the author of the West Virginia legislation when it received a public hearing.
In late November, 15 Republican state financial officers sent a letter on Moore's letterhead to U.S. banks announcing that they will begin "collective action" against companies that boycott fossil fuels, CMD reported. Thirteen of the signatories are SFOF members.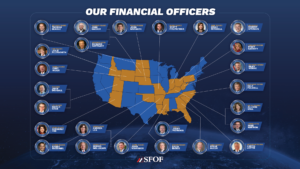 West Virginia Coal Association President Chris Hamilton forwarded the press release for the November letter to Lawrence G. Keane, senior VP of government & public affairs for the National Shooting Sports Foundation, an email chain published by CMD details. The group actively supports similar legislation to punish banks that refuse to invest in the firearms and ammunition industry, which they also spin as discrimination.
In a Jan. 31 letter, SFOF urged President Biden to withdraw his nomination of Sarah Bloom Raskin for Vice-Chair for Supervision at the Federal Reserve for her "radical banking and economic views" that would "disrupt the private banking sector, reliable energy supplies, and the U.S. economy." Senate Republicans blocked a vote on Raskin yesterday. Raskin has argued that regulators should consider climate change risks as a factor in their decisions.
The keynote speaker for this week's meeting is Vivek Ramaswamy, a biotech entrepreneur and author of Woke, Inc: Inside Corporate America's Social Justice Scam. Ramaswamy has been on a right-wing speaking tour attacking responsible investing as a marketing ploy since the book was published last June.
Ramaswamy has delivered speeches to just about every influential group on the Right, including at multiple Federalist Society events, a meeting of the secretive Christian Right Council for National Policy, the Republican National Lawyers Association, and is scheduled to speak at FreedomWorks' Restore Liberty conference next month.
Ramaswamy also sits on the board of the Philanthropy Roundtable, where Consumers' Research executive director Will Hild used to lead its "Culture Freedom Initiative."
Following the keynote, the meeting agenda shows that Ramaswamy, Hild, and Peter Schweizer, author of Red Handed: How American Elites Get Rich Helping China Win, will discuss their concerns with China. 
BlackRock Targeted
BlackRock, an investment management company with $10 trillion in assets, and its CEO Larry Fink have emerged as a top target of West Virginia's treasurer, SFOF, and its largest sponsor Consumers' Research.
West Virginia Treasurer Moore's office has set a goal of divesting from BlackRock due to its new focus on environmental, social, and corporate governance concerns (ESG).
Moore has repeatedly claimed that BlackRock's ESG investment strategy doesn't support the needs of the coal and natural gas-producing West Virginia, and that it has put the interests of China ahead of the United States.
In a SFOF podcast aired on Monday, sponsored by Consumers' Research, Moore criticized BlackRock's major investments in China, which is building more than 40 new coal-fired power plants.
SPOF also shared a Fox News video with its members where Moore argues that investing in BlackRock hurts West Virginians.

Last week, Consumers' Research launched a new phase in its multi-million-dollar campaign "targeting BlackRock's bad business practices and Larry Fink's hypocritical woke principles." The campaign will deploy a new website WhoIsLarryFink.com, television, radio, and digital ads, and mobile billboards in New York City.
In December, Consumers' Research issued a "Consumer Warning" for BlackRock, highlighting ten states whose state pension funds are invested in the firm, including West Virginia.
Consumers' Research, a nonprofit, has not disclosed the source of its funding for the BlackRock attacks nor its million-dollar "Consumers First Initiative," a "name and shame" campaign against corporations that the group deems to be "playing woke politics." According to its most recent publicly available tax filing from 2019, Consumers' Research operated in the red with only $485,000 in revenue.
An examination of Consumers' Research's past funding sources suggests the new revenue will come through the preferred donor conduit of the Koch political network DonorsTrust, which gave the latest known grant to the nonprofit, $775,000 in 2020. In total, DonorsTrust and its sister organization Donors Capital Fund gave over $6.5 million to Consumers' Research between 2013 and 2020.
Other identified grants to Consumers' Research include $250,000 from the Bradley Foundation (2013); $250,000 from Barre Seid (2013); and $50,000 from the Bodman Foundation (2013).
Right-Wing Ties
The attendance list for the SFOF meeting this week shows CRC Advisors senior vice president Mike Thompson. Leonard Leo, who played an integral role in Trump's effort to pack the federal judiciary with right-wing judges, founded CRC Advisors in 2020 with Greg Mueller to "funnel big money and expertise across the conservative movement."
Consumers' Research contracted with Creative Response Concepts, a former iteration of CRC Advisors, for $230,000 to do "public relations," according to 2018 and 2019 tax filings.
Thompson is also the secretary and treasurer of CNP Action, the political arm of the Council for National Policy.
Other known CNP members attending the SFOF meeting this week include Justin Danhof, Executive Vice President of the National Center for Public Policy Research; Stephen Moore; Lisa Nelson; and Bridgett Wagner, Vice President of Policy Promotion at The Heritage Foundation.