What do environmental, social, and governance (ESG) investment policies have in common with Nazi ideology? Quite a lot, according to Utah State Treasurer Marlo Oaks, who delivered a keynote address at an annual misinformation conference last month.
The Heartland Institute, an Illinois-based libertarian think tank that actively works to discredit climate science and undermine environmental policies, hosted the 15th iteration of its International Conference on Climate Change from February 23–25 in Orlando, Florida. 
The Utah treasurer's address was just one of many at the conference that denounced ESG, the latest bogeyman in the Right's well-funded campaign to pressure lawmakers across the country to oppose any policies that attempt to mitigate climate change. ESG policies broadly encourage fiduciaries—whether they are asset management firms or state governments stewarding pension funds—to consider the multifaceted societal impact of their investments.
In his keynote address, Oaks—a longtime investment banker prior to being appointed state treasurer in 2021—argued that ESG policies are not only fundamentally incompatible with free market capitalism, but that they threaten the very foundations of American society and individualism.
Accompanied by a slide titled "ESG and Tyranny"—which featured an illustration of Adolph Hitler—Oaks proclaimed key similarities between Hitler's drive to create a uniform Aryan society and the desire of "global elites" to implement uniform investment practices.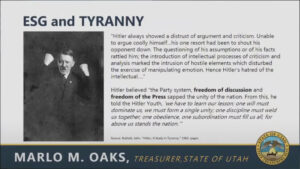 Nazism and ESG both start with identifying "goals for 'society' to achieve," followed by generating "a crisis or emergency to create fear and silence dissent," and then enforcing "compliance," according to Oaks. He referred to both as "outcomes-based governance." 
ESG and the "Road to Tyranny"
Likening 21-century investment practices to mid-20th-century fascist tyranny may seem like an odd thing for a state treasurer to do. Yet Oaks is among the growing number of Republican state financial officers and auditors who are all-in on pushing their free market ideology and denouncing "woke capitalism."
In fact, Oaks is the national policy chair of the innocuous-sounding State Financial Officers Foundation (SFOF). The Center for Media and Democracy (CMD) first exposed SFOF and its deep ties to the American Legislative Exchange Council (ALEC)—the right-wing corporate bill mill—in February 2022 and launched the new SFOF Exposed website this week. 
In casting ESG critiques in the context of other culture war issues, Oaks concluded his keynote by drawing parallels between "wokism" in the U.S. and Mao's cultural revolution more than half a century ago in China. 
His slidedeck was partly cribbed from a similar presentation by Lily Tang Williams, a self-described "Communism Survivor" who attempted a 2022 run to represent New Hampshire in the House but lost in the GOP primary. This year, she testified in favor of proposed legislation (HB 227) in New Hampshire that would prohibit financial institutions from considering anything other than "objective financial criteria"—which the Right equates with issues such as social and environmental justice, diversity, equity, inclusion, and anything else with potential societal impact—in the products they offer. 
The Right's extensive anti-ESG lobbying efforts—which have spawned 207 anti-ESG bills in 31 states since 2020, according to research by CMD—closely align with the national rise in anti-China rhetoric.
As part of this campaign, a growing number of Republican officeholders are publicly denouncing ESG as a nefarious plot developed by the Left to erode American freedom, threaten the free market economy, and challenge traditional family values.
At last month's Heartland conference, Marc Morano—who worked for Rush Limbaugh and wrote The Great Reset: Global Elites and the Permanent Lockdown—decried how "global elites are exploiting fears about the climate to gain more power and control over our lives." Jeffrey Clark, former President Trump's lead environmental attorney, spoke about how climate change policy is part of a larger plot to "meta control" Americans.
Though it has been quietly bankrolled by dark money, the anti-ESG movement has clearly entered the mainstream. President Biden is expected to issue his first veto since taking office in response to the attempt by congressional Republicans to block a Labor Department rule allowing retirement plan managers to include ESG considerations in their investment decisions.
Other keynote speakers included politicians such as U.S. Senator Ron Johnson (R-Wisc.) and U.S. Representative Lauren Boebert (R-Colo.), both outspoken fossil fuel evangelists.
Another panel titled "Defeating ESG" featured talks by two prominent anti-ESG operatives: Jason Isaac, a former congressman from Texas and director of a pro-fossil fuel initiative at the Texas Public Policy Foundation (TPPF), and Paul Watkins, founding partner of a fin-tech law firm and former senior legal counsel for the anti-LGBTQ hate group Alliance Defending Freedom (ADF).
Although Watkins' dispassionate talk never strayed far from textbook libertarian critiques of government regulations, Isaac unleashed a flurry of right-wing vitriol, regurgitating conspiratorial distrust of global elites and the creeping influence of the Chinese Communist Party. His talk in Orlando was a slightly revised version of a 2022 presentation he gave to the Council for National Policy (CNP), a group that Shadow Network author Anne Nelson describes as bringing together "the manpower and media of the Christian Right with the finances of Western plutocrats and the strategy of right-wing Republican political operatives."
Isaac also accused Biden's Special Presidential Envoy for Climate John Kerry, climate activist and former Vice President Al Gore, BlackRock CEO Larry Fink, and others of committing "sins against humanity" by advocating for decarbonization. "When," he asked, "do the human rights tribunals begin?"
The fossil fuel industry and investors have poured huge sums of money into the effort to block any action that would address climate change by limiting fossil fuel production and consumption. This includes extensive lobbying to push for anti-ESG legislation at the state and federal levels. As research has shown, lobbyists for fossil fuel interests and fossil fuel-funded think tanks are mushrooming in states across the country, springing up anywhere anti-ESG legislation is proposed.
In addition to participating in the "Defeating ESG" panel, both Isaac and Watkins testified earlier this year in support of an anti-economic boycott bill (HB 1224) in Indiana, which would provide that "the state or the Indiana public retirement system may not make certain investments in companies that boycott energy companies or companies that do business with energy companies."
In testifying, Watkins was representing the interests of Heritage Action for America, the advocacy arm of the right-wing Heritage Foundation. Isaac—who begins most of his public addresses by saying, "I live a high-carbon lifestyle, and I think the rest of the world should, too"—testified on behalf of the fossil fuel-backed TPPF.
Other politicians who spoke at the conference have strong ties to the fossil fuel industry. Senator Johnson is a longtime recipient of fossil fuel money who sits on the Senate Commerce, Science and Transportation Committee. Koch Industries' Americans for Prosperity Action super PAC spent $9.7 million to boost Johnnson's 2022 reelection campaign. Boebert, who just began her second term in Congress, serves on the House Natural Resources Committee and is married to a natural gas drilling foreman who "has worked his entire adult life in the oil and gas fields." In 2021, after pushing federal legislation to loosen drilling rules, she quietly disclosed that her husband had earned income from energy consulting.
Given such connections, it's hardly surprising that The Heartland Institute's conference served as a bullhorn for the Right's attempts to disguise its pro-fossil fuel agenda with populist, anti-"woke" outrage.
"Experts are going to run society," Oaks warned in pointing to the dire consequences of ESG investing, and they are going to enforce "compliance and conformity." Isaac agreed, saying that "three-letter acronyms" such as WEF (World Economic Forum), CRT (Critical Race Theory), and ESG are being "weaponized against Americans."
As Heartland's Cameron Sholty put it in introducing the "Defeating ESG" speakers: "You might not realize it, but this is the most important panel that we're hosting."
Correction: This article originally stated that AFP Action spent $2.8 million to elect Sen. Ron Johnston, but it was actually $9.7 million. That number has been changed.