Backed by Trump money and led by insurrectionists under investigation for trying to overturn the 2020 election, the Conservative Partnership Institute (CPI) has held at least four training sessions for dozens of GOP members of Congress and their staffers so far this year, sometimes paying for their travel and accommodations, the Center for Media and Democracy (CMD) has learned.
The sessions have covered a broad range of topics, from "election integrity" and building an "American First movement" and state "Freedom Caucuses" to trainings on "effective oversight" and "Senate Procedure & Strategy." Some are led by controversial MAGA leaders, including former Trump chief of staff Mark Meadows and Trump attorney Cleta Mitchell, both of whom have been subpoenaed by the House Jan. 6 committee and the Georgia grand jury investigating attempts to overturn the election results there.
Most of the sessions are held at a previously undisclosed facility CPI owns and operates in Cambridge, Maryland, but its Winter Leadership Conference was held at the Ritz Carlton's luxury beach resort on Amelia Island in Florida, documents reviewed by CMD reveal.
The only congresspeople invited to the conference were members of the far-right House Freedom Caucus, which was chaired by Meadows until he left to serve as Trump's chief of staff in March 2020. Florida Gov. Ron DeSantis (R), a 2024 presidential hopeful and a founding member of the Freedom Caucus in 2015, delivered the keynote address.
Jim DeMint, a former congressman and senator from South Carolina, founded CPI in 2017  "to be a bulwark against the Swamp and a support system for conservatives looking to do the right thing."
Its two largest known financial backers are Richard Uihlein, a GOP megadonor and cofounder of Uline shipping and packaging company, and Donald Trump. Uihlein's family foundation contributed $2.25 million (2018–20) to CPI and Trump's Save America PACs gave $1 million (2021). The next largest identifiable CPI donor is the family foundation of the late casino mogul Stanley E. Fulton, which contributed $500,000 (2019).
A federal grand jury is investigating the formation of Trump's Save America PAC and its post-election spending, The New York Times reported last week.
Since the violence at the Capitol on Jan. 6, 2021, CPI has become a hub for insurrectionists and election deniers. The group made Meadows a senior partner and brought in Mitchell to lead its lead its "Election Integrity Network" network, organizing local GOP activists to engage in the election process based on the lie that the 2020 election was stolen. 
The election was rigged. Trump won. https://t.co/UIhYDhA5gx

— Election Integrity Network (@EIwatchdogs) July 31, 2022
So far, Mitchell has led partisan voter suppression and election subversion events in nine states with fellow Big Lie proponents and election fraud conspiracists like Meadows, DeSantis, Mike Gableman, Arizona Senate President and ALEC National Chair Karen Fann (R), and many others with the goal of subverting the electoral system.
CPI has also launched a number of spin-offs to further right-wing causes, including the American Accountability Foundation (AAF), America First Legal, Center for Renewing America, American Cornerstone Institute, American Moment, and the State Freedom Caucus Network.
Staffers Coached in Conservative Oversight
From May 5–6, seven House Republican staffers and three Senate Republican staffers attended an Effective Oversight Training Retreat paid for by AAF and led by CPI, AAF, and the Heritage Foundation—all ostensibly nonpartisan 501(c)(3) organizations.
Attendees participated in six training sessions, according to an agenda obtained by CMD, including on "how to work with legal experts to leverage research and advance conservative priorities in the courts," "working with outside groups involved in oversight," and "how to conduct effect research into Presidential appointees and nominees" to "help congressional staff perform proper oversight."
The latter session was led by AAF's founder Tom Jones, who is credited with leading GOP opposition to Justice Ketanji Brown Jackson's confirmation and for sinking the nomination of Sarah Bloom Raskin for vice chair for supervision of the Federal Reserve Board of Governors, among others.
AAF runs the website bidennoms.com, which currently features opposition campaigns against Phillip Washington for administrator of the Federal Aviation Administration (FAA); Gigi B. Sohn to be a member of the Federal Communications Commission (FCC); Kalpana Kotagal to be a member of the Equal Employment Opportunity Commission (EEOC); and Dilawar Syed for deputy administrator of the Small Business Administration (SBA).
Kotagal appears to be a top target of AAF, prompting it to create the separate website kalpanakotagal.com, where she is labeled a "radical leftist" who is "poised to weaponize the Equal Employment Opportunity Commission with an anti-American agenda."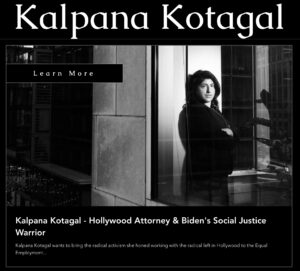 Kotagal is actually an accomplished employment and civil rights plaintiffs' litigator, perhaps best known for co-authoring the "Inclusion Rider," a contract provision in Hollywood designed to increase diversity in casting and production staff.
In addition to staffers from CPI, AAF, and Heritage, others from the right-wing Capital Research Center, the Republican Study Committee, and Compass Legal also led training sessions. CPI launched Compass Legal to take "care of things like legal filings" and help nonprofits "to comply with federal tax law so they can keep their nonprofit status," according to its 2021 Annual Report.
Another version of the training agenda obtained by CMD shows that Judicial Watch's Tom Fitton was "invited" to discuss the "Oversight Agenda for the 118th Congress." Fitton is also the 2022 president of the Council for National Policy (CNP), a secretive Christian Right group, CMD reported.
Like the organizations involved in the oversight training, CNP is fully aligned with the Republican Party and was deeply tied to the Trump administration and the violent insurrection at the U.S. Capitol. 
Scrutinizing Senate Procedures and Strategy 
From June 22–24, staffers and lawyers for GOP Sens. Marsha Blackburn (R-Tenn.), Mike Braun (R-Ind.), Ted Cruz (R-Texas), Bill Hagerty (R-Tenn.), Cindy Hyde-Smith (R-Miss.), Ron Johnson (R-Wis.), Mike Lee (R-Utah), Rand Paul (R-S.C.), Marco Rubio (R-Fla.), and Rick Scott (R-Fla.) attended a Senate Procedure & Strategy Symposium organized and paid for by CPI, according to materials obtained by CMD.
CPI's president and CEO Ed Corrigan led all but two of the training sessions, an agenda for the event shows. Corrigan served as a Senate staffer for over 10 years and was vice president for policy promotion at the Heritage Foundation before moving to CPI in 2017. Corrigan informed attendees on Senate rules, amendments, and procedures. Brian Darling, president at Liberty Government Affairs, and Kelly Johnston, former secretary of the Senate, also addressed those in attendance.
Staff Assistant Training
On August 10-11, 2022, CPI held a training session for House staffers led by staff at CPI, Heritage Action for America, Center for Renewing America, Securities Industry and Financial Markets Association, and current House staffers, an agenda obtained by CMD details.
CPI paid for nine congressional staffers to attend, documents reviewed by CMD show.
Attendees were taught how to be an "effective" staffer, how to write, and "how to optimize the rules to maximize your boss' effectiveness."
How to Win the Messaging War
Another CPI spinoff known as the Revere Project has scheduled communication trainings for "Capitol Hill communicators" this month and next, and in January 2023.
The four-week digital communications training in September and October aims to "give participants the strategy and tactics to level up their member's social media presence." The January communications training for congressional staffers will cover "crisis comms" and "how to proactively win the messaging war," among other topics.
Congressional staffers can also schedule a TV Studio Training Bootcamp to learn "best practices" for preparing members of Congress "to visually look good on camera."
In its 2021 annual review, CPI touts that it trained "49 members of Congress and 246 congressional staff from 132 congressional offices" last year. This year it appears to be on track to influence several hundred more conservative acolytes.
CPI will hold its annual donor conference next week. "The stage is set. Washington is ready for a conservative comeback," CPI writes. And "CPI Partners are making it happen."