The Republican Attorneys General Association (RAGA) brought in $4.8 million in contributions in the first three months of 2022, an Internal Revenue Service (IRS) filing examined by the Center for Media and Democracy (CMD) details.
RAGA's first quarter filing raises questions about the "nearly $6 million" in funds it claimed to have raised over the period shared with Fox Business for an Apr. 7 report. The article states the "Pro-GOP campaign group" brought in a "$5,898,975 haul across all entities," but RAGA is the only known electioneering group in its network.
RAGA's haul of $4.8 million is the most it has raised in the first quarter of a major election year, up from $4.4 million in 2020.
RAGA hopes to build on the 27 state offices Republican Attorneys General hold with "seven-figure investments to flip seats in Wisconsin, Michigan and Nevada and to retain the attorney general office in Arizona." RAGA also told Fox Business that it has "approved a six-figure investment to support GOP challenger Brenna Bird," who is running against  Iowa Attorney General Tom Miller (D), and is also supporting the GOP candidate, Jeremy Gay, in the open attorney general race in New Mexico.
RAGA's filing discloses donating $10,400 to Gay's campaign and $20,000 to Our Values PAC in New Mexico. The only other campaign donation RAGA detailed on its first 2022 filing was $5,000 to the campaign for incumbent Oklahoma Attorney General John O'Connor.
RAGA already made contributions to the campaigns of incumbents Texas AG Ken Paxton ($250,000), Florida AG Ashley Moody ($100,000), and Idaho AG Lawrence Wasden ($10,000) in the second half of 2021.
RAGA accepts unlimited contributions from corporations, individuals and special interest groups such as Koch Industries, Altria, and the U.S. Chamber of Commerce, primarily to fund the campaigns of Republican attorneys general candidates. Together with its affiliates the Rule of Law Defense Fund (RLDF), a 501(c)(4), and the Center for Law and Policy, a 501(c)3, RAGA runs a cash-for-influence operation that coordinates the official actions of Republican state attorneys general and sells its corporate funders access to those AGs and their staff.
Leonard Leo's Dark Money Group Again the Top Contributor
The Concord Fund, a dark money group led by Federalist Society board co-chair and Trump "judge whisperer" Leonard Leo, led all contributors in the first three months of 2022 with a $1 million contribution to RAGA.
RAGA Executive Director Peter Bisbee previously worked at the Federalist Society as Director of State Courts and Deputy Director of External Relations while Leo was an executive.
The Concord Fund is consistently one of RAGA's top funders. RAGA received $2.5 million from The Concord Fund in early 2021, or 37% of its revenue in the first six months, CMD reported. The Concord Fund was also RAGA's largest donor in 2020, giving a total of $3 million.
Leo, a right-wing operative credited with moving our nation's federal courts to the Right, is also hosting fundraisers for Republican candidates for attorney general in Washington, D.C., CMD has learned.
Two invitations obtained by CMD for fundraisers for Tim Griffin, Republican candidate for attorney general in Arkansas, list Leo as a host. The Jan. 19 and Mar. 30 events featured U.S. senators, representatives, and Republican attorneys general.
Ann Corkery, wife of Neil Corkery, was also a host of the events. Neil Corkery is listed on The Concord Fund's IRS most recent IRS filing as its bookkeeper.
Leo's Creative Response Concepts, now called CRC Advisors, received $22,500 in consulting fees from RAGA in the first quarter.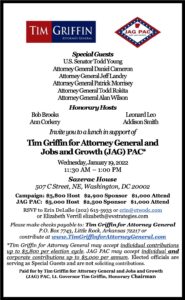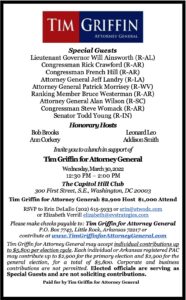 Altria, Koch, Marcus, and the Chamber Round Out the Top Five RAGA Donors
The Big Tobacco company Altria, a consistent RAGA high-level donor, has provided $325,000 to the group so far in 2022 through its Altria Client Services. 
Following Altria, Koch Industries, Bernie Marcus, and the U.S Chamber Institute for Legal Reform each gave RAGA $250,000.
Marcus, who co-founded and ran Home Depot until he retired in 2002, is by far RAGA's largest individual donor this year.
Charles Koch, who has also been a major donor of RAGA over the years individually and through his companies, is also a client of RAGA. RAGA has subscribed to i360, "Koch's data mine" and has paid the company $11,000 so far in 2022, the IRS filing details.
Below is a complete list of RAGA's donors in 2022 as disclosed in its first quarter IRS filing.